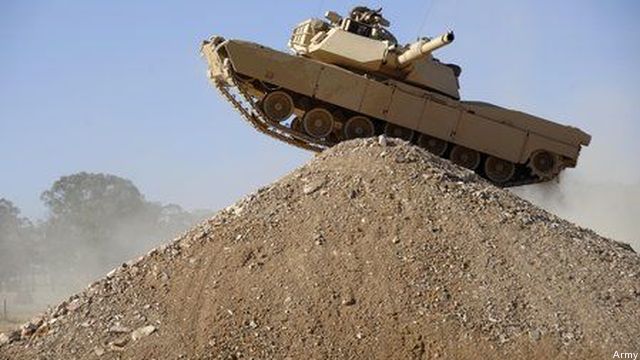 PENTAGON: After years of cuts and cancelled programs, tanks and other armored vehicles are beginning a comeback. In contrast to other investments in the 2016 budget request released today, the ground vehicle increases have so much congressional backing — and involve such relatively small amounts — that they're actually likely to happen.
Four tracked vehicle programs and one wheeled vehicle enjoy significant ramp-ups in the 2016 request:
$368 million for upgrades to the M1 Abrams tank, up 50 percent from $237 million in fiscal 2015.
$225 million for upgrades to the M2 Bradley infantry fighting vehicle (a hybrid of tank and troop carrier), up 65 percent from $136 million in '15.
$230 million to begin detailed design of the Armored Multi-Purpose Vehicle (AMPV), a turretless support variant of the Bradley, up 150 percent from $92 million.
$152 million to further refine the upgraded M109 Paladin howitzer — known blandly as Paladin Integrated Management or PIM — which rebuilds the vehicle with Bradley automotive components (notice a pattern?), up 90 percent from $80 million. (Note that's R&D funds; actual procurement funding for PIM remains steady at $274 million for 30 vehicles).
$308 million to buy 450 Joint Light Tactical Vehicles (JLTV), which replace the all-too-vulnerable Humvee, up 86 percent from $165 million.
The M1 is built by General Dynamics in Lima, Ohio, at a plant Congress has been worried will close for lack of work. Legislators have repeatedly added money to M1 procurement to keep Lima running, so they'll welcome this increase from the Army. Then, in 2017, Lima will get started on the long-awaited Engineering Change Proposal 1, a major package of M1 upgrades, and the anxiety about the factory should be over.
The M2, and its siblings PIM and AMPV, are built by BAE Systems in York, Pa., another blue-collar manufacturing facility with congressional support. BAE just won the AMPV contract (effectively by default) late last year, which means that program is really starting to step up. With the Vietnam-era M113 simply not viable in combat — it was not even allowed off-base in Iraq — a replacement is long overdue.
Finally, no one's sure who will build the JLTV or where. The Pentagon will choose among three finalists this year: AM General, maker of the Humvee; Lockheed Martin; and Oshkosh. Whoever builds it, however, given that the uparmored Humvee not uparmored enough for current threats, JLTV is another survivability priority like AMPV.