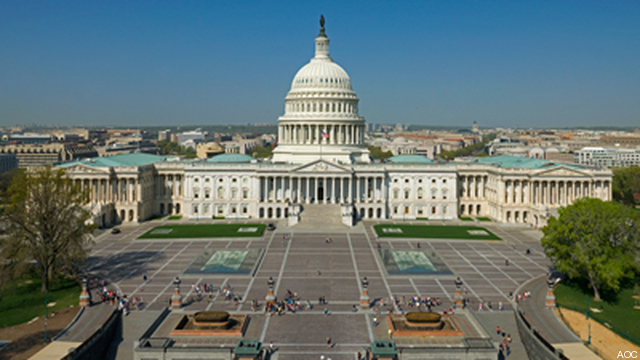 UPDATED: Adds HASC Chair And Ranking Reactions; Quotes Deputy Secretary Bob Work On Congress, Budget, Strategy
PENTAGON: The Obama administration wants to increase the money spent on weapons in 2016 by $14.1 billion over what Congress approved in December.
It's a rare move by an administration to increase procurement so vigorously. In fact, the two largest increases in the budget are for operations and maintenance — up $14.5 billion — and procurement — up $14.1 billion over last year's request. While the O&M funding may happen since there are those wars going on in Iraq, Syria and Afghanistan, the procurement funding is much more vulnerable. The basic problem is the administration wants more money than Congress is likely to approve, according to several top budget experts.
"I don't think the Defense Department gets anywhere close to what they're planning right now," said Todd Harrison, one of the country's top defense budget analysts from the Center for Strategic and Budgetary Assessments. Why? Everyone in Washington knows the reasons: the GOP controls the House and Senate and the Budget Control Act still looms over the defense budget.
During today's budget briefing, Deputy Defense Secretary Bob Work and Vice Chairman of the Joint Chiefs of Staff, Adm. Sandy Winnefeld threw down a gauntlet, telling Congress that the national strategy of tackling a major war and combating a "opportunistic aggressor" simultaneously would have to be changed unless lawmakers approved this budget.
"We believe this budget is what the nation needs," Work said. Winnefeld added that the nation's strategy would have to be "redrafted" if Congress does not adopt something very close to this budget.
"We've been surviving but not thriving for the last three years because we haven't been able to address these readiness issues," Winnefeld said.
But some of Capitol Hill's defense mavens made clear they re already on board with scrapping sequestration. And some weren't happy with the administration's approach.
"There is no doubt that the nation's security requires more spending than is permitted under the current levels. Meeting the nation's needs, however, requires a Commander-in-Chief who is willing to work with Congress to solve the problem rather than continue on the campaign trail," said Rep. Mac Thornberry, chairman of the House Armed Services Committee. "Overall, the President's budget includes many proposals that he knows will never pass in Congress. And yet, in spite of the growing threats to our national security, the President continues to give speeches that polarize the country and Congress."
So, a nice partisan shot but a clear indication that Obama may have Republicans who agree with him more than they'd like to admit.
Rep. Adam Smith, the canny ranking member of the HASC, sounded quite a bit like Thornberry in his condemnation of sequestration.
"It is fitting that the Department of Defense released its budget request on Groundhogs day. Sequestration is a failed policy that remains the law of the land, and Congress has yet to enact a long-term solution. Based on what we have seen in the past, I fully expect that Congress will again fight proposals to allow the Department of Defense to deal with the damaging effects of sequestration. We have seen this act before. I hope the ending is different this time around," he said in a statement, adding on a nicer note about the president: "I applaud the President for putting forth a budget proposal that would do away with sequestration." He's a Democrat, so he's not likely to say anything mean about the president in public, is he?
The biggest single acquisition funding increase would be to buy more of the three variants of the F-35 fighter. The number of aircraft requested will rise by 19 from 38 in 2015 to 57 in 2016. Funding will not rise as dramatically, going from $8.6 billion to $11 billion, apparently reflecting economies of scale and the Pentagon's continuing efforts to squeeze savings from the program.
If you look at the service budgets, the Air Force request rises by $16 billion, the Navy's by $11.8 billion and the Army's by a relatively paltry $7 billion. As with previous budget drawdowns, the Army looks to be the biggest budget loser in the medium term.
One of the more interesting tidbits in the briefing included these bullet points:
"The Department must address both current and emerging challenges
– Cyber attacks
– Rising China
– Threats to space assets"
While none of these are revelatory, the listing of these as prime threats — for that's what they are — is a good guide to what the Pentagon is likely to fight like hell to protect in the 2016 budget.
There was one note of optimism about the issues on which Congress has indicated it is least likely to bend — BRAC and A-10 retirement.  Pentagon Comptroller Mike McCord said he thinks Congress "will ultimately accept a round of BRAC."  He noted, with wonderful understatement, that "It doesn't necessarily happen overnight."
Only one major program is killed in the new request: the Navy's Joint Standoff Weapon.
The briefing book on Pentagon acquisition contains a healthy reminder for those of us who focus obsessively on major programs. Spending on big ticket items is actually less than half the total spent on weapons, with $100.3 billion — 57 percent — spent on smaller programs and "only" $77.2 billion — 43 percent — spent on weapons like the Joint Strike Fighter and Ford aircraft carriers.
For those who think drones are the weapons of the future and should be funded with that in mind, consider the fact that Unmanned Aerial Vehicles (UAVs) are slated to get $2.9 billion in 2016 compared to $19.7 billion for manned tactical aircraft.
Note to  Rep. Doug Lamborn, co-chairman of both the Congressional Israel Allies Caucus and the Missile Defense Caucus. The Missile Defense Agency has built in $55 million to the 2016 request for more Iron Dome radars and related gear out of a total request of $102.8 million for Israeli cooperative programs, according to Missile Defense Agency's budget documents. That figure presumably includes money for the David's Sling. Last year, the administration requested $273 million last year for Israel anti-missile systems. Readers will remember that Lamborn took to the House floor last year and said Israel needed another $348 million.