The decline in V-22 Osprey orders from the U.S. military in coming years means the tiltrotor transport's manufacturers are likely to spend a lot of time wooing foreign military officers at the Navy League's Sea-Air-Space Exposition May 16-18 at National Harbor, Md. – especially Britain's new First Sea Lord, Adm. Sir Philip Jones.
Representatives from Bell Helicopter and Boeing Co., which make the V-22 in a 50-50 partnership, will have a V-22 fuselage on display at the Navy League conference. They surely would like to show Sir Philip, who is expected to attend, why they think the Royal Navy needs the new CMV-22B variant Osprey the U.S. Navy is buying for Carrier Onboard Delivery (COD) – hauling cargo and passengers to and from aircraft carriers at sea.
The Navy awarded Bell-Boeing $151.3 million on March 31 to make engineering changes for the 44 Ospreys the service plans to buy to replace its aging fleet of C-2A Greyhound fixed-wing planes in COD missions. The Navy wants its CMV-22B to be able to carry up to 6,000 lbs. of cargo or passengers 1,150 nautical miles without refueling to support carrier strike group operations in the Pacific. That will require larger fuel tanks than Marine Corps MV-22Bs or Air Force CV-22Bs have. Because COD missions often require stops at civilian airports and transit through civilian airspace, the Navy also wants the CMV-22B to carry a high frequency, over-the-horizon radio. And it wants a public address system in the back cabin so the crew can communicate with passengers.
A key reason the navy wants the V-22 is its ability to carry F-35 Joint Strike Fighter engines. Another factor in its favor is the Marine Corps experiment building a V-22 Aerial Refueling System to serve as a midair refueling tanker for its F-35Bs, the vertical takeoff and landing version. Britain plans to buy 138 F-35Bs and will need aircraft of some sort to fly COD missions once the United Kingdom's two new Queen Elizabeth-class aircraft carriers go to sea.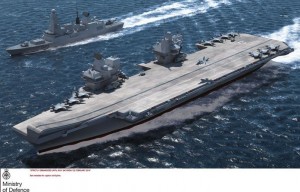 "There has clearly been a lot of discussion about the potential of V-22 in the UK armed forces, particularly in the context of the carrier program," said Nick Childs, senior naval specialist at the International Institute for Strategic Studies in London. "V-22 would significantly enhance the overall effectiveness of the UK carrier strike package in the Carrier Onboard Delivery role, or Maritime Intra-Theatre Lift, in UK parlance — particularly in comparison with the rotary wing alternatives. Beyond that, in the air-to-air refueling role, the V-22 could significantly extend the reach of UK carrier-based F-35Bs."
One of the two British carriers is to be enhanced to carry Royal Marines of 3 Commando Brigade for amphibious operations. U.S. Marine leaders would love to see Britain buy V-22s to boost production, bring down costs for the Corps and facilitate joint operations, so they've been examining ways to have Marine Corps Ospreys operate aboard HMS Queen Elizabeth when she conducts sea trials off America's East Coast in 2018. MV-22Bs might fly from the Queen Elizabeth's deck in amphibious exercises. Embarking USMC F-35Bs aboard the Queen Elizabeth to build her crew's experience before Britain's own F-35Bs are delivered, and at the same time using MV-22Bs for ship-to-shore support as part of such an exercise, is another possibility being considered.
But cost is a major obstacle for Britain. "There is a significant pro-V-22 lobby within the Royal Navy," said IISS expert Childs. "But there is also concern that it is expensive, money is still tight, and that pushing for V-22 now would play into the hands of critics who argue that the carrier program is consuming too many resources already. A key to all this is justifying the V-22 in a broader joint force context, including for areas like special forces, perhaps as a pool of aircraft available to all the services in different roles."