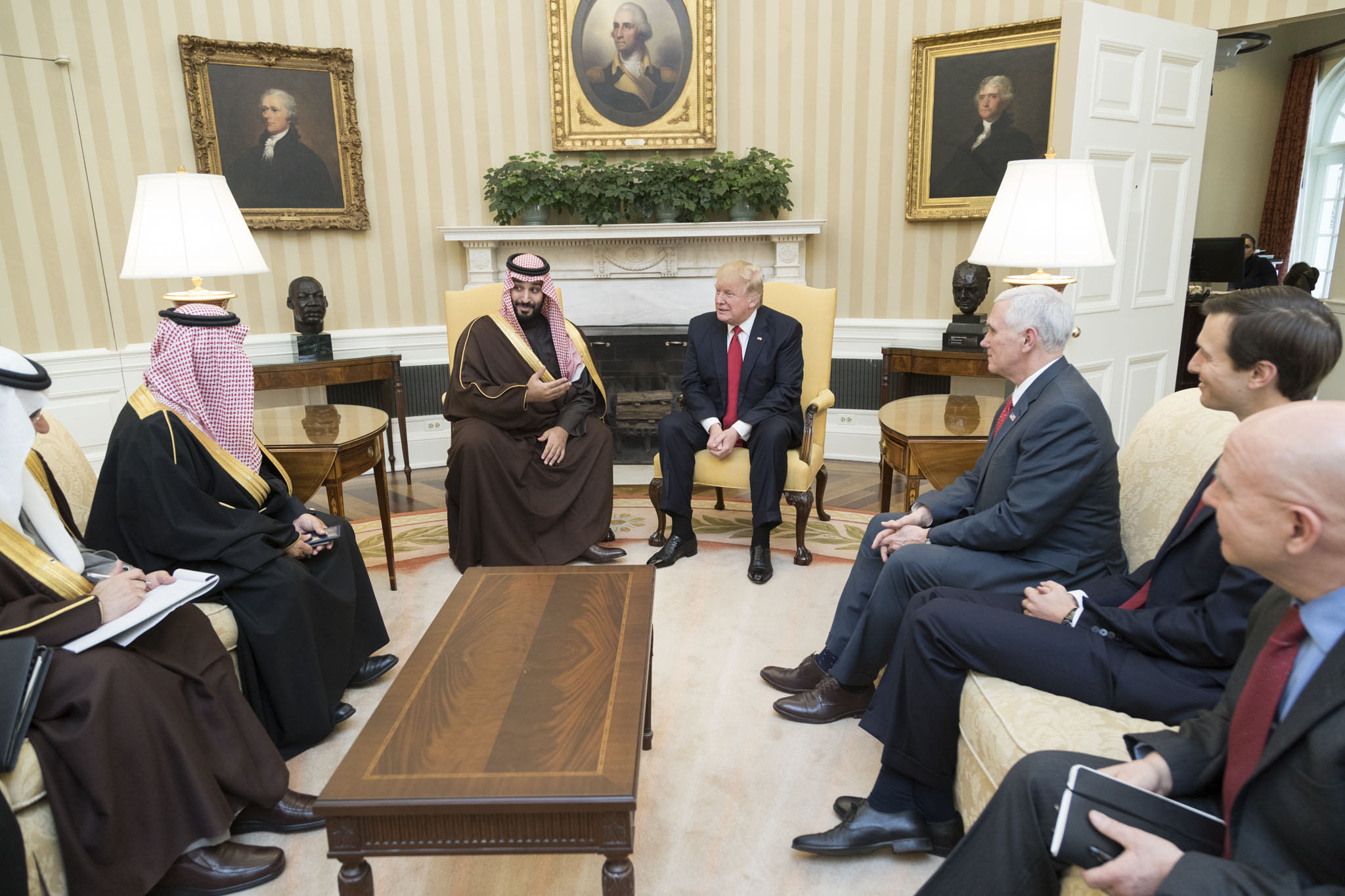 A Trump administration nominee fired a shot across the bow of any U.S. ally considering buying Russian military equipment, suggesting that even long-term U.S. arms consumers like Saudi Arabia might feel the sting of economic penalties if they contract with Moscow.
"I would tell Saudi Arabia not to do it," nominee to be assistant secretary of state for Near Eastern affairs,  David Schenker told Senators at his nomination hearing last week.
Saudi Arabia and Qatar are reportedly considering buying the Russian S-400 air defense system, though no final deals have been announced. If the agreements were finalized the two Gulf countries would join Turkey as Russian clients for the sophisticated radar and missile system.
"I would work with our allies to dissuade them, or encourage them, to avoid military purchases that would be potentially sanctionable," Schenker said when asked about what steps Washington might take if Saudi, Egypt, and Qatar went ahead with purchases of Russian air defense systems, helicopters, and fighter planes.
By order of a law signed by President Trump last August, the U.S. would slap sanctions on any country buying Russian military equipment in response to Moscow's meddling in the 2016 U.S. presidential election and invasion of Ukraine.
Defense Secretary James Mattis has asked Congress to give him more flexibility in how to apply those sanctions, citing India, Vietnam and Indonesia as countries where the United States is "going to paralyze ourselves" without a national security waiver for sanctions. All three countries have spent billions on Russian military equipment, but are key to U.S. strategy in the Indo-Pacific region.
The House's version of the 2019 defense bill would establish a rule that waves sanctions on countries buying Russian kit for 180 days on the condition they sever those ties with Moscow. The Senate version, however,  contains no such provision.
Any legal exemptions would be difficult to push through the Senate, where Republicans feel the sanctions are working, and Democrats are loathe to hand over any more freedom to the Trump administration concerning Russia-related matters.
Gulf allies have also mixed and matched their American-made defense kit with some Russian and Chinese gear over the years, but as Schenker pointed out, the new American policy takes a much dimmer view of that practice than previous administrations did.
But with the Trump administration loosening the rules surrounding arms transfers to allies, and with tensions with Iran only increasing after the U.S. unilaterally pulled out of the Iran nuclear deal, any friction between Washington and its Gulf allies would be unwelcome by all sides.
For the Gulf states, arms deals are "a means to an end, with the end being solidifying their strategic relationships with the United States," Bilal Y. Saab an analyst at the Middle East Institute told me. "If they feel there is some kind of political turbulence in the relationship, this is when they start to diversify and say, we're going to go to the Chinese or the Russians. It's mostly about politics," he said, adding that there is little evidence of any serious tension at the moment.
President Trump has placed a high value on arms exports and makes a point of boasting — or complaining — about the business we've done with each foreign leader he meets, going so far as to tout sales numbers during public meetings with visiting heads of state. He appears to consider it an insult if the numbers aren't to his liking.
For that reason, Saab sees little reason for the Gulf states to rock the boat. "The Trump honeymoon is still on — the Obama administration is over — so for now this is not the time to pursue risky initiatives that would upset the president."
But without the waiver that Mattis has asked for, any moves by allies to do business with Russia could create headaches for everyone involved — except the Russians.
India in particular is a tough case. Russian President Vladimir Putin and Indian Prime Minister Narendra Modi struck a deal in 2016 for the purchase of multiple S-400 systems, though a final decision is not expected until this fall. 
Rep. Mac Thornberry, chair of the House Armed Services Committee, warned recently that if the deal went through, it "will limit, I am afraid, the degree with which the United States will feel comfortable in bringing additional technology" into India.
Indonesia and Vietnam also buy weapons from Russia. Jakarta closed a $1.14 billion agreement for fighter jets recently, while Vietnam is also looking for more Russian-made aircraft.
Schenker's comments came just days before Turkey is slated to receive its first F-35 aircraft in a ceremony at a Lockheed Martin facility in Texas, a deal which has been put in some jeopardy by the looming S-400 purchase. Both U.S. and NATO officials have criticized the move, saying that placing a Russian air defense system in a NATO country would not only give the Russian military a foothold inside NATO, but complicate the alliance's larger air defense architecture.
Another provision in the 2016 NDAA being voted on Monday would ban the sale of the 100 F-35's that Ankara is planning to purchase, citing the S-400 purchase.
Earlier this year, Gen. Petr Pavel,  chairman of the NATO Military Committee, told me that the system itself is less an issue than is its database. "The database will be collected on the territory of a NATO ally, with all allied assets present in Turkey" being mapped and logged into Russian systems, he said. Russian personnel will be on the ground to instruct the Turkish military how to operate the complicated radars and fire control systems, handing Moscow critical intelligence on what NATO assets are in the country, where they are, and what kind of capabilities they may have.
Rarely one to back down, Turkey's increasingly authoritarian President Recep Tayyip Erdogan has suggested in recent days he might be interested in buying the Russian's even more advanced S-500 system.