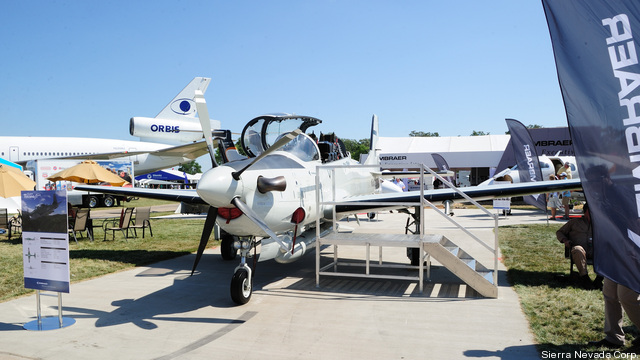 [UPDATED with comment from outgoing Air Force Chief of Staff Gen. Norton Schwartz] Sierra Nevada Corp. unveiled its Super Tucano to the American public even as its lawsuit proceeds against the American government.
The Air Force initially decided to buy 20 of the light attack planes for Afghanistan, then unexpectedly cancelled the Light Air Support contract two months later in February — a decision Sierra Nevada is suing to reverse. Meanwhile, competitor Hawker Beechcraft, which had been pushing its AT-6 Texan II as the all-American alternative to the Brazilian-designed Super Tucano, is in the somewhat awkward position of potentially being bought by the Chinese.
"Our lawyers, with what they've seen so far, feel that we have a strong position to argue that the 'corrective action [i.e. cancelling the contract] was excessive," Sierra Nevada vice-president Taco Gilbert told Breaking Defense on the eve of his departure for the annual Air Venture show in Oshkosh, Wisconsin, where the Super Tucano, already widely used in Latin America, is making its US airshow debut.
The Air Force Chief of Staff, Gen. Norton Schwartz, admitted today that his service failed to do its job properly for the deal. "We fumbled on the documentation," he told reporters at his last Pentagon press conference. Schwartz is due to retire next month. "We didn't meet standards." My colleague Colin Clark asked him if anyone had been fired. He looked at Clark, nodded, and said: "Indeed." Schwartz would not say anything else about the deal.
Sierra Nevada's lawsuit is still in discovery and under a protective order; Gilbert emphasized that he is barred from learning most of the details from his own legal team, let alone discussing them with the press. Nevertheless, he expressed his confidence that the government documents disclosed so far support Sierra Nevada's case: that whatever the Air Force may have done wrong in choosing the Super Tucano initially, it over-corrected by cancelling the contract and restarting the competition — and that the new competition is no improvement at all but rather fatally flawed.
Above all, the original competition included flying demonstrations of both rival aircraft (albeit flown by contractor pilots, with Air Force personnel only aboard as rear-seat observers); the new competition will assess the planes purely on paper. "The elimination of a flight evaluation is difficult to understand at best; I call it unbelievable," Gilbert said. There's plenty of time in the Air Force's revised timeline to do another fly-off, he went on, and while Pentagon budgets are tightening, Sierra Nevada would be happy to do the demonstration at its own expense, as both competitors did for the initial flights back in 2011.
The technical details of the two planes' performance have been overshadowed by Hawker Beechcraft's efforts — backed by the congressional delegation from its home state, Kansas — to portray the Super Tucano, designed by Brazil's Embraer, as a choice that costs American jobs. (Sierra Nevada insists almost all the work for the Air Force would be done in the US and accuses Hawker of exporting US jobs by moving much of its work to Mexico). That Buy-America campaign is now complicated by Hawker Beechcraft's ongoing talks with Super Aviation Beijing, co-owned by a Chinese entrepreneur and the Beijing municipal government, which would rescue Hawker from bankruptcy by purchasing its civilian business.
Hawker emphasizes, though, that its defense unit, which builds both the AT-6 and the T-6 trainer for the US military, would not be sold to Superior: "The transaction with Superior would not include Hawker Beechcraft Defense Company (HBDC), which would remain a separate entity," Hawker spokeswoman Nicole Alexander told Breaking Defense in an email. "Hawker Beechcraft is currently reviewing its strategic options for HBDC, which could include operation as a standalone company or sale to a buyer that meets United States Department of Defense requirements."
Breaking Defense will keep watching both Hawker's sell-off and Sierra's lawsuit. No matter what comes next, the tale of what was mean to be a modest, affordable, off-the-shelf airplane procurement is only getting more tortured.