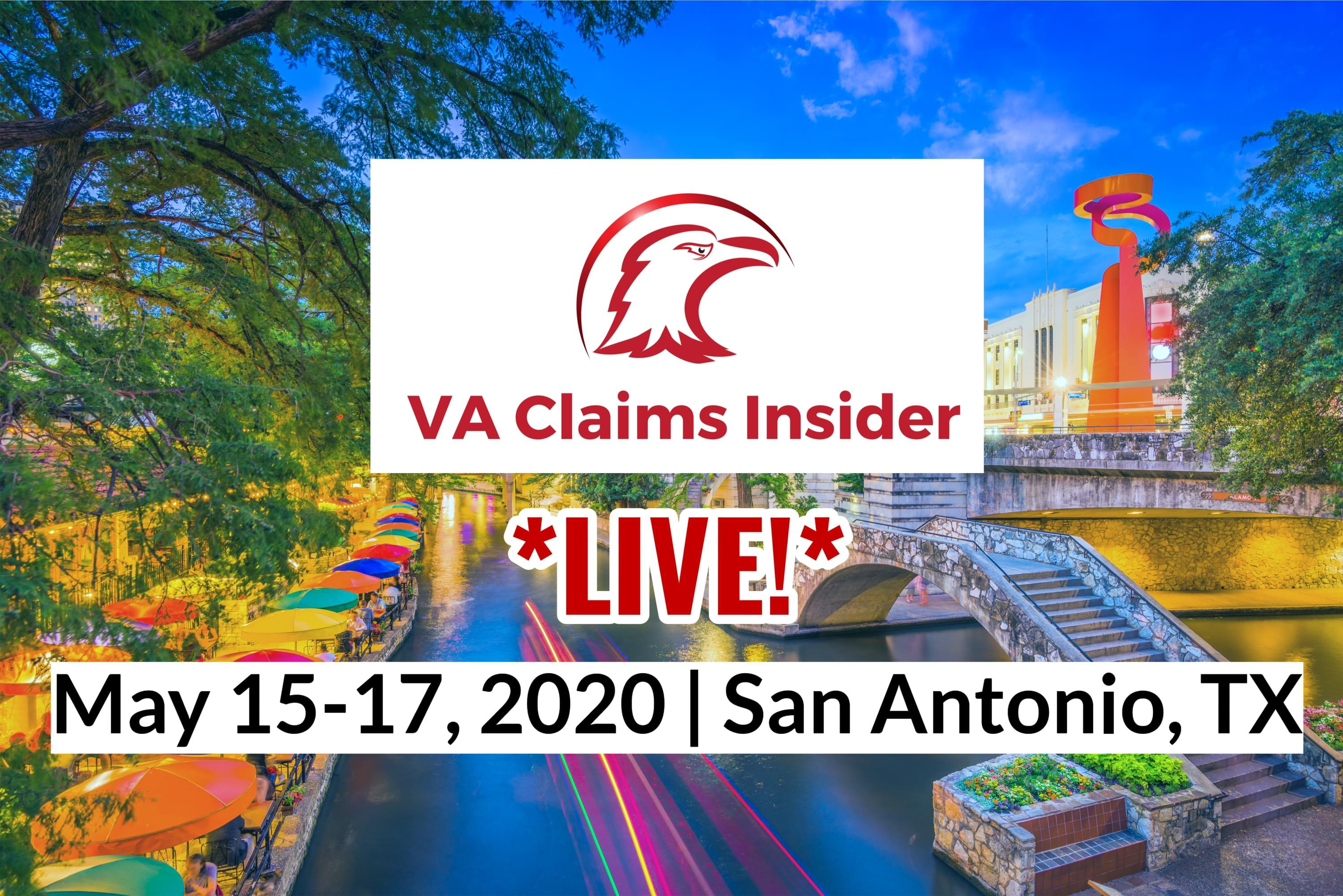 Posted on
---


Did you know the average veteran is underrated by more than 30%?
It's true...

This means you're currently rated at 0-90% by the VA, and likely deserve a higher VA rating.
In fact, 8/10 disabled veterans (80%) of you reading this message right now are stuck, frustrated, and underrated by the VA...
But, maybe there's a better way to help you get a higher VA rating?
…Well, now there is ... and the answer is *VA Claims Insider LIVE 2020*
You'll learn tips, tricks, strategies, and lessons learned, live and in community with the world's #1 most trusted name in VA disability claims. 
You can join me right now at a 50% discount by using my link to secure your ticket.
Here are some Frequently Asked Questions (FAQs) for you:
What Are The Dates For "VA Claims Insider LIVE 2020"?
Registration starts on Thursday, May 14th from 3-8pm, the event is happening Friday, May 15th through Sunday, May 17th in San Antonio, TX. The event kicks off at 8:00am on May 15th and concludes in the late afternoon on May 17th.

Where Is The Venue For The Event?
The event will be hosted at the JW Marriott San Antonio Hill Country Resort & Spa: 23808 Resort Parkway, San Antonio, Texas 78261. You can
secure a room by CLICKING HERE NOW (ask for Government/Military rate)!
This place is incredible...we've stayed there many times before. Make sure to secure a room right away as I expect we will sell-out the event.

I'm Trying To Book My Travel. What Times Do I Need To Know About?
Event registration will be on May 14th from 3-8 pm. The event will conclude around 2:00 pm on Sunday, May 17th. Fly into San Antonio Airport (SAT). It's around 30 minutes from the event venue.

Can Anyone Attend This Event?
Yes, if you are a military member, veteran, disabled veteran, VSO, attorney, or anyone who serves veterans, and you'd like to get the VA disability rating and compensation YOU deserve, then this LIVE event is for YOU! And BTW, I'll be there, too!

Can I Bring My Spouse Or A Guest?
Because of our VERY limited seating, every person must purchase a ticket to get into the event. The hotel / spa is a wonderful and relaxing place to bring family and friends for a vacation, so feel free to turn this into a family vacation. So bring family and friends to the hotel for some fun in the sun, just keep in mind that if they want a ticket to access VA Claims Insider Live 2020 events/presentations/resources, they will need to purchase a separate ticket.

Can I Get A Refund If I Can't Attend?
VA Claims Insider is offering full refunds up to 45 calendar days out from the event start on May 15th, 2020. Sorry, there are no ticket transfers.
What Should I Wear?
The dress code is business casual for the event. Our meeting room WILL be on the cool side, so plan accordingly and bring an additional sweater, wrap, or jacket.
Any Other Questions?
Contact support@vaclaimsinsider.com OR reach out to our event coordinator for sponsorship inquiries to Tam Ybarra at: tam@vaclaimsinsider.com 
BTW, did you secure your ticket yet to the live event in San Antonio, Texas, May 15-17, 2020?
You can join me right now at a 50% discount by using my link to secure your ticket.