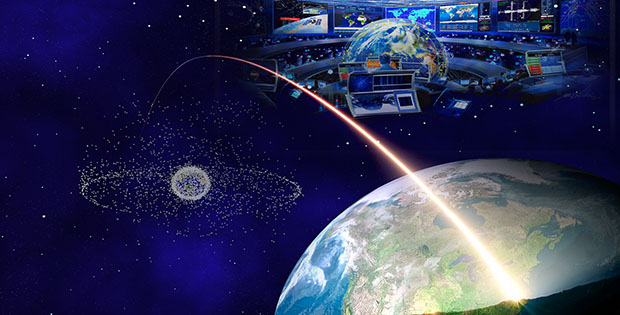 SPACE SYMPOSIUM: The head of Air Force Space Command, Gen. Jay Raymond, unveiled major changes here to how the Air Force manages space, including creation of a new position on the Air Staff similar to the A-10, who oversees nuclear issues.
"A new three-star deputy chief of staff for space, known as the 'A-11,' will be established as the Air Force's headquarters space advocate, which will increase decision making speed and help ensure freedom from attack and freedom to maneuver," Air Force Chief of Staff Gen. David Goldfein said in a statement. "We are making changes now to ensure we can organize, train, and equip our space forces to have the skills necessary to operate in a contested environment, defend our systems, and assure space missions and space superiority."
The press release detailing the changes stresses that the actions are being to "normalize" space, which has long been viewed as a unique enterprise in the Air Force, one with a unique and not always welcoming culture to outsiders. The rest of the military viewed space effects — GPS, protected communications, missile warning systems and other satellite systems — as something they used and on which they could always depend. With the increasingly grave threats to those effects — jamming, laser dazzling, anti-satellite weapons and the like — the Air Force is ramping up its staff to ensure space gets done. We may not fight a space war, but war is almost certain to include space.
"For decades, the men and women of our Air Force delivered effects from space to give our joint warfighting forces in the field a distinct advantage over their adversaries," Acting Secretary of the Air Force Lisa Disbrow said. "The Air Force has been researching, experimenting, and implementing plans for several years to evolve our space systems to both protect our interests in space and be more resilient in the face of potential threats. The time has come to adapt our organization and management structure to reflect the reality that space is a joint warfighting domain."
In addition to creation of the A-11, the Air Force is "reforming the space acquisition programs approval process through the implementation of the new acquisition Milestone Decision Authority provisions in the fiscal year 2016 National Defense Authorization Act, streamlining decision making and removing months of time from the approval process," the release says. In a particularly satisfying commitment to this reporter, the service says it "will expand the use of the Operationally Responsive Space (ORS) organization to rapidly field systems, as well as procure existing commercial capabilities."
To ensure space system requirements are crafted with more elegance and effectiveness than has often been the case over the last two decades, the Air Force "is strengthening the existing requirements process to embed space professionals at every stage of decision making."
Why does all this matter? Disbrow puts it this way in the statement: "The Air Force seeks to deter conflict in space, but should deterrence fail, we will counter any attempt to deny freedom of action in this vital warfighting domain."