UPDATED: Adds ACC Carlisle, CSAF Goldfein, SecAF James JPO Bogdan Comments
PENTAGON: Critics of the F-35 warned it was too heavy. They warned its stealth wasn't good enough. They warned stealth, however good, wasn't enough against advanced detection methods. They warned its range was too short and its weapons load too light. They warned it was too hot and too loud. There was the "bad rub" that caused an engine to rip itself apart. They warned concurrency was crippling the ability to build and test aircraft fast enough and to high quality. Above all, they said it was too expensive and too late.
Today, with the declaration by the program's biggest customer — the Air Force — that the aircraft is ready for combat, many of those criticisms will fade into the past. The official declaration of Initial Operational Capability (IOC) is what Loren Thompson, a top defense consultant, calls "a turning point for the program."
"I am proud to announce this powerful new weapon system has achieved until combat capability," Gen. Hawk Carlisle, head of Air Combat Command, said at the Pentagon this afternoon. Gen. David Goldfein, the newish Air Force Chief of Staff, stressed the plane's contribution to the joint fight in a statement. Air Force Secretary Deborah Lee James said in a statement that the plane's addition "ensures the United States, along with our allies and international partners, remain prepared to deter, deny and defeat the full spectrum of growing threats around the globe."
Todd Harrison, the defense budget expert at the Center for Strategic and International Studies, called IOC "a good signal that it is past a lot of its problems."
While he cautioned that he was sure there will "still be some kinks," Harrison said he thought "they're on a good trajectory, most of the potential for major cost overruns and technological challenges are now behind us."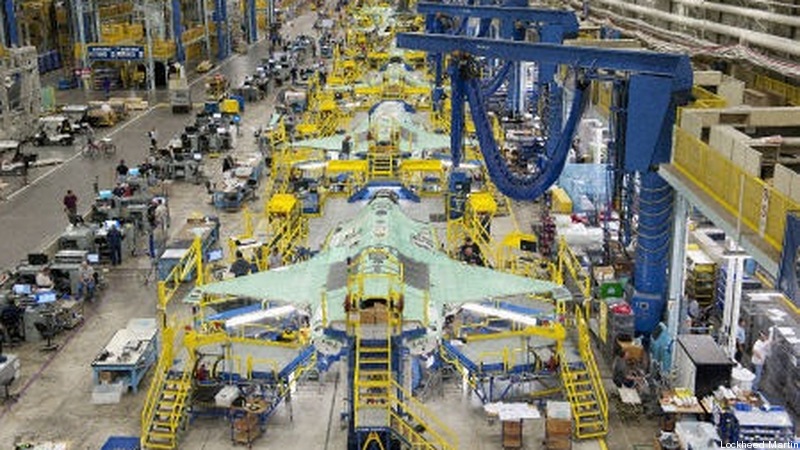 The declaration of IOC will have particular impact throughout the international defense world, Thompson says. The Air Force buy represents 72 percent of the domestic production run, and the Air Force variant "will be acquired by the vast majority of overseas customers." If the Air Force buys all 1,773 F-35 it plans to, "it will pay the same amount per plane for the F-35 as it would for the legacy planes F-35 is replacing — even though F-35 is six times more effective in air-to-air combat and five times more effective in attacks on surface targets," Thompson says.
"The U.S. Air Force decision to make the 15 F-35As at Hill Air Force Base combat ready sends a simple and powerful message to America's friends and foes alike – the F-35 can do its mission," Lt. Gen. Chris Bogdan, head of the F-35 program, says in a statement. "The declaration of initial operational capability marks an important milestone as the Air Force will operate the largest F-35 fleet in the world with more than 1,700 aircraft. The F-35 will form the backbone of air combat superiority for decades and enable warfighters to see adversaries first and take decisive action."
Carlisle, who said at the Royal International Air Tattoo that he would deploy F-35As to the Middle East if needed, reiterated that view today, adding that a major reason to do it is that "some of our partners and allies are very interested in seeing it operate."
Carlisle pushed hard to increase the rate of production for F-35As. "My problem is buy rate. We need more faster…. I need more sooner to replace legacy airplanes that are going to require money for service life extensions if I don't replace them with F-35s," he told reprovers during Q and A. "I would like at least 60 a year; 80 would be optimum."
Of course, Lockheed Martin will have to accept years of skepticism and close oversight because of its poor management of the program until they buckled under the force of enormous and persistent pressure and appointed new managers for the program. F135 engine maker Pratt and Whitney, which successfully crushed GE's efforts to build a second engine and keep the competitive pressure on the Connecticut-based engine program, has brought its production numbers up and solved the problem that caused an engine to explode weeks before the F-35B was due to make its first appearance the Farnborough Air Show. Pratt issued a statement on IOC: "We are confident in the F135 engine and the unparalleled capability it brings to the warfighter."
I was often one of the critics and had ample material to write about, but the program has slowly righted itself after what then-Vice Adm. David Venlet told our publication was the "miscalculation" of concurrency — building and testing planes at virtually the same time. All is obviously not done yet. The program won't hit Full Rate Production until 2019, and the final software block that will allow use of all weapons, known as 4F, isn't expected until 2022.
Officially the "Lightning II," the F-35 is a stealthy attack jet Lockheed is building with major subcontractors Northrop Grumman Corp. and BAE Systems for the Air Force, Navy, Marine Corps and 11 allied nations. The F-35A is the conventional take off and landing (CTOL) version. The Navy and Marines are both buying the F-35C, an aircraft carrier-suitable (CV) model. The Marines have already declared IOC for their short takeoff/vertical landing (STOVL) version that hovers and lands much like a helicopter. The U.S. services alone are scheduled to buy 2,443.
Will the Air Force buy its full complement? Harrison was skeptical.
"I don't think it's plausible that we'll actually buy that full amount in the long run, but they don't need to change their plans right now, they don't need to scare the foreign partners by signaling that right now, it wouldn't make sense to do it now," he says. "You don't have to make that decision on the total quantity, you don't even have to make the decision on the full-rate production, until four or five years from now. So you can wait four or five years, more of the foreign partners will get deeply invested in the program, and then they can scare them."