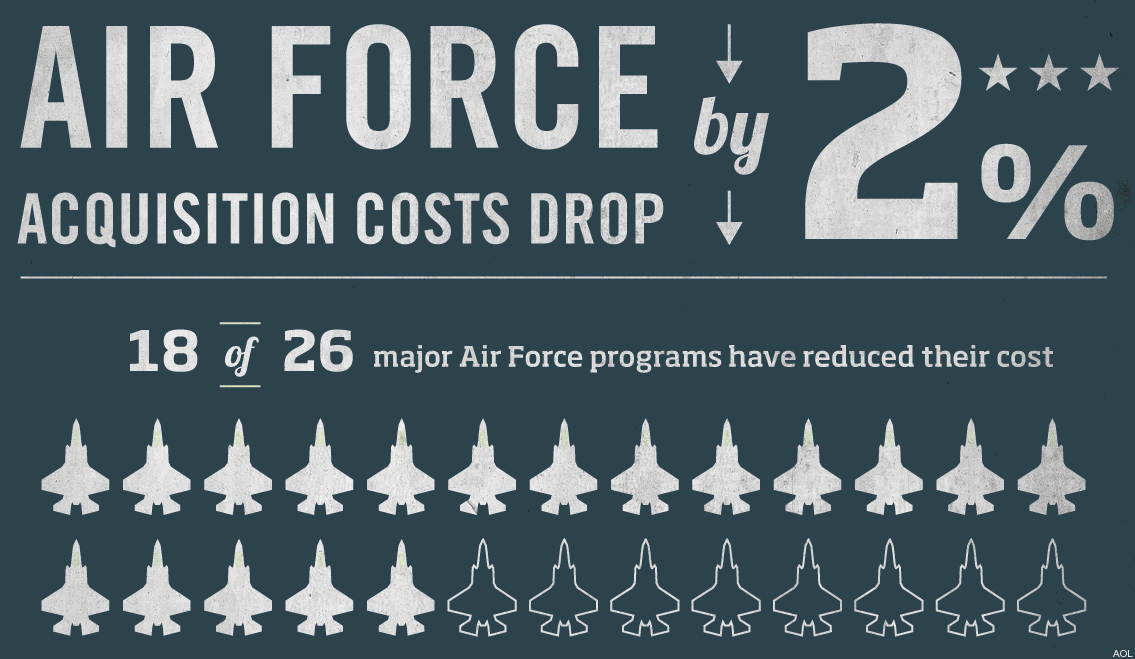 America's weapons seem to always cost more than the Pentagon expects or the American taxpayer hopes. For much of the last decade the Air Force in particular has been the poster boy for soaring costs, badly managed programs and the odd bit of corruption or incompetence. Tanker, F-35, Space-based Infrared System, NPOESS, Light Air Support planes for Afghanistan. The list is long and depressing.
But AOL Defense has learned that after decades of cost increases and fruitless acquisition reform, the Air Force appears to have accomplished what many thought would never happen and has reined in costs, bringing down total acquisition costs by $7 billion, or 2 percent, over the last year.

"We are seeing trends we haven't seen before," a careful Lt. Gen. Charles Davis, military deputy for acquisition, told me in an exclusive interview. "It is good news we have stabilized on cost because, up until this point, we have been pretty much on a stable course upward."
I first heard about the decline in acquisition costs in a conversation at the Air Force Association's annual conference and was flabbergasted. How could the service which has been so notorious for botched program management end up with such an improvement at such an opportune time, in the face of sequestration and the fiscal cliff? Gen. Davis agreed to discuss the numbers and provide them in some detail, though he did not break out cost savings program by program.
How good is garnering a 2 percent decline in costs? "It was good enough that I go, look, I'm tired of apologizing for acquisition processes," Davis, the acting head of Air Force acquisition, said. Beyond that, he really isn't ready to declare any kind of victory, at least until he has another quarter or two of results under his belt. "Then we'll look at the next quarter, and we'll look at the next quarter, and we'll look at the next quarter; then we'll go from there."
The key number: Of 26 large Air Force programs (so-called ACAT-1s) "18 have reduced their forecasted estimates, projecting savings of approximately $7.1 billion," according to a report Davis sent to Mike Donley, Air Force Secretary.
Here's a summary of the reasons for the decline in costs, rendered in good old Pentagon speak:
"The USAF Acquisition system performance has slightly improved over the past year. There are improved trends in Program Manager Assessments, Cost Performance, improvements in Workforce Capabilities and in some areas of Contracting and Funding performance," reads the cautious summary of a report Davis sent to Mike Donley, Air Force Secretary.
How did this happen and what does it mean?
"At least the [cost] trends are stabilized. That's about as excited as I'm willing to get," the general said with a rueful smile.
Gen. Davis said there were not one or two variables that might have led to the decreased costs. When I asked him to imagine he was explaining the news to Congress he said the air Force is producing "more rigorous cost estimates at beginning of programs; more focused business deals; better contract negotiations — more focused negotiations." There's one other factor to consider. "I won't kid you either. Some of this [costs] is lower because we bought fewer of them. But that's not the answer because that always happens," he said.
One of the most striking factors seemed to be that the Air Force has managed to keep requirements under control during the last year, with not a single Key Performance Parameter violated. To the uninitiated, that means no program stuck something on a weapon that wasn't there already or insisted on it being able to do something that wasn't already planned.
Among the reasons for this, Davis, said, is that he and other Air Force managers are being "more aggressive about what we will accept at the start of a program." At the same time, the general said he did not believe in one of defense acquisition's hoarier beliefs, that "requirements creep" is a major cause of programs blowing their cost caps: "I have seen program starts with incredibly challenging and, in some cases, unrealistic requirements, but I have not seen them grow."
One acquisition area has not improved, the report says: "Schedule performance continues to remain problematic and shows no signs of improvement."
The report documents an average seven months of schedule growth. The biggest schedule growth – an average of a whopping 30 months — came in large programs between Milestone B and Milestone C, the period that includes engineering manufacturing and development (EMD) to production. While Davis declined to discuss individual programs in any detail, he did tell me during the interview that the schedule performance gets a lot better if one program is pulled from the average. "All these numbers drop by about half if you take F-35 out," he said. The general did not say if that would also apply to cost.
If the Air Force can do this, we can all hope that the Army, Navy and Marines can match their skyborne colleagues.
For hard core acquisition types, here are the basic facts behind the decline in costs, as presented to Secretary Donley:
Program Manager Assessments have improved over the fiscal year. The percentage of ACAT I-III programs assessed green by Program Managers has risen four percent from 70% to 74%.
Cost Performance remains relatively stable with slight improvements to program cost estimates.
Schedule Performance continues to underperform. Comparing ACAT I schedules of programs that reported DAES' as of September 2011 and September 2012, we are seeing between 190 and 250 months of enterprise schedule growth across the institution. On average, programs added up to seven months to their schedules for the year. Cycle times for active ACAT I MDAP programs remain 30 months behind our original plans between Milestone B and Initial Operating Capability (IOC).
Technical Performance remains stable. Currently, all unclassified AF ACAT I programs with future IOC milestones are projecting that their Key Performance Parameters (KPPs) will be met between the threshold and objective trade-space. Additionally, during FY12 no changes to KPP requirements were identified for unclassified ACAT I programs having had an Air Force Requirement Oversight Council (AFROC) from 2009 forward.
Contracting Performance can be assessed as either mixed or improved depending on lens used to measure improvement. The majority of contracting process cycle times have improved. The percentage of competitive contract actions is 76% and effective competitions have increased from 84.9% to 86.5% from last year. The FY12 Small Business utilizations of 14.7% exceeded the FY11 SAF/SB Threshold of 14.51%. Conversely, the number of UCAs and the average time to definitize UCAs has increased; the percentage of dollars competitively awarded has decreased from 42.4% to 36.7%; and sustained protests grew from 1% to 2%.
Workforce Capability has improved over the past year. Our workforce professional certifications have improved over the year for both Level II and Level III certifications. Additionally, our compliance with Key Leadership Position incumbency requirements has improved from 85% to 90% over the year. 94% of acquisition workforce is meeting professional currency standards providing evidence the acquisition workforce continues to actively seek continuous learning opportunities to improve their job performance.