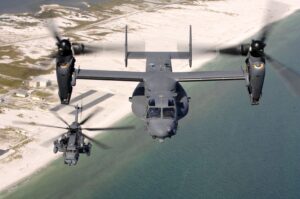 CORRECTION: Multi-year contract three aircraft number restated
WEST PALM BEACH, Fla. – The Naval Air Systems Command (NAVAIR) isn't just wooing foreign customers for the V-22 Osprey. Deputy Program Manager Scott Hite revealed here Thursday that NAVAIR has also been talking to Air National Guard units about the tiltrotor transport as a search and rescue aircraft.
"There has been some dialogue with the Air Force Air Guard and certain states have mentioned interest," Hite said in a briefing to the American Helicopter Society International's annual conference here, Forum 72. "Texas and Pennsylvania have both shown some interest. Alaska has shown some interest."
Politics being part of the equation in any major Defense Department acquisition program, it would have been easy to guess that the Texas and Pennsylvania Air National Guard units would be among those interested in the V-22. Bell Helicopter builds much of the Osprey's wing and rotors in Fort Worth and assembles the aircraft in Amarillo, mating its parts with fuselages produced near Philadelphia by its 50-50 partner in the V-22, Boeing Co. Air National Guard units answer to their state governors unless federalized.
Alaska also makes a lot of sense, given that state's vastness and the far greater speed and range the V-22 offers compared to conventional helicopters. The late Ted Stevens, an Alaska Republican who was a power on the Senate Defense Appropriations Subcommittee for years,  was among key V-22 supporters who kept the program alive from 1989 to 1992, when former Defense Secretary Dick Cheney tried his best to kill the program.
Speaking to the AHS gathering remotely, Hite said the Air National Guard interest is not firm, partly because, "Obviously it's not a cheap platform compared to some of the other rotary wing platforms." The Marine Corps version of the Osprey, the MV-22B, costs nearly $70 million a copy under a current multiyear contract NAVAIR has with Bell and Boeing. Conventional military transport helicopters can be bought for less than half as much.
The Marines have taken delivery of 253 V-22s and have 44 more to buy beyond those in production to reach a planned 360, though Corps leaders have said they would like to get at least 28 more. The Air Force Special Operations Command has taken delivery of 52 CV-22Bs and might buy "a few" more as "attrition aircraft" to replace losses, Hite said. AFSOC has said it'd be interested in buying at least four. The Navy is embarking on a plan to buy 44 CMV-22s to replace its fixed-wing C-2A Greyhounds in the Carrier Onboard Delivery mission, i.e., hauling people and supplies to aircraft carriers.
Hite said the program office is trying hard to win more foreign customers partly because increasing production would bring unit prices down. "We continue to talk to other countries such as Israel, UAE and UK are the countries that are interested in it," he said.
CORRECTION BEGINS: NAVAIR spokeswoman Kelly Burdick informed us the day after Hite spoke that he had misstated the number of aircraft to be bought in the Osprey program's upcoming third multi-year contract. The correct number is 46. CORRECTION ENDS  If Congress approves, the program expects by December 2017 to award a new multi-year contract to Bell and Boeing that would cover  56 46 Ospreys for the Marines and the Navy as well the last four of 17 V-22s Japan's military is buying, including five that are being built this year and another eight scheduled for production next year.
Congress usually requires multi-year contract prices be at least 10 percent lower than those contractors offer under single year contracts. Hite said NAVAIR is structuring the new V-22 multi-year so that customers who decide to buy even after that deal is awarded can join it underway and pay the same lower price that would result for the Marines, the Navy and Japan. NAVAIR calls that "step ladder pricing." Now if they can just get those potential customers to take the first step.
Just so we're clear, the American Helicopter Society International paid for Breaking Defense's lodging at the conference.