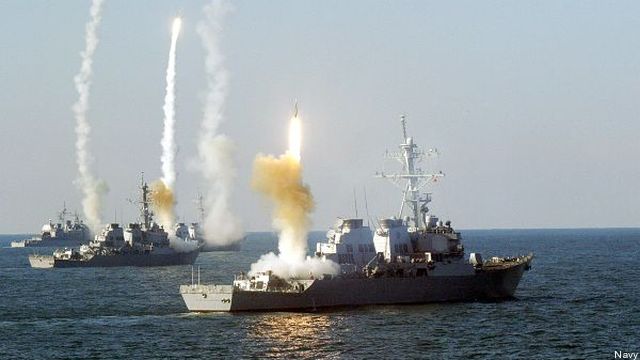 UPDATED
WASHINGTON: A Navy plan to base four Aegis warships in Spain could end up being sunk by congressional lawmakers looking to protect their own political interests.
Defense Secretary Leon Panetta announced the ship relocation plan in October at NATO headquarters in Brussels. The decision "should send a very strong signal that the United States is still continuing to invest in this alliance, and that we are committed to our defense relationship with Europe even as we face growing budget constraints at home," according to Panetta.
The final phase of the plan includes an "Aegis ashore" missile facility in Poland supported by radar warning sites in Turkey and Romania. Both the sea and land-based Aegis systems use the SM-3 missile. The first two Aegis ships will deploy to Rota as part of Sixth Fleet in 2014 with the last two arriving in 2015, fleet spokesman Cmdr. Mark Boyd said. But looming budget constraints at the Pentagon could increase the current pressure in Congress to reduce the overseas basing of U.S. troops.
That pressure will only ramp up the rhetoric on Capitol Hill to bring American forces home, particularly U.S. naval forces. With the Navy preparing to drawdown the size of its fleet, each ship — and the payroll associated with its 300-plus crew members — is even more valuable to lawmakers eager to claim that they're bringing home the bacon. "The political priority is going to be: Bring them home and put them in my district," Gordon Adams, a former White House defense budget manager, said regarding congressional concern over deployed U.S. forces. The Rota plan calls for family members and some U.S. civilian employees to join the 1,300 crew members, resulting in nearly 3,500 Americans located at the NATO naval station.
Senate Armed Services Committee Chairman Carl Levin grilled Defense Undersecretary Ash Carter on Pentagon plans to bring home 300,000 U.S. troops stationed overseas and close of some of the 700 overseas installations "Is that on the table," Levin asked point-blank. "On the table," Carter replied.
During the same hearing, Alabama Republican Jeff Sessions said argued that bringing back U.S. troops would give the economy a much-needed shot in the arm. "It's better for those troops to be in the United States, spending their wealth and creating tax growth for the local communities, and jobs," Sessions said. Levin's spokesman Bryan Thomas declined to comment on the Aegis deployments to Spain.
Most of the Navy Aegis destroyers destined for Rota will be pulled from the Navy's Hampton Roads facility, retired Rear Adm. Craig Quigley, executive director of the Hampton Roads Military and Federal Facilities Alliance, said in October. Lawmakers representing Hampton Roads already are fighting a Navy plan to move an aircraft carrier from Norfolk to Mayport, Fla., which lost its carrier with the retirement of the John F. Kennedy.
Sen. Jim Webb, D-Va., who has led the fight against the carrier move, held off criticizing the Rota plan, based on Panetta's support for the Navy's goal of increasing the fleet to 313 ships.
"We are building new [ballistic missile defense]-capable warships and upgrading older ships to grow from 21 ships today to 41 by 2016. Forward deploying four warships to Spain is an example of how these additional capabilities could be used," Webb said. But the Congressional Research Service and other analysts have said the Navy could not afford to buy the ships it needs to reach 313 even before the decision to cut $450 billion in defense spending over 10 years.
The likelihood of Congress approving the Rota basing plan "depends on proving you can afford it," Adams said. The U.S gets $5 billion in subsidies from Japan to support the U.S. ships and personnel based there, according to Adams. "I donít think Spain can afford to do that, with their current economic crisis," he said. "If it looks like it's going to cost more [than deployments], that would be a real yardstick for Congress." Dov Zakheim, a former Republican Pentagon official, was less enthusiastic about the Pentagon's chances of getting the plan through Capitol Hill. "It's not clear to me that Congress, both sides, are committed to this plan," Zakheim said. The Senate Appropriations Committee's decision to cut advanced SM-3s funding is "rock solid evidence of a lack of commitment," Zakheim said.