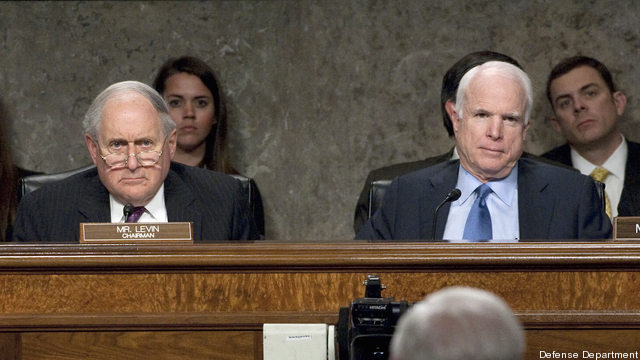 CAPITOL HILL: Sen. Carl Levin made very clear to his colleagues just what is at stake in the inevitable  shout-fest over benefits and compensation. It is the $31 billion saved in the proposed budget in reductions to the rate of pay growth, boosted Tricare payments, and consolidations in the healthcare program, the 5 percent reduction in the housing allowance and the reduction in the subsidy for the military commissaries.
"$31 billion would have to be found if Congress rejects those proposals, is that correct?" Levin asked Defense Secretary Chuck Hagel. That's right, Hagel agreed. And Congress, eyes locked on the November elections with the Senate at stake and every House district up for grabs, is likely to scream loud and long that "our troops deserve the best" and "we must keep faith" and a host of other slogans and arguments that lobbyists for the service associations, veterans groups and a host of others will encourage them to use. (It must be said that some senators and members really do believe those slogans.)
So, one of three key points of friction between the Pentagon and Congress will be compensation and benefits. A second one will be the Opportunity, Growth, and Security Initiative, into which the Pentagon has tucked two F-35s, eight P-8s, a passel of Army helicopters, some base spending and other gear. But we've already written about that. The third point of friction is the Navy, where a range of lawmakers worry first about the Pentagon's commitment to keeping 11 carriers at sea and, second, worry that the surface fleet, already shrinking, will grow too small as the Navy proposes to lay up 11 cruisers and modernize them and cut the size of the Littoral Combat Ship purchase from 52 to 32.
The carrier issue came up during today's SASC hearing when the new senator from Virginia, Tim Kaine, asked Defense Secretary Chuck Hagel just what he'd need to be able to guarantee the nation would keep 11 carriers at sea. Under the current budget plan, the Pentagon has made clear it would like to have 11 carriers but cannot if sequestration remains in effect come 2016. (Reminder: sequestration  was only put on hold for 2014 and 2015. Under the law as it now stands, the dreaded sequester comes roaring back in the next fiscal year.)
"We have to have some indication from Congress that you are going to appropriate the money we need," outgoing DoD Comptroller Robert Hale explained to Kaine. "I'm wondering precisely what indication would be sufficient given we've just done a budget?" Kaine asked. Hagel told the senator he understood and "heard" him. But Hagel also told Kaine that "…the law does not allow me to do that with the current numbers…"
Hagel referenced a letter he had sent to the Joint Chiefs of Staff in which he gave them guidance about the budget. Breaking Defense obtained the letter.
Here's the crux:
"If Congress indicates it will appropriate future budgets at the levels requested in the President's 2015 budget, based on my consultations with each of you, we have concluded that we can ultimately support a larger force while keeping it ready and modernized for the security challenges that await us.
"Therefore, FY 2016 will be a critical inflection point. We will look for a signal from Congress that sequestration will not be imposed in FY 2016 and that the funding levels projected in the Future Years Defense Program (FYDP) will be realized. If that happens, we will submit a budget that implements our desired force levels," Hagel Letter to Joint Chiefs
Congress, over to you.
In other news, Hagel denied Sen. John McCain's claims of "another massive [intelligence] failure because of our total misreading of the intentions of Mr. Putin." The defense secretary declined to discuss details of our intelligence on the Russian moves, but he made clear we knew Vladimir Putin was going into Ukraine.