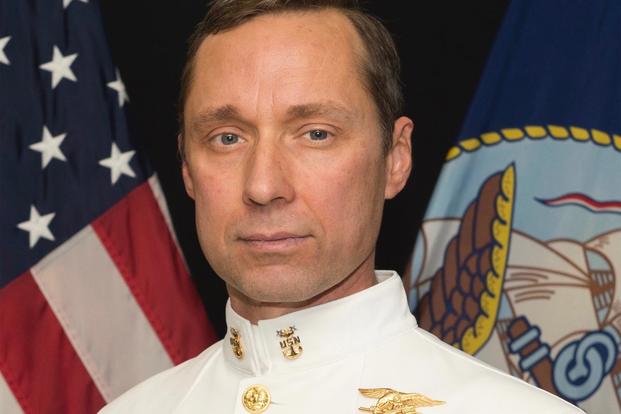 At a White House ceremony this afternoon President Trump will present the Congressional Medal of Honor to Navy SEAL Britt Slabinski
Britt Slabinski sat on the back ramp of a MH-47 Chinook helicopter in the early morning dark. Propellers whirled overhead and the rivets dug into the Senior Chief Petty Officer's backside as he tried to make a decision that would test the judgment of Solomon. The young SEAL Team leader had already been ambushed by Al Qaeda fighters that night and lost a man on a barren mountaintop in the Hindu Kush. Later, his team survived a controlled helicopter crash in enemy territory. And it was still hours before sunrise. 
The lives of his men and the fate of a mission that had gone awry nearly from the start hung on his next decision. Slabinski studied his notebook and tried to bring order to a tactical situation that was stacked against him, and promised tragedy from every angle. Surveillance indicated that the SEAL teammate who earlier had been knocked from a helicopter into a hot landing zone held by the enemy – Petty Officer First Class Neil Roberts – was still alive. Slabinski had also learned the hard way that the Al Qaeda force dug in atop the 11,000-foot peak called Takur Gar had his small team badly outnumbered and outgunned. 
At that altitude the battlespace was frigid and blanketed by deep snow. To reach Roberts they would almost certainly have to fight uphill. Slabinski could wait until a Quick Reaction Force of Army Rangers arrived to help even the odds, but he doubted that Neil Roberts had that much time. On the other hand, Slabinski was responsible for all of the commandoes in his SEAL Team, as well as for the Army pilots who would have to fly them back up a mountain where earlier they had been shot from the sky. 
A former Eagle Scout, Slabinski was looking at his notepad and trying to sort through this Gordian Knot of responsibilities when a thought intruded into his calculations, and then refused to leave. It was the old Boy Scout pledge, "On my honor I will do my best to do my duty…" "On my honor I will do my best…" "On my honor…"
"That thought kept reeling through my mind without me even wishing it, and I remember suddenly sitting up straight and starting to listen to that voice in my head," Slabinski said in an exclusive interview with Breaking Defense. "And that's when I decided that I was going to go get Neil, because I hadn't done my best yet to try and rescue him."
Slabinski's team didn't hesitate or flinch from that decision, despite understanding the dismal odds. "I was absolutely certain this was a one-way trip, not just for me but likely for my teammates, but we were the only chance that Neil had," said Slabinski, who recalls thinking of his six-year-old son on the helicopter flight back to the top of Takur Gar, and of the Navy chaplains in blue suits who would soon be knocking on his family's front door back home. "I remember thinking of my family, 'I'm sorry for what's to come.'"
At a White House ceremony this afternoon, President Trump will present the Medal of Honor, the nation's highest award for valor, to Master Chief Special Warfare Operator Britt Slabinski for embodying the U.S. military's code of "leave no man behind." The events of March 4, 2002 would become known as the "Battle of Robert's Ridge," for Neil Roberts. It claimed the lives of seven U.S. elite troops and was one of the bloodiest engagements for Special Forces up to that point in the post-9/11 Global War On Terror. 
There have been media reports that another member of Slabinski's Team – Air Force TSgt. John Chapman, a combat controller – has also been recommended for and will receive the Medal of Honor. If the reports prove true, it will be only the third time in the post-9/11 era that two Medals of Honor are awarded for the same action. Not altogether coincidentally, the award recommendations coming 16 years after the battle have rekindled controversies among the service "tribes" within the Special Forces community about what exactly happened on Robert's Ridge, and who was the most deserving of recognition. 
The Kill Zone
As the twin-rotor MH-47 carrying Slabinski's team touched down on the snow-covered mountain, it was once again raked by machinegun fire. The first out the back ramp, Slabinski tumbled head first in the deep snow, his night-vision goggles smashing into his face and splitting his nose. By the time he got up, the other members of his team were moving to their assigned positions and taking fire from multiple bunkers and directions – a classic kill zone.
Air Force TSgt. Chapman was already engaging one enemy position up the slope when Slabinski caught up with him, and together they assaulted the bunker and cleared it by killing two Al Qaeda fighters. As Slabinski was assessing the situation, a nearby machine gun bunker hidden beneath a tarp at the base of a large pine tree erupted, the muzzle flashes seemingly no more than 20 yards away
"I could feel the bullets passing through my clothes, and one went through my left side pocket and blew out my medical kit," said Slabinski. "I jumped behind a large rock and looked over and saw that John [Chapman] had been hit and was down. I looked around our positions to get situational awareness, and saw [enemy] muzzle flashes to my front and to our left and behind us as well. You could hear the crack of the bullets landing nearby and snow kicking up all around us from the impacts."
Twice Slabinski tried and failed to take out the nearby machine gun bunker with a grenade. On a third attempt his SEAL Team M-60 machine gunner, "Brett," poured enfilading fire into the bunker as cover, and Slabinski and another SEAL tried to flank it from the left. Before they could reach it, the Al Qaeda fighter in the bunker threw a grenade. There was an explosion, and then silence from the M-60 machine gun, followed by shouts from behind the rock that Brett too was wounded.
"I'm looking around at my guys at this point and see that John is still laying where he fell, Brett is now wounded, and my other two guys are fighting it out with another bunker, and this feeling suddenly came over me that my guys are up here are getting decimated," said Slabinski. "And I have to do something different to stop that."
Slabinski decided to relocate his team beyond a drop off on the slope of the mountain that could offer better cover, and from there to call in air support on the enemy positions. After he gave the order and his commandoes began gathering the wounded, he crawled over to John Chapman, who still lay where he initially fell. 
"I crawled right over John, looking for some sign, some movement, any sign of life," said Slabinski. "And I didn't get anything out of John." 
As the SEAL Team retreated down the mountain another member was hit by a machine gun bullet that nearly took off his leg, which he would later lose. His teammates dragged him to cover through the snow. As they were regrouping, an MH-47 Chinook carrying the Quick Reaction Force of Army Rangers banked sharply right over their heads. Slabinksi frantically tried to wave them off. 
"They were headed right to where we had already gotten two helicopters shot up, but I'm on the CAS [Close Air Support] radio frequency, and I can't shift over to the helicopter communications frequency fast enough to tell them to get the hell out of there," said Slabinski. "Sure enough one of my teammates can see it all happen, telling me 'Yeah, they just took an RPG [rocket propelled grenade], and they're down."
As the Rangers scrambled out of the downed helicopter into the Al Qaeda ambush zone, four were killed and others were wounded. In all seven U.S. service members were killed in action on Robert's Ridge. They included Neil Roberts himself, who was executed by Al Qaeda fighters even before Slabinski's team made it back up the mountain.
What Happened To Chapman
The controversy surrounding the Battle of Robert's Ridge concerns the fate of Air Force combat controller John Chapman. A later investigation of the battle by Joint Special Operations Command unearthed video footage from a Predator drone that captured continued fighting on Takur Ghar's peak even after Slabinski's SEAL Team had retreated, and before the Quick Reaction Force helicopter was shot down. An analysis of a classified video, made by the Air Force to bolster its recommendation of a Medal of Honor for Chapman, purportedly shows Chapman's body lying motionless in the bunker for 12 minutes, and then sustained movement as someone – presumably Chapman – in the bunker moves around firing his weapon in multiple directions for an hour. Newsweek's exhaustive investigation of the Chapman controversy can be found here.
For his part, Slabinski has always praised Chapman for saving the lives of his team. "John died saving us from the enemy fire, which was effective from three sides when he was killed," Slabinski said in a witness statement for Chapman's posthumous Air Force Cross medal, which Newsweek obtained. "John deserves the highest medal we can get for him."
Britt Slabinski and John Chapman had been tent mates in Afghanistan, and they kept a running game of chess going in their quarters that they never managed to complete in a hectic war zone. Soon the two friends may have more in common than an unfinished game of chess. 
"Not a day goes by when I don't think about John," Slabinski told Breaking Defense. When asked what he thought on hearing that Chapman may have survived and fought for another hour alone on the top of Takur Gar, Slabinski pauses before answering. "Well, there's was no doubt in my mind that he was dead. No doubt in my mind," he said. "But my first thought [on hearing of that possibility] was that it would be completely in John's character to have done that. That was his DNA. That was my whole team's DNA. It's not what I saw. Not what I experienced. But it was within John Chapman's character to have done those things." 
On Thursday at the White House Medal of Honor ceremony, Slabinski will be reunited for the first time with other Robert Ridge veterans in his SEAL Team, Rangers of the Quick Reaction Force, and MH-47 aircrews. Members of Gold Star families who lost loved ones on Robert's Ridge will also attend, including from the Chapman family. 
"I'll accept that medal with great humility, because all my guys followed me up the mountain that day, as did the aircrews that kept the flights coming, and the Rangers who came not because they knew us, but because they knew we were in trouble," said Slabinski. "In many ways I'm uncomfortable being singled out because when you wrap your head around that whole battle, every one of them deserved this medal. That's no exaggeration." 
Tech. Sgt. John Chapman, the combat controller who was killed during the fierce Battle of Roberts Ridge in Afghanistan in 2002, will be posthumously awarded the Medal of Honor, according to a report in Task and Purpose.