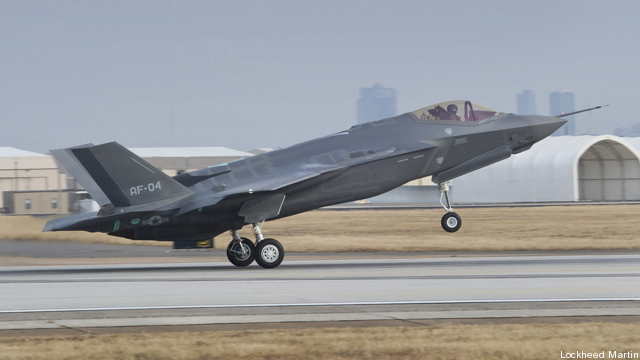 WASHINGTON: Given earlier comments by the F-35 program head, today's remarks by the acting head of Pentagon acquisition that "putting the F-35 into production years before the first test flight was acquisition malpractice," isn't really news so much as confirmation that senior Pentagon leaders know mistakes were made.
Frank Kendall, who has been nominated to take the chair as undersecretary of Defense for acquisition, technology and logistics, told a Feb. 6 event hosted by the Center for Strategic and International Studies here, that the decision "should not have been done" and that "now we're paying the price for being wrong." This was Kendall's first public appearance since he was nominated to lead the Pentagon's acquisition efforts.
He went on to say that the Pentagon "didn't model everything as precisely as we thought." Improvements in modeling and simulation were thought to help make possible the aggressive approach to concurrency that the Joint Strike Fighter's builder Lockheed Martin adopted and the Pentagon approved. It looks as if they just weren't that much better. The F-35 isn't alone in having gone to production too early, Kendall said: "I think there's been a tendency to go to production too early and the F-35 is an extreme example of that."
Perhaps the most interesting comment from Kendall was about Sen. John McCain's floor speech, in which the ranking member of the Senate Armed Services Committee slammed the F-35 as a "scandal and a tragedy," among other things.
Kendall, who claimed he wasn't "sucking up" to the senator, said the remarks were "pretty much spot on." Later in the event, Kendall mentioned that he had met with Sen. McCain last week, though he provided few details.
If Lockheed Martin, builder of the F-35, can take comfort from Kendall's comments today, it is because he made clear that the Joint Strike Fighter was not the only major program that the Pentagon and industry have screwed up.
Pointing to the Army's Ground Combat Vehicle and its predecessors, Kendall said the Pentagon's "biggest problem" in acquisition may be "starting programs we should never have started." Do we hear a few amens from the audience?