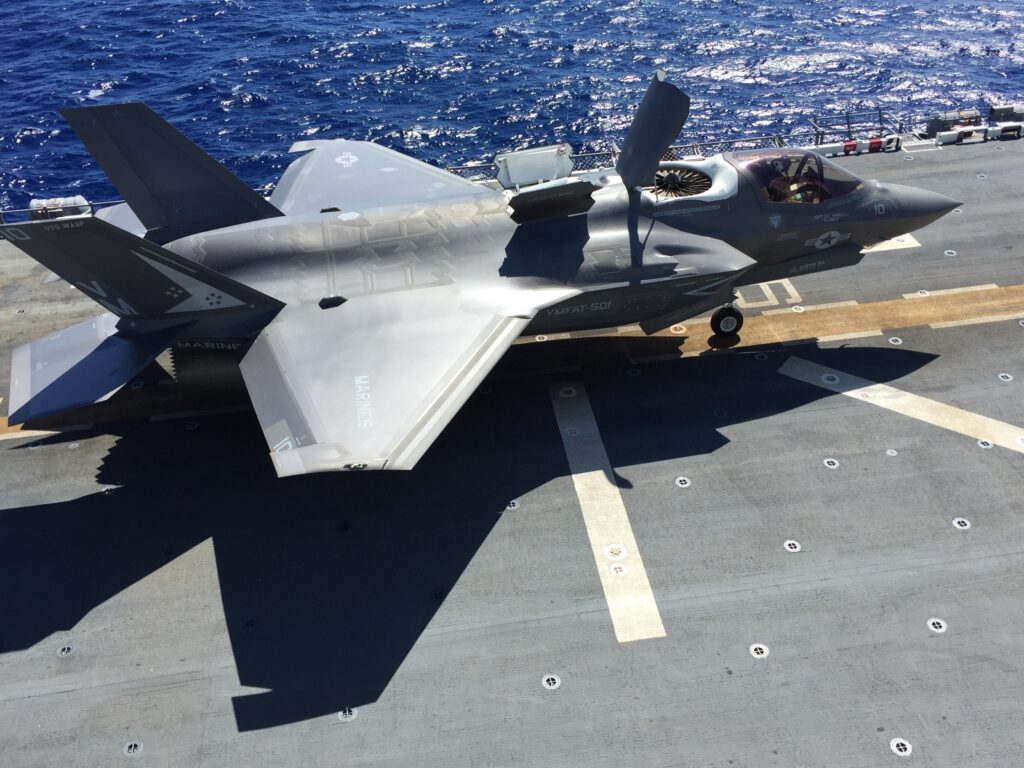 WASHINGTON: As I watched the seemingly endless string of F-35Bs take off from the deck of the USS Wasp earlier this week, I was struck by how routine it all seemed.
During eight days of flying, the F-35Bs flew 108 sorties, racking up 85.5 hours, deputy Marine Commandant for aviation, Lt. Gen. Jon Davis, told us on the phone this morning, conceding it was "a low number of hours, really, because the jets were light-loaded…" Low hours, maybe, but that's the first time these planes were put through their paces in anything like regular military circumstances.
Routine is not what we've come to associate with the F-35 program over the last decade. Instead, we've thought of overweight planes, ballooning costs, design flaws, unresponsive companies (Lockheed Martin), balky software and magic sensors that just didn't seem that magical.
But on the phone today the head of Pentagon acquisition, Frank Kendall, told reporters in a conference call from Norway that "there's a fundamental change in our direction." Instead of making basic fixes to basic parts of the aircraft, Kendall made clear, the focus is now on manufacturing planes in greater numbers, completing testing, deploying aircraft, training maintainers and pilots in numbers and developing concepts of operations for war and peace.
"The minister of defense of Norway kicked off our meeting, and she used a phrase I'm going to quote. I think it describes pretty well where we are right now," Kendall told reporters. "'We're turning the future into the present.'"
That seems consistent with what senior Air Force and Marine officers are saying about their versions of the F-35. Davis told us Tuesday on the USS Wasp that he's already focused on full production. Ditto for his counterpart at the Air Force, Maj. Gen. Jeffrey Harrigian, who told me earlier the Air Force is planning for full production.
So what does this mean? "We're turning our focus much more towards fielding the program, upgrades in the future and getting whatever efficiencies we can going forward," Kendall said this morning.
He announced a "bulk buy" program for the U.S. and Joint Strike Fighter program international partners to procure up to 450 F-35s over three years, with 150 bought each year. This is not a multi-year purchase, which is subject to explicit congressional approval. It still needs an OK from the Hill, but this is similar to the purchases made by the Navy of the Virginia-class submarines. If appropriators OK the money, and authorizers do not oppose it, it can go through.
Finally, Davis said that the Thermion deck coating applied to the USS Wasp deck successfully handled the incredible beating from the 40,000 pounds of thrust from the F-35B engine. The coating, though there were visible scorch marks, "performed to standard," Davis said. "But," he went on to note, "there's more work to do."