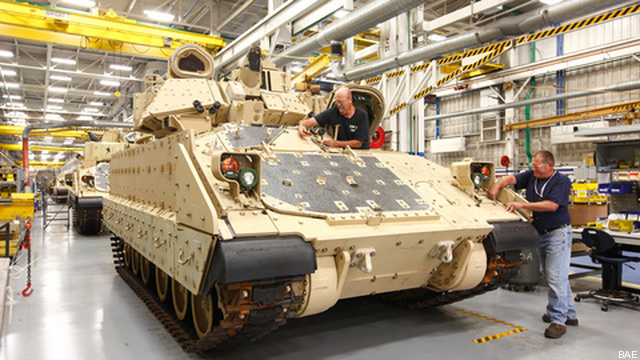 CAPITOL HILL: There's a new chairman in town on the HASC's powerful tactical air and land forces subcommittee, the sometimes fiery Michael Turner of Ohio, and he's got his sights set on right on the Army and the Defense Department's industrial base practices.
Turner, best known as a vigorous advocate for missile defense and his attention to detail on national systems governed by the strategic forces subcommittee he ran until this last election, made clear to reporters this afternoon that he's closely watching the Army's oft-botched acquisition efforts — especially the controversial Ground Combat Vehicle.
He made it crystal clear that he wants the Army to think very hard before issuing any new contracts or committing the service to a new vehicle. Since he and his staff are still combing through the just-released budget details and haven't yet held any hearings, Turner was careful not to prejudge.
"This is the time we need to make sure this doesn't become another F-35 because of concerns about schedule and cost," he told about a dozen reporters.
The other issue he flagged for close oversight is industrial base policy, particularly the Army's Lima, Ohio tank plant — run by General Dynamics — and the York, Penn. Army plant that builds the vaunted Abrams tank.
The Army has pushed back against Congress every time it has told the service to keep the Lima tank plant open. It has refused to fund work at Lima for the next three fiscal years saying that it can reopen the plant when needed after three years. Congress has not bought those arguments, faced with job losses and what many on the Hill believe will be steep costs to restart the plant. Turner is also watching the York, Penn. plant that builds Bradleys, as our readers know.
"The numbers are not sufficient to sustain the facility," Turner said of Lima, adding that "there is a good case to look at both" the Ohio and Pennsylvania plants. Although he didn't put it in these terms, he basically accused the Army of playing chicken with Congress on the plants. Instead of battling back and forth with the Pentagon on industrial base issues, as has happened with the two Army plants, Turner said he hoped he and his colleagues could find ways to encourage the military to build industrial base issues into policy.
On the F-35, which his subcommittee also oversees, Turner said he believed the program was "stabilizing," but made clear it is a top priority for his panel. A congressional staffer at the event noted that the first briefing Turner received was on the F-35. Since then, Turner has also gotten one classified briefing and visited the Fort Worth plant where Lockheed Martin builds the three variants of the plane.
Finally, Turner took aim at the Obama administration's offer to drop some missile defenses in Asia if North Korea agreed to abandon its nuclear ambitions.
Here's how the New York Times reported Secretary of State John Kerry's remarks three days ago:
"In a news conference, Mr. Kerry suggested that the United States could remove some newly enhanced missile defenses in the region, though he did not specify which ones. Any eventual cutback would address Chinese concerns about the buildup of American weapons systems in the region."
Turner, who has never made a secret of his disdain for the Obama administration's missile defense strategy, sent President Obama a letter calling this latest move "the same failed strategy that your administration offered up to the Russians in exchange for reining in Iran."