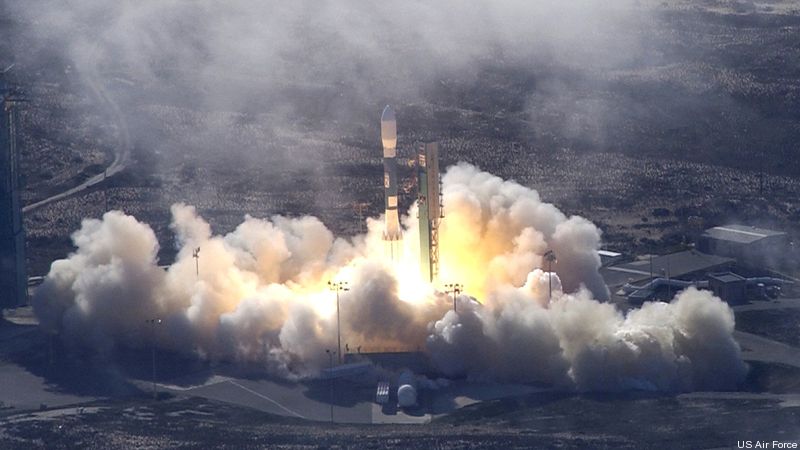 The next administration must do a "strategic rebalancing" of means to achieve what have been consistent national space security ends (goals): stability, sustainability and freedom of access. But a significant challenge to both reaffirming ends, and determining and implementing means, is structure, as we point out in a recent Strategy Paper for the Atlantic Council.
While space is an inherently international domain with multiple and multidisciplinary policy-related facets, figuring out the ends and means tends to be done by small, stove-piped groups that have soda-straw perspectives. That can lead to strategic-level misalignment and counter productivity.
Though there have been numerous attempts to correct these structural issues, bureaucratic inertia has turned those attempts largely into exercises in rearranging deckchairs. Interagency structural adjustments will be an important part of effectively addressing future U.S. national space security needs. NASA, the National Oceanographic and Atmospheric Administration (NOAA), the FAA, the State Department, and private sector actors are among a likely expanding number of stakeholders in assuring those needs are met. They should not be left out of discussions like the 2014 Strategic Space Portfolio Review (SPR).
Although that review led to significant strategy and programmatic changes affecting the broader group, participation in it was limited to the military and intelligence communities. Not only are the views of other stakeholders important, there are roles they might play in achieving goals as well. First, however, it is important to understand the nature of the stove-piped organizations with their soda-straw views.
The United States deliberately bifurcated its space program beginning in the 1950's, separating civil and military efforts. That bifurcation has come with costs and benefits. The benefits are largely in international perceptions, the costs are largely financial and come in areas like strategic planning. Financially, there is considerable duplication between the space sectors.
Coordination of programs in the government budgeting cycle – before a program is put into the all-important Program Objective Memorandum (POM) – could alleviate some of that duplication. That coordination would necessitate real discussion on what we need and prioritization for programmatic spending. There is no end to how much money could be spent on space assets, but prudence in the current fiscal environment demands serious discussion regarding what should be spent, and where. That kind of interagency discussion does not regularly occur.
While all U.S. space users, including NASA, NOAA, and the rapidly expanding private sector, are interested in stability, sustainability and freedom of access, the military and intelligence communities are largely responsible for determining how that should be done, often without meaningful input from other actors.
The State Department also has a vested interest in space strategy given that space policy is often a subset of foreign policy. The Federal Aviation Administration (FAA) has in interest in developing regulations. Even within the military and intelligence communities there are many differing views, driven by specific interests. This is not a new problem, and it is not surprising that hundreds of man hours have been spent trying to figure out how to make these puzzle pieces come together coherently and effectively.
The multiple efforts over the years to add more coherence to military space planning and organizational integration have been geared toward optimizing funds and meeting ever-increasing needs and demands.  Consequent to a 1993 congressional mandate borne from frustration over repeatedly asking the military "who's in charge" of military space policy and programs and getting no good answer, the positions of deputy Undersecretary of Defense for space and the Space Architect were chartered in 1995.
Then in 2001 three commissions analyzed space issues, deeming it to be perpetually broken: The Commission to Assess U.S. National Security Space Management and Organization (Donald Rumsfeld's Space Commission), the National Commission for the Review of the National Reconnaissance Office (NRO), and the Independent Commission on the National Imagery and Mapping Agency.
But the creation of those positions, especially the Space Architect, and multiple subsequent, mostly marginal reorganization efforts were, again, largely deck-chair arranging exercises, as evidenced by the findings of the 2008 congressionally-mandated Allard Commission Report. That report was peppered with concerns regarding a lack of a true authority for military and intelligence space assets, and noted that no one was "in charge." Commission chair Tom Young was quoted after the report was released as saying there had been "no adult supervision" in National Security Space.
More recently, in October 2015 Deputy Defense Secretary Bob Work appointed Air Force Secretary Deborah Lee James as the Pentagon's Principal Defense Space Advisor (PDSA), a new role replacing —  subsuming —  the secretary's previous role as executive agent for space (EA4S), a coordinating position created after the 2001 Rumsfeld Space Commission but lacking budget authority. In a 2015 interview, James explained the new position and how it expands on that of the executive agent:
"I will be responsible for conducting the Space Portfolio Review. That's an annual look to see do we have our investments and strategies about right, do we need to make adjustments, how do we proceed in the future. I will be at the decision-making table within the interagency process, so that goes beyond the Defense Space Council and includes the key meetings in the White House and with the Intelligence Community as well. Very, very importantly, it also means I will have an independent voice on space. So whereas the executive agent for space chaired the Defense Space Council and was a coordinator and dutifully represented all of the different views, some of which are not in agreement with one another, in my new role I'll still represent people's views, then I'll lean in and say, 'Here's what I recommend.'"
But the secretary's new position still lacks direct acquisition authority. Power follows money. So with James lacking final decision powers on major space purchasing decisions, her new role may constitute little more than a title change. Further, it still focuses only on Pentagon issues, which inherently touch on excluded space actors and organizations.
The stovepipes occasionally do touch. At intermittent meetings, all the key players come together with their briefing books to share – what they feel comfortable sharing – activities and plans with others, and then they go back to their individual fiefdoms.  Civilian space organizations and private actors are far less parochial than the Pentagon. Space Situational Awareness (SSA), for example – knowing what is going on in space, including collision avoidance — is a key concern of all space players.
But the military and intelligence communities that have been the guardians of SSA data are not known for being overly generous with that information, leaving the potential for flying blind very real for some national and international satellite owners. The military has recently allowed for limited cooperation with some commercial operators on SSA, but a private company, AGI, seems to be taking the lead in expanded SSA support. The broader point is that space – and space security — is not the purview of only the military and intelligence communities.
The Allard Commission recommended reestablishment of the National Space Council, originally created by President Dwight Eisenhower in 1958 to provide an interagency bridge and to coordinate national policy. It was abolished by President Richard Nixon in 1973, and then reestablished briefly by George H.W. Bush. Reestablishment has been considered since then, including by the Obama Administration. That it has not occurred evidences the power of bureaucracies. Without teeth of course, it would be just another layer of bureaucracy.
Bureaucracy can create as many problems as it can solve, especially in terms of time required to deal with every issue and people involved (many of whom are uninformed and will have no responsibility for implementing decisions). Also, centralizing personnel often sounds like a good idea, but when organizations badly want people reassigned to them, they often get exactly that: people purged from other organizations. For that not to happen, a new organization must be seen as having teeth, a place where strong people will fight to work.
One way to do that is to have an organization like a Space Council chaired by the National Security Advisor rather than by the Vice President, as it often was in the past. That would unambiguously signal an attempt to move space policy closer to the inner circle of presidential advisors and to someone with a strong position in the security communities. Further, with the authority, for example, to assign space-related roles and adjudicate interagency disagreements, it could not be ignored.
Whether through a National Space Council or some other organizational mechanism, without more and better interagency cooperation space strategies cannot be optimized. Space is a vital national interest. It is important that the U.S. use all tools available to maintain and support that interest. The new administration needs to boldly step up to the (largely bureaucratic) challenge.
Joan Johnson-Freese, a member of the Breaking Defense Board of Contributors, is a national security space expert and professor at the Naval War College. Theresa Hitchens is a space expert at the University of Maryland's Center for International and Security Studies. They co-authored "Toward a New National Security Space Strategy: Time for a Strategic Rebalancing," published by the Atlantic Council.