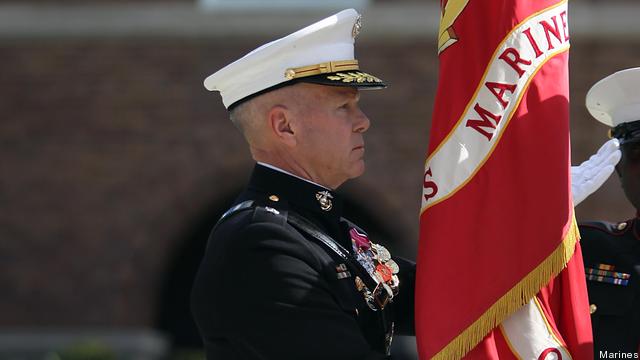 NATIONAL PRESS CLUB: As war funding goes away, Marines must learn to live with "good enough" in an era of austerity, Commandant James Amos declared today at the National Press Club, saying that even top-priority programs like the F-35B Joint Strike Fighter and the V-22 Osprey tilt-rotor face the budget axe.
Even without sequestration, the half-trillion in cuts over 10 years already imposed by last year's Budget Control Act are "going to have an impact on the amount of things we're able to buy," Gen. Amos said. "Right now we've not adjusted the top numbers, the program of record, [for] what we plan on buying on V-22s and JSFs. [But] over time, especially if sequestration hits, we're going to have to take a look at the total numbers."
If sequestration does occur, "it would disproportionately affect the Marine Corps," Amos added, "because our numbers are so small, our budget is so small." The estimated 10-14 percent cuts, which the larger services have more margin to absorb or to offset by reprogramming (with Congressional approval), might force the Marines to cancel some programs outright, he warned.
Amos spent much of his time today answering audience questions about gays and women in the most conservative service. Though Amos famously advised against the repeal of "don't ask, don't tell" in 2010, he has since said implementation has been a "non-event," as he reiterated today: "I don't think there is a problem," he said, and when he visits Marine units and bases, "I don't ever get a question" about it.
Amos likewise expressed his confidence about the Marines' upcoming experiment of sending at least two young female officers to its all-male Infantry Officer Course — although women are still barred from serving in actual infantry units.
"We need to get past hyperbole and past intuition, and we need to get to facts," he said, so the Marines will collect data on the female students' performance in the infantry course, survey Marines as a whole, and do tests of physical strength before moving ahead on integrating women into the infantry. Amos also spoke to the difficult struggle to eradicate sexual harassment and suicide in the military.
But, the commandant said, the biggest cultural challenge facing the Marines today is adjusting to an era of tighter budgets. For a decade, the military has enjoyed "an environment of plenty, where because of the war both in Iraq and Afghanistan, we've been able to buy not only what we needed but to buy what we wanted," he said. For many young officers, he added, "this is all they know…. so right now there's an education going on within my service on what's good enough."