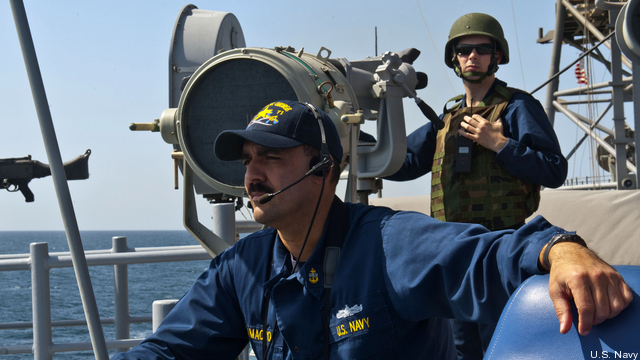 WASHINGTON: The Navy is "on a roll" when it comes to shipbuilding, but the existing fleet remains under stress, the Chief of Naval Operations said today.
"We are on a roll on shipbuilding, [with] ships delivered on or ahead of schedule, on or below budget," Adm. Jonathan Greenert said at a luncheon hosted by the Association of the US Navy today. "How'd that happen? How about a little bit of predictability" — a reference to his rejection of how the Navy had whiplashed contractors in the past with change orders in mid-construction, most notoriously on the first two Littoral Combat Ships — "and sitting down with industry, working out a multi-year [contract with] a little bit of profit margin…. We have about 30 ships under construction right now."
Nevertheless, both ships and sailors are still stressed meeting global demands.
"It's driven optempo up, higher than we'd like," Greenert said. ("Optempo" is military jargon for "operational tempo"). "As far as overall manning we're fine," he went on. "As far as manning the right place the right time we've got some work to do."
With tensions rising both with Iran and between China and US allies in Japan and the Philippines, the Navy now has a pair of aircraft carriers in Western Pacific and another in the Middle East. So out of just 11 flat-tops in the fleet (soon to be 10 when the Enterprise retires), those four are deployed, another two are in overhaul, and just five (soon four) are going through pre-deployment training and maintenance — a ratio of ships deployed to the total fleet of roughly 1:2, compared to the 1:4 that's the Navy rule of thumb for a sustainable pace of operations in the long haul.
Deployments for Navy-Marine Amphibious Ready Groups have likewise been stretched far beyond normal lengths, with the USS Bataan ARG at sea for almost 11 months. "If you asked me, 'What's your biggest shipbuilding concern,' it's 'get the amphibs out,'" Greenert told reporters after his public remarks. "They're stressed. The good news is we've got Anchorage and Arlington right around the corner, two LPDs" — San Antonio-class amphibious ships — and their commissioning will make a major difference, he said.
The fleet now stands at 287 ships with the recent commissioning of the USS Fort Worth, the third Littoral Combat Ship (and the second built by Lockheed Martin). Among other missions, the LCS is meant to take on mine-hunting, a long-neglected niche in the Navy, but with only three LCS in service and the mine-warfare "module" still in development, that burden falls on 14 aging Avenger-class minesweepers.
Eight of the 14 Avengers are now in Bahrain, on guard against an Iranian attempt to close the Strait of Hormuz. That leaves just two Avengers back in the United States for training, not enough to get new crews ready to replace those now deployed. (The other four are permanently based in Sasebo, Japan). How long can the minesweeper force keep so many ships deployed? "How long I don't know," Greenert told reporters. "We're looking closely at it in October to see if we'd need to sustain two in the Gulf" — that is, two of the four sent from the US to Bahrain this summer. The Navy would need a new crew rotation and training model to maintain a standing minesweeper force of six Avengers in the Gulf, Greenert and other officials have said.
For now, though, Greenert is glowing about the success of the minesweeper force in recent international exercises. "It was just over a year ago Gen. [James] Mattis [commander of US Central Command] said we need to sharpen our skills in mine countermeasures" and proposed the exercises now wrapping up, Greenert said. "We had 34 countries" participating, Greenert said, from as far afield as Latin America and Estonia.
With so much already on his plate, Greenert was naturally eager to downplay tensions. Asked about tensions with China, he noted that "we've invited the Chinese to come to RIMPAC," the massive annual "Rim of the Pacific" exercise, for what would be the first PLA participation ever. And when an audience member raised the prospect of a Russian naval resurgence, Greenert went out of his way to emphasize the positive: "They're certainly rebuilding and modernizing, but I'll tell you they were at RIMPAC and they were good participants….There's a lot of good partnership with the Russians."
Edited at 5:50 pm.