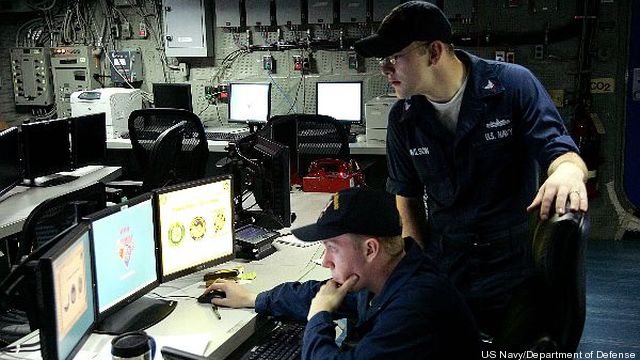 Washington: The Navy's new ship network system may go online later than expected, if service officials press ahead with a $102 million cut to the program's budget, the Navy officer leading the effort said today.
The service is considering a $102 million reduction to the Consolidated Afloat Networks and Enterprise Services (CANES) program, as part of its yet-to-be released five-year budget plan, Program Manager Capt. Didier LeGoff said today.
The CANES system will replace the disparate command, control and communication systems currently on board Navy ships, and put those vessels under a single, uniform network.
If finalized, the cut will likely delay the Navy's plans to outfit the entire surface fleet with the CANES system by 2020, LeGoff told me after his speech at a luncheon sponsored by the Armed Forces Communications and Electronics Association.
Northrop Grumman and Lockheed Martin are the two defense firms vying for the lucrative Navy network deal.
However, he did claim the proposed cut would not affect plans to get a version of CANES on board a Navy destroyer by the end of the year, since that work is already funded. The current budget for the CANES program stands at just over $2 billion, LeGoff said.
This isn't the first time the development work on CANES has been delayed, as a result of funding issues.
Work on the CANES program was brought to a halt for nearly five months, as a result of bureaucratic wrangling between the White House and Capitol Hill over defense spending for fiscal 2011, LeGoff said.
Work resumed after the Obama administration and the Hill reached a compromise over FY-11 defense spending levels earlier this year, but the damage was already done, according to LeGoff.
Aside from CANES, the Navy is also considering whether to cut a significant portion of its warships from the fleet. The service's preliminary budget blueprint includes plans to eliminate up to nine cruisers and three amphibious ships from the fleet.
The Navy is also looking at buying one new aircraft carrier every five years, instead of buying one every five, as part of that tentative budget plan.