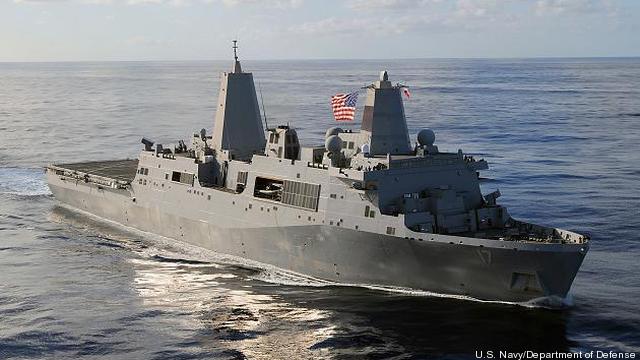 Washington: To say the Navy's San Antonio-class amphibious ship has had some mechanical difficulties during construction is like saying F-35 Joint Strike Fighter has cost a little more than what it should have.
---
For more news and information on the swiftly-changing defense industry, please sign up for the Breaking Defense newsletter. You can also catch us on Twitter @BreakingDefense.
---
From weak ship welds and grit in the ship's oil system to, most recently, leaks in all four of the ship's engines, the San Antonio — the first in a new class of amphibs in the fleet — has been the Navy's poster child for how not to keep a ship in service.
During the San Antonio's maiden voyage in 2009, the ship was forced to drop anchor in Bahrain, where the Navy's Fifth Fleet is headquartered, because of failures in the oil system.
Between 2009 and 2011, the ship logged more hours in Norfolk shipyards than it did on station off the coast of Africa supporting counterpiracy operations — the mission it was built for.
Things got so bad that earlier this year, the Navy ended up canceling its multimillion maintenance contract with Earl Industries, who had been responsible for the ship's upkeep.
But after all that, the sea service says the San Antonio is ready once again to hit the seas.
The ship is undergoing final checkout in Norfolk before embarking on its next deployment, according to Naval Sea Systems Command.
Navy maintenance crews have corrected all the recent problems with the ship's diesel engines, which included "foreign material exclusion plugs left in the drain piping system, use of incorrect material and improper installation and sealing of gaskets," NAVSEA said.
As the San Antonio's crew prepares to ship out over the next few months, this deployment could the most important one for the future of the entire class.
With the Pentagon facing a future of shrinking budgets, each of the services are looking for places to cut costs. Within the Navy, the lines are already being drawn.
Last month, Gen. James Amos fired a shot across the Navy's bow last week, by drawing parallels between the capabilities of the amphibious fleet and the Navy's carrier fleet.
To Amos, the Navy's "Gator Navy" could arguably provide a similar strategic presence and force projection as a carrier, and for less cost. For their part, the Navy remains on the fence on whether they will maintain an 11 carrier groups in the fleet.
At the time, Amos said he was certain that changes to the Navy's fleet force were imminent, but that nothing was set in stone. How the San Antonio handles herself on this next deployment could play a huge role in what that future fleet force looks like in the end.