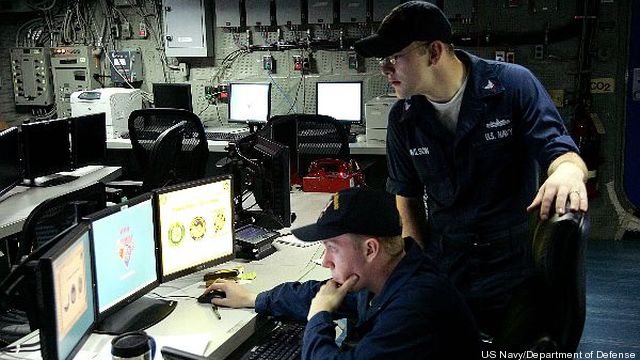 CORRECTED name of IWDC from Information Warfare Development Center to Warfighting
This month, the Navy will launch the cyber equivalent of its famous TOPGUN course for fighter pilots. The school will teach selected cyber specialists the best tactics to keep hackers our of Navy networks.
Much like TOPGUN, which is now part of the Naval Aviation Warfighting Development Center (NAWDC) in Fallon, Nevada, the new Information Warfighting Development Center (IWDC) will bring top-notch specialists together to train on and refine the latest tactics, then send them back to the fleet to teach those best practices to the rest of the force. (Kelly McGinnis and homoerotic volleyball are, sadly, not on the real-life curriculum).
Getting the Information Warfighting Development Center to Initial Operational Capability (IOC) is "the most important thing we do this year for information warfare," said Rear Adm. Matthew Kohler, commander of Naval Information Forces. The center will reach Initial Operational Capability by "mid-March," when Capt. John Watkins arrives to become the first head of IWDC, Kohler said at the recent AFCEA-USNI West 2017 conference in San Diego. As of IOC, Watkins will head a staff of 150 to 200 personnel, a mix of regular active-duty sailors, reservists, and civilians.
Kohler's Naval Information Forces (NAVIFOR) command, which includes codebreakers, various intelligence specialists, and meteorologists well as cyber and electronic warriors, is itself less than three years old. Standing up a Warfighting Development Center of their own will put information warriors on a more equal footing with the far more established aviation, surface warship, and submarine communities, which already have such centers at which to hone their craft.
"It will be about innovation, it will be a place for us to take new capabilities and get them delivered to the fleet," Kohler said. Rather than impart narrow technical training on to "just operate the systems," he emphasized, IWDC will teach officers "how to fight the systems in advanced ways." Specifically, the IWDC will develop new Tactics, Techniques, & Procedures (TTPs) to keep the Navy's networks functioning even under constant attack by sophisticated jamming and hacking.
"We are training our forces now to operate inside those contested environments, (much more so) than they were even 18-24 months ago," Kohler said. During the high-intensity Composite Training Unit Exercises (COMPTUEX) a unit must complete to be certified as ready to deploy, he said, "they are all operating almost the entire time in the communications-challenged environment."
One common problem that arises in these scenarios, as network capacity withers under assault, is what transmissions get priority to use the limited bandwidth that remains. Obviously a Seaman Apprentice watching cat videos (my example, not the admiral's) shouldn't get equal treatment to an admiral downloading intelligence reports, but there are plenty of less obvious cases in between, and someone needs to program the network to discriminate. "That's exactly the kind of things we would looking at" at IWDC, Kohler said: not just working out best practices but codifying them into TTPs that can be shared across the Navy, so individual units don't have to reinvent the wheel.
One innovation already spreading across the fleet is the position of information warfare commander. Just as a carrier strike group will have one senior officer orchestrating all air operations, another hunting submarines, and so on, admirals now often appoint an information warfare chief to oversee cyber/electronic warfare, intelligence, and so on. The problem is it's currently done ad hoc, without the established procedures and trained professionals of other "warfare areas." Sometimes a strike group's information warfare commander is the most senior IW officer on the staff, but sometimes it's just an additional duty for the already overworked skipper of the aircraft carrier.
"Five to 10 to 15 years ago, in a more relatively benign environment, that kind of approach might have been okay, (but) you cannot do that now," Kohler said. "Frankly, it is way too demanding of a position to put someone other than an information warfare professional into the job." So NAVIFOR is now developing specialized training for a carrier strike group information warfare commander, Kohler said, and it's looking at training for Amphibious Ready Group staffs as well.
Indeed, across the entire Navy, there's a move towards new concepts of command and control that depend on long-range communications networks. These range from the NIFC-CA system for detecting and shooting down incoming missiles and bombers to the distributed lethality concept for coordinating attacks from widely dispersed ships. "That kind of distributed operations… cannot be done without the kind of capabilities that we provide," Kohler said. "It is bringing us to the very forefront of warfighting."