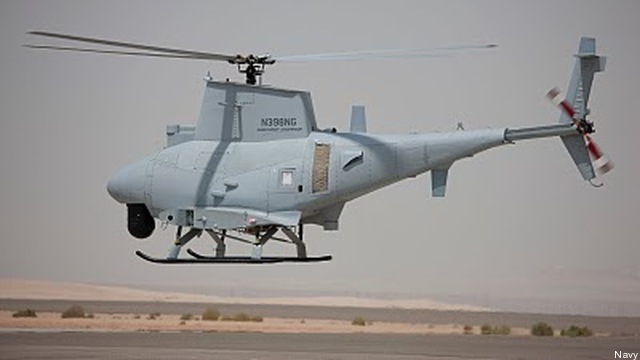 WASHINGTON: The Navy's newest Fire Scout drone may also become the Marine Corps newest aerial cargo drone if prime contractor Northrop Grumman has its way.
The Marines are currently testing Lockheed Martin's KMAX aerial drone and Boeing's A160 Hummingbird as potential candidates for the unmanned airlift mission. Naval Air Systems Command recently decided to stop development work on the A160 for the Marines, according to recent news reports. The A160 is already in use by Army and Special Operations Command. The KMAX is currently undergoing flight tests in Afghanistan. That stoppage has opened the door for the Fire Scout's entry into the program, Mike Fuqua, head of business development for Northrop's tactical unmanned systems.
Northrop engineers are busy building in a cargo-carrying capability — along with others — into its new, long-range version of the Navy's MQ-8 Fire Scout unmanned aircraft, Fuqua said. The Navy is expected to issue a formal deal to Northrop to buy 12 new C-model Fire Scouts as soon as March. These new C-models will be able to fly further and carry more advanced intelligence payloads than the older B-models Fire Scouts already in the fleet. Congressional lawmakers have already set aside $191 million for the MQ-8C deal as part of the the $1 trillion omnibus spending legislation passed by the Hill last December.
Getting the Fire Scout to carry cargo externally is a relatively simple job, according to Fuqua. The drone will just use the same extended tow hook system that's used on board the KMAX and A160. The key will be the the C-model's ability to carry cargo internally, Fuqua pointed out. The C-model's larger stowage bays — initially designed to carry heavier surveillance payloads — can also carry the same weight in supplies, gear or whatever frontline Marines may need. Work on the Fire Scout's airlift abilities is still in the early stages, according to Fuqua. Navy or Marine Corps have yet to express any interest in adding the Fire Scout into the Marines ongoing evaluations for a new aerial cargo drone.