WASHINGTON: Air Force Secretary Heather Wilson says new hires for crucial pilot and cyber slots, as well as the T-X trainer system contract award, may not survive the year if Congress passes a Continuing Resolution, as expected.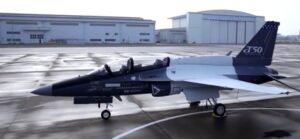 Wilson told my colleagues at Defense News and Air Force Times earlier today that "the T-X contract award is one of the many programs that would likely be delayed under a CR, which funds the government at previous fiscal year levels."
As old hands know, when Congress doesn't do its constitutionally-mandated task of passing spending bills and squeezes out a CR, it halts all new program starts, unless Congress issues a specific exemption.
The T-X competition for 350 trainer aircraft and related training simulators includes the Boeing-Saab and Lockheed Martin-KAI teams, and Leonardo.
Wilson also told my colleagues that boosting the service's pilot and cyber numbers would also be emperiled. "You probably have a hard freeze, if not a chill, on hiring," Wilson said. "We're trying to hire people in cyber, in training. We're trying to increase the number of pilots we're putting through pilot training. … This becomes very quickly an extremely difficult problem."
As Breaking D readers know, the Air Force last week decided to increase the incentive designed to keep its pilots from moving to the airlines.
US airlines hired 4,000 pilots last year, many of them former military pilots. Officers will now get $1,000 a month, up from $850 and enlisted will get $600 up from $400 a month. It looks as if the pay is going up because the Air Force just isn't retaining as many pilots as it had expected to. If Congress acts as expected, that will be even less likely.