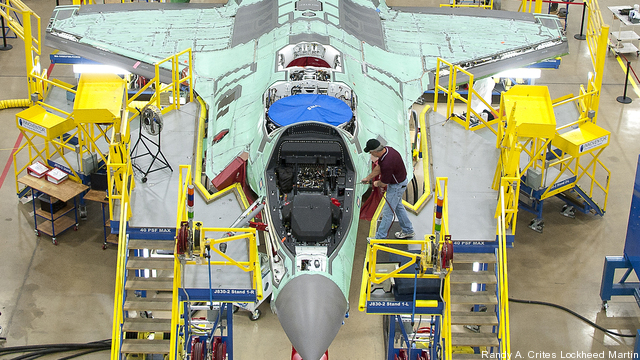 WASHINGTON: Anyone who's attended a hearing on the F-35 since Bob Gates first put the plane in his sights, with costs spinning upwards and schedule bulging outwards, knows that the Pentagon senior leadership is pushing hard to contain costs of the largest conventional acquisition program in U.S. history.
That push may have led to a strike at Lockheed Martin's F-35 factory in Fort Worth. Loren Thompson, a member of the AOL Board of Contributors, penned a piece over at the Lexington Institute concluding that:
The continuous pressure from Pentagon policymakers on F-35 prime contractor Lockheed Martin to cut pension costs has finally borne fruit: workers at the fighter plant voted by a huge margin Sunday to go out on strike, citing proposed changes to pensions.
Thompson, who consults for most of the major defense companies, said that rank-and-file workers "were incensed by a proposal to restructure benefits and scale back pensions for any new hires."
The Fort Worth Star-Telegram's own Bob Cox, who covers the F-16 and F-35 programs from the ground up, reported this from the scene:
"'The ball is in their [Lockheed's] court," Machinists spokesman Bob Wood said, adding that union members had spoken very clearly Sunday by overwhelmingly rejecting the company's contract offer by a 9-1 ratio.
"Union members said they strongly oppose a company proposal to eliminate a defined-benefit pension plan for new hires and to reduce health insurance options to an HMO and a plan with higher deductibles and co-payments."
Thompson painted the picture from the company's point of view. "Although the company offered members of the Machinists local at the west Fort Worth factory annual pay increases, a $3,000 signing bonus and various other inducements to accept a new contract, the rank-and-file were incensed by a proposal to restructure benefits and scale back pensions for any new hires. So even though controversy surrounding the F-35 fighter has already reduced planned production rates through 2017 by three-quarters, the union was so mad it voted to strike." My translation: those guys may be endangering their own jobs by striking and pushing the program even further behind than it already is.
How worried are the program's Pentagon overseers? First, the program's spokesman was careful to note they are "neutral" and favor no one in this.
"The F-35 Joint Program Office hopes that the corporation and the union will come to a satisfactory agreement that sustains the progress the F-35 production and flight test program has shown over the past year," spokesman Joe DellaVedova said in a statement. "While the two parties work toward an agreement, impacts on development and production are being assessed. In the meantime, F-35 test flights will continue at Edwards Air Force Base, Calif. and Naval Air Station Patuxent River, Md. Local area operations at Eglin Air Force Base, Fla. will also continue."
Cox, the Star-Telegram's veteran aerospace reporter, had just spoken with union members minutes before we spoke this afternoon. Here's his assessment of what's happening in Texas.
"They don't want to do anything that is going to hurt f-35 in the future. On the other hand, 93 percent of them voted to strike," Cox said. "I have never seen anything like that." And he's covered three major aerospace strikes.