UPDATED: Adds Details On UK Demos; QinetiQ's PIlots Will Fly
PARIS AIR SHOW: When Textron unveiled the Scorpion I will admit I was a serious sceptic. Where was the market? Who were the likely customers? Why did they spend their own money on such a venture?
The first crack in my skepticism occurred when Gen. Hawk Carlisle, head of Air Combat Command, told reporters that the Scorpion might make sense as a lower-cost COIN (CounterInsurgency) and CAS (Close Air Support) platform.
Would Textron's Scorpion fit the bill, Carlisle was asked. "It could. It may be," he said. "We've gone out and looked at other platforms that could provide for low cost per flying hour."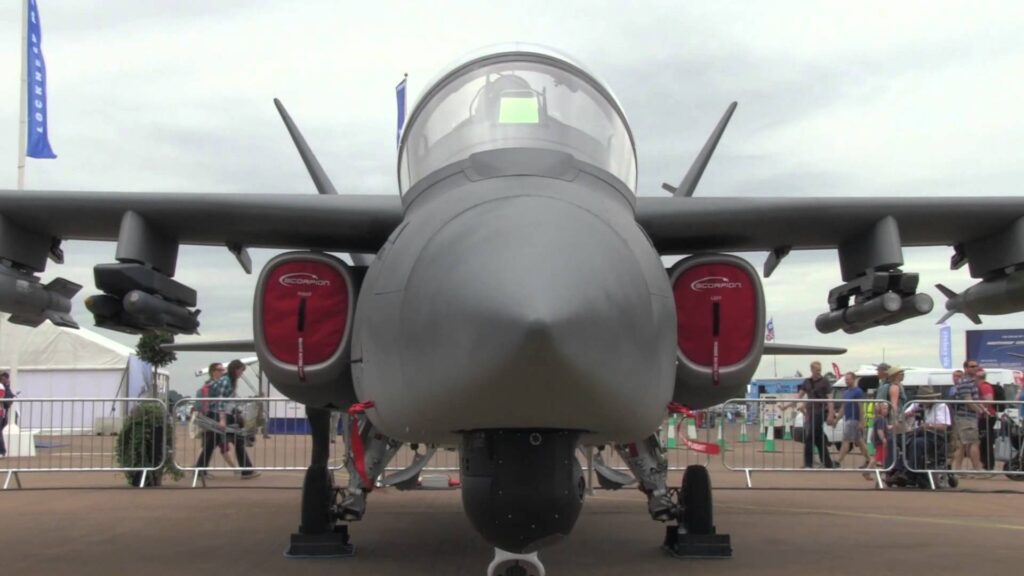 But the $20 million plane is attracting serious interest from Britain's Royal Navy and the Royal Air Force. After the Paris Air Show, the demonstration aircraft will head to the U.K. for a week of flying at the request of the Brits. The Scorpion will perform air-to-air intercepts for the RAF and maritime surveillance operations with the Royal Navy, Bill Anderson, Textron Airland's president told me after the video interview above.
"My biggest surprise since the plane's debut has been the strong interest of the Royal Navy," Anderson said.
In addition to Britain, the Scorpion will visit three "central European countries," he said, declining to identify them.
UPDATE BEGINS After the demonstrations and exercises with the Royal Navy Fleet Air Arm, test pilots and engineers from QinetiQ's Empire Test Pilot's School will fly the Scorpion and use it as part of the current Fast Jet Test Pilot and Flight Test Engineer training courses underway at Boscombe Down in the UK. UPDATE ENDS
Among the reasons for the strong foreign interest, Anderson cited the plane's low initial and flight per hour costs, the fact that it boasts long loiter times and fast dash speeds, and it can be reconfigured quickly with new sensors and weapons thanks to its separate mission and operating software modules.
For example, Anderson said that a new I Master ground surveillance radar from Thales was integrated onto the plane in less than a week after a recent trip to Latin America. The rapid integration was made possible because the plane does not need to be recertified for flight after a major software change to the mission module because it is separate from the plane's operating software.
As an example of the plane's flexibility, Anderson said Scorpion could be flown for student flight training in the morning and then be flown on a combat mission in the afternoon.
Also, the aircraft can operate from a huge variety of sites because it does not rely on special tools to start the engines or ready it for flight. Literally, the pilot climbs in the plane, pushes a button and the engines start. "This is self-deployable," Anderson told me.
For those who may not be familiar with the plane, Scorpion is a two-seater, two engine plane with more than 70 cubic feet of an internal cargo bay, it's got high-def electro-optical and infrared sensors, along with wing-mounted weapon stations. It's structure is all composites. After 400 flight hours it is demonstrating readiness rates above 95 percent, Anderson said. That's a rate few other planes can match.
UPDATE Aviation analyst Richard Aboulafia remained skeptical, however. "For some reason, the hordes here at Le Bourget continue to pay little attention to the Scorpion on static display," he said, "although I must admit it looks kind of cool, and it's to their credit that they brought it over." (Eds. note: I saw dozens of people checking the plane out while I was at the Textron corral. Another reporter was interviewing the plane's pilots while I interviewed Anderson.)
"Regarding the UK visit, I'm just not sure what a sales and marketing tour has to do with actual commercial activity," Aboulafia told us. "I still don't understand this plane. I don't understand its mission, its performance relative to alternatives, or its economics."
Sydney contributed to this story.