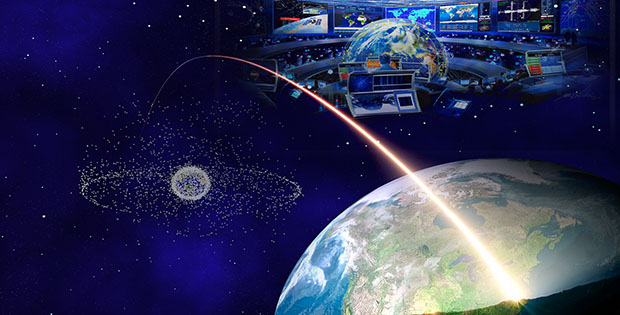 WASHINGTON: The new Joint Interagency Combined Space Operations Center (JICSPOC) has completed two of its nine scenarios and is helping the US military and its Intelligence Community learn how to monitor and fight using space, the head of Strategic Command, Adm Cecil Haney, said today.
"While we still have a ways to go — I repeat, a ways to go — I'm delighted with how far this approach has come," Haney told me when I asked him about the JICSPOC's progress today at the Center for a New American Security.
The JICSPOC scenarios were agreed to by the NRO and the Air Force when the new entity was created. The goal is for the two communities to craft concepts of operation and clarify who does what and how in the event of attacks on US satellites. The Pentagon scraped together $16 million to get one dedicated staff person, snake data lines into an old building, and buil a Secure Compartmentalized Information Facility (SCIF) there. Although few people are actually assigned to the JICSPOC, the IC and Air Force bring together several hundred people to run the war games — which is what they really are — and then to figure out what the lessons are and they can improve their performance and implement the lessons learned.
What lessons have been learned so far? Haney made it clear — within the limits of an unclassified discussion — that the overlap and separation between the IC and the Air Force assets is driving much of what they're earning. As any space warrior knows, the first key is knowing what has actually happened.
Did a solar flare or a small meteorite damage the bird, or was it the Chinese or Russians? If it was an attack, where did it come from? How do we know where it came from? Senior space leaders have made clear for years that they often don't really know for quite some time — or with high confidence — exactly what has transpired when a satellite malfunctions for whatever reason. Haney said the two groups have learned how important it is to get data feeds "in a consistent manner so you can look at it holistically."
Then there's the unique issue when the NRO and Air Force fight together. "How do you fuse together the information at multiple security levels in rapid fashion to enhance decision making," especially in light of the fact that the NRO leadership resisted the whole idea of the JICSPOC for a year.
Once you've got the data flowing, Haney said you need to figure out "what are your options." As the JICSPOC works its way through the other seven scenarios the NRO and Air Force agreed to test, the response of the various entities will be analyzed and, gradually, new space warfighting doctrine will get built. And China and Russia will be watching it all very closely.