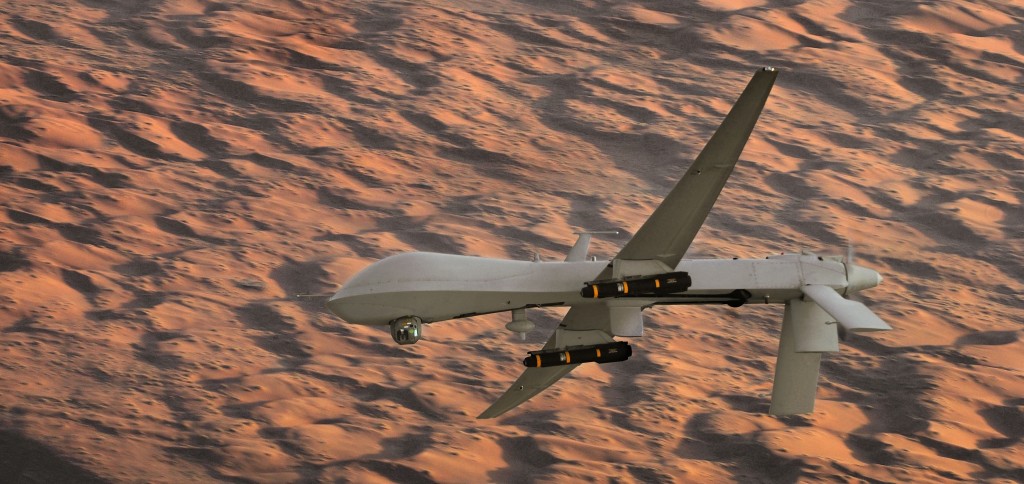 It seems like drones are everywhere in Washington. A drone landed on the White House lawn, the Federal Aviation Administration released regulations for small commercial drones in U.S. airspace, and, most recently, the State Department finally unveiled a long-awaited policy on the export of U.S.-origin military and commercial Unmanned Aerial Systems (UAS), colloquially referred to as drones.
Most media reports have suggested that the State Department has opened the floodgates for U.S. drone exports. Not true. The new policy actually raises the level of scrutiny over the technology. Even before the announcement, it was possible to get a license to export armed military drones  – as evidenced by sales of armed Reaper drones to the United Kingdom. The United States has also sold highly capable drones to other close allies such as the Netherlands, Italy, France, and South Korea.
The new policy maintains the existing U.S. commitment under the Missile Technology Control Regime (MTCR) to apply a "strong presumption of denial" for Category I UAS (those with a range of at least 300 kilometers and a payload of 500 kilograms), and to permit such exports on "rare occasions." The new policy does establish standards for allowing such exports, but these have not been publicly released. So in this respect, the new announcement simply makes existing U.S. UAS export policy a bit more transparent – although it remains quite opaque.
How does the new announcement make U.S. policy more restrictive? First, the policy includes potential requirements for enhanced end-use monitoring of military drones, additional security conditions, and only transferring sensitive systems through the government-to-government Foreign Military Sales program. Importantly, commercial U.S.-made drones are also subject to "stringent" restrictions under the new guidelines.
Perhaps most important, all U.S. military drone sales will require recipients to agree to "principles for proper use" before an export can be approved. These four principles require end-users to assure that the systems will be used "in accordance with international law, including international humanitarian law and international human rights law"; are used "in operations involving the use of force only when there is a lawful basis for use of force under international law, such as national self-defense"; are not used to "conduct unlawful surveillance or use unlawful force against their domestic populations"; and require technical and doctrinal training for drone operations "on the use of these systems to reduce the risk of unintended injury or damage." In practice, these principles will be difficult to enforce, and may even represent a stricter standard than the United States applies to its own program.
In June 2014, the Stimson Task Force on U.S. Drone Policy recommended the administration review its export controls and develop a strategy that accounts for current national and international security risks and priorities. The task force called on the administration to establish drone-specific non-proliferation objectives and to preserve U.S. interests in maintaining an adequate defense industrial base, a military technological edge in UAS systems, and influence over global UAS markets.
While the new policy takes some steps towards these goals, the most important issue is how will the policy be implemented – whether recipients agree to sign on to the principles or if other potential exporters undercut the strict U.S. requirements. There is more the Obama administration could do to improve and strengthen its UAS export policy.
For example, the U.S. government could clearly enunciate the characteristics of drones that pose particular security concerns beyond the traditional MTCR Category I threshold – such as speed, radar cross-section, swarming capability, surveillance payload, low observable features, and armor and anti-aircraft countermeasures – and propose differing levels of restrictions based on the technological advantage those features create. Such greater transparency would help UAS manufacturers make more informed decisions about where to invest their product development and marketing resources.
The United States could also clearly articulate the particular factors that will allow potential exports to overcome the MTCR "presumption of denial." Such factors could include the national security costs and benefits of the end-use, the drone characteristics or system modifications, and the overall benefit to the US defense industrial base and to the nation's technological edge from the transaction. Again, such transparency would help industry plan their investments in a manner consistent with U.S. national security interests.
Over the long term, the United States needs to also examine ways in which "UAS services" or other alternatives to the transfer of ownership and control of drone systems could be presented to foreign buyers. This approach may avoid proliferation risks while contributing to the security and foreign policy benefits of US exports.
Peter Lichtenbaum, a partner at the law firm Covington & Burling, is a former acting undersecretary of Commerce for industry and security and assistant secretary of Commerce for export administration.  He was a member of the Stimson Task Force on U.S. Drone Policy. Rachel Stohl is a senior associate with the Managing Across Boundaries initiative at the nonpartisan Stimson Center and was project director of Stimson's drone task force.