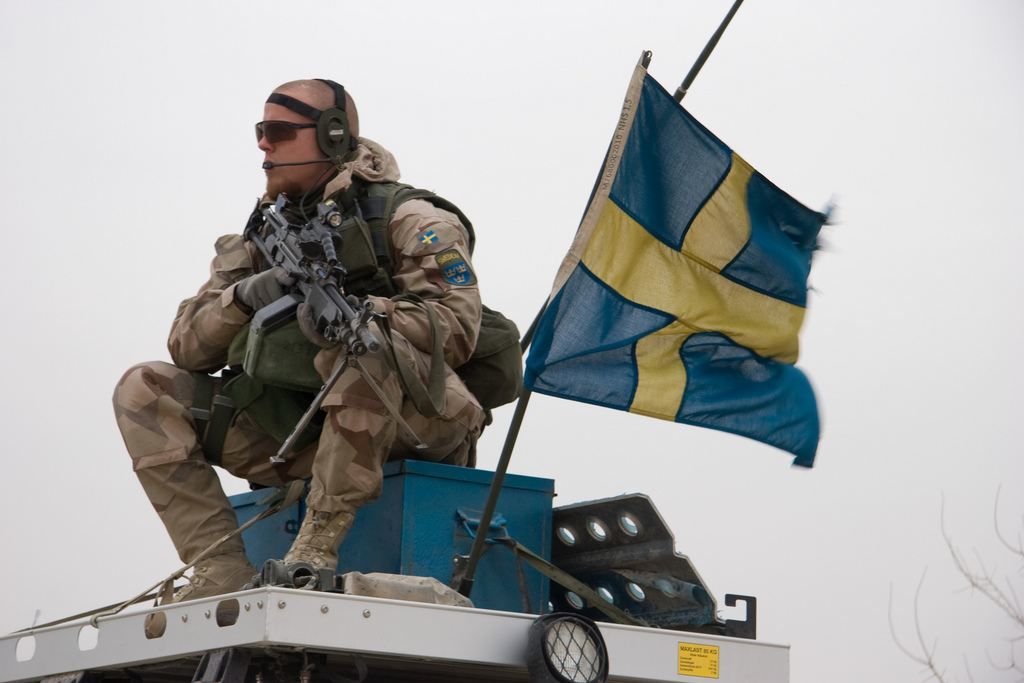 Sweden, long the major neutral power in northern Europe, has climbed quietly and elegantly out of its cozy perch to great effect since the fall of the Berlin Wall. Today, with Russia's Vladimir Putin bearing his chest and threatening his neighbors with threats that sound awfully familiar to a lot of older Europeans, some commentators have claimed they see evidence of a move by Sweden to consider embracing NATO membership. The answer is a maybe, we hear from Annelie Gregor, a policy officer at the Swedish Armed Forces Headquarters. She offers this nuanced explanation of her country's position. The Editor.
Are Swedish policymakers rethinking the nation's defense doctrine, even pushing for North Atlantic Treaty Organization (NATO) membership during the run-up to parliamentary elections scheduled for mid-September? In a recent Wall Street Journal article, "Sweden Mulls 'Doctrine Shift' in Defense After Russian Incursion in Ukraine", Niclas Rolander claims the crisis in Ukraine has triggered just such a shift.
But the Ukrainian crisis by itself will not compel a transformational shift in Sweden's defense policies. The truth of where Sweden's defense policy is heading is more nuanced and informed by events over the past 20 years, not the past 20 days. The crisis in Ukraine does not create a new defense doctrine for Sweden; it merely confirms the current path Sweden is on.
Sweden's shift to becoming more militarily engaged abroad evolved in the 1990's and the 2000's, with small forces deployed as a means to give meaning to Sweden's goal of becoming "a humanitarian superpower," as Foreign Minister Carl Bildt once put it. The Swedish Armed Forces has delivered peacekeepers to places such as Bosnia, Kosovo, Chad, Lebanon, Sudan, Afghanistan, Somalia, Liberia, Georgia, Libya and Mali. Sweden has earned a positive international reputation as a result, and policymakers have been upbeat about the satisfactory return on their investment in the armed forces. However, over the last five years the consequence of this trade-off has emerged, even inside the premises of the Rose Bath building (the seat of the government). To outside observers, it may look like the Ukrainian crisis and Russian aggression triggered this discussion.
Rolander claims that the "hint" by Anders Borg to boost Sweden's defense budget is a "dramatic U-turn". The "hint" is not spectacular. Borg is the last one to fall in line with this view. Also, Borg has been notorious with his zero-sum game policy with the defense budget. The last two times the defense budget was slightly increased in order to cover costs for training and exercises, Borg was quick to tighten the rope on other defense related areas.
Even parties on the left hinted last year that a continued increase in defense spending would be necessary  to meet the government's mandate to transform the armed forces to a smaller and more mobile force. The all-party defense commission agreed in 2012 that a budget boost would be mandatory since new equipment was needed. After the Russian Air Force seemed to have done a practice run targeting Sweden in 2013, now known as the "Easter-incident", most political parties hinted they would favor an increase in defense funding. A small symbolic sum was added to boost the Swedish Armed Forces ability to train and exercise. The parliamentary defense committee recommended a course of action of increasing the budget yet again in mid-2013. Thus, "hints" of budget increases is as common as news about the Swedish Royal family. A concrete budget proposal would be an eyebrow raiser.
Rolander makes much of the fact that Jan Björklund, who heads the center-right Liberal Party, commented on a "shift in doctrine," one that would find the main task of Sweden's defense force would once again be defending Swedish territory. The Social Democratic leader on the parliamentary defense committee, Peter Hultqvist, has been consistent in his statements for years about the need to boost national defense and to tackle existing capability gaps. The so-called shift in focus has actually been common political commentary over the past three years, and is not an "alarmist claim" sparked by the Ukrainian crisis.
Rolander points to the fact that the all-party defense committee has changed when it will submit its recommendations. They were due March 15th but are now due by May 15th. The stated reason for the prolonged submission date is due to the Ukrainian crisis. However, the defense commission was also granted a later submission date in 2008 after the Georgia crisis, so this did not come as a surprise. Also, the defense commission in 2013 tasked itself to provide a complete analysis of how to solve the budget plan for the transformation and procurement of defense-equipment — not an easy beast to tackle. Since Sweden has a consensus-driven platform when it comes to foreign policy, where eight parties has to agree, the new date did not take anyone aback.
Christian Democrat leader Göran Hägglund argued for NATO-membership recently as a result of the current crisis, Roladner noted. But NATO-membership is not a new issue to Hägglund or his party. He has supported a thorough investigation of the benefits and drawbacks of a potential Swedish NATO-membership for years and presented his party's NATO standpoint in June of 2013. Furthermore, considering Sweden's shared values and recently close cooperation with the Atlantic alliance it is not surprising  that most party leaders are highlighting the need for full membership. Sweden is a valuable contributing partner in Brussels, with expert personnel in Brussels who have been accused by alliance partners of "getting things done". The Swedish Armed Forces has a high degree of interoperability with NATO. Sweden has contributed top-notch soldiers to the war Afghanistan and aerial support in Libya under the NATO flag. Most recently, Sweden contributed a squadron of Gripen fighter jets as well as a mine-sweeping ship to the Nato Response Force (NRF).
Notwithstanding those contributions, Sweden has the lowest defense budget per GDP of the Nordic countries, spending 1.12% of its GDP on defense. Swedish policymakers have been blamed of becoming a "free rider" and a "net consumer of security". Adding the cost increases in material procurement (with real decreases in defense spending) and the planned budget for the full transformation, it has become clear as the Northern Lights for Swedish policymakers that not hinting at an increased defense budget is close to political suicide.
So, while it is tempting to draw the Ukrainian crisis and Russian aggression to the proposed changes, Sweden's policymakers have been considering a shift in defense policy for a long time. What remains to be seen is whether the Ukrainian crisis will compel our country to fill budget gaps, and to make formal application to join NATO in the run-up to national elections in September.
Annelie Gregor is a civilian policy officer at the Swedish Armed Forces' Headquarters (not the Defense Ministry) and is a Ph. D. candidate at the City University of New York. The opinions are the authors' own and do not represent her employer.