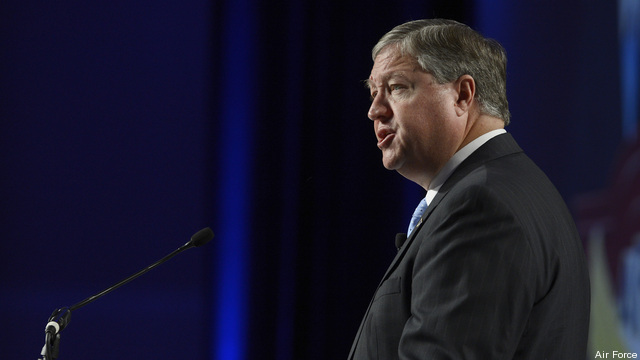 The Air Force's top leaders warn that the "nation's on-going budget gymnastics impose costly consequence on the Air Force and other services" and pleaded with Congress to avoid sequester, which they said would leave a "hollow force" unable to perform its mission.
In a joint appearance before Pentagon reporters Friday, Air Force Secretary Michael Donley and Gen. Mark Welsh, the Chief of Staff, sketched out the steps they were taking to implement Defense Secretary Leon Panetta's directive to curtail spending in an effort to soften the harsh effect on their operations and programs if sequester hits on March 1. Donley has spent the week building up to this appeal, including by publishing a series of exclusive op-eds in Breaking Defense.
Donley said he has ordered his commanders to impose civilian hiring restrictions, curtail flying and travel that were not essential to readiness and mission performance, reduce or stop minor purchases, such as furniture and IT refreshing, non-emergency facility sustainment and contracts.
But, the secretary warned, those steps "cannot mitigate the impact of sequestration, which if not avoided, "will have immediate and negative impact on Air Force readiness" by cutting flying hours and other restrictions on operations. History has shown, he said, that similar cutbacks have led to "a hollow force, one that looks good on paper but lacks the resources to adequately train, maintain or keep up with emerging technology."
Even without sequestration, the Air Force recognizes the reality of smaller future budgets and will adjust by reducing force structure so the limited funds can maintain readiness and pay for the modernization that is sorely needed for an air fleet that is the oldest in Air Force history and has been worn down by two-plus decades of combat – dating back to the 1991 Gulf War.
But in making the cuts in aircraft and personnel that will be needed, Donley and Welsh said they would avoid the painful and losing battle they had last year with the Air National Guard and Air Force Reserve leadership and their congressional supporters. In his fiscal 2013 budget proposal, Donley called for deep cuts in fighter and transport aircraft and the associated airmen, with two thirds of those cuts coming from the Guard and Reserve.
Although the Air Force argued that that allocation was needed to allow the active force to respond to crises, the Guard lobby beat them down and Congress forced the retention of most of the Guard and Reserve units. Welsh said he was working closely with the Air Guard and Air Force Reserve leaders to ensure that when the Air Force presents its next planned reductions to Congress "we speak with one voice."
Donley stressed the need for modernization, which he said was "pervasive throughout the Air Force," and emphasized the new KC-46 airborne tanker, the long-range strike bomber and the F-35. He said the F-35 was "maturing" and with the completion of an operational evaluation would begin flight training at Eglin Air Force Base, Fla., later this month.