ARLINGTON: No one knows what the 2016 budget is really going to be. In fact, no one can even plan properly for what it might be, the highest-ranking budgeteer in Army uniform made clear this morning.
The uncertainty is coming at the Pentagon from two sides at the same time. On the demand side, there's the possibility of another unexpected crisis that require a military response, like this year's trifecta of Russian aggression, the self-proclaimed Islamic State, and Ebola. On the supply side, there's the prospect of so-called sequestration cuts to the military budget, which seem increasingly unavoidable but whose exact amounts and mechanisms are still very much up in the air.
"We expect our sequester levels to be about $121 billion, and that would be about a $6 billion deficit" compared to the Army's '16 request for $127 billion, said Lt. Gen. Karen Dyson this morning. About 60 percent of the cut would come from readiness funds and 40 percent from modernization programs. But, she said of all these figures, "that's not a foregone conclusion."
In 2013, for example, sequester kicked in halfway through the fiscal year, sending the armed services scrambling for savings, only to have Congress pull off a partial rescue December. That budget deal, the Murray-Ryan Bipartisan Budget Act, runs out this year, which is why sequestration might strike again. But Congress could undo sequester altogether or — more likely — come up with another bargain that limits but doesn't eliminate the cuts.
It's not only the amount of cuts that is uncertain, Dyson told a Association of the US Army this morning: It's also how much leeway the military would have in allocating them. In 2013, there was a fully automatic sequestration mechanism with zero discretion: "The guidance was we had to reduce every single program line by an equal percentage," she said. "We had no choice in that." That mechanism is still in law, but Congress could grant some degree of greater flexibility to spare priority programs and cut others. "I don't know what the guidance will be for '16," she said.
Reporters pressed Dyson on what programs might be sacrificed or passed over. "I really can't answer, because it will really depend on what the rules of sequestration are," she said. "That's really going to be out of our control."
To the extent it can, the Army will continue to prioritize the same things it did in its '16 request. Top of the heap: Combat Training Center wargames, then readiness in general over modernization, then aviation over other modernization programs such as ground vehicles, and the upkeep of Army facilities dead last.
"Our MILCON [military construction] funding is at the lowest level that it has been certainly for this century," just $1 billion, Dyson said. Those deferred maintenance bills will eventually come due, with interest. But that's a risk the Army feels compelled to take to protect combat readiness.
"We've learned some lessons from FY '13," Dyson said, when the sudden cuts required canceling so many training exercises that only two or three combat brigades were ready and available for unexpected crises. "We have to protect our training," she said. "If we have to reduce our spending, we're going to protect our Combat Training Center exercises," she said, if need be by cutting most training for brigades not scheduled to go to the CTCs.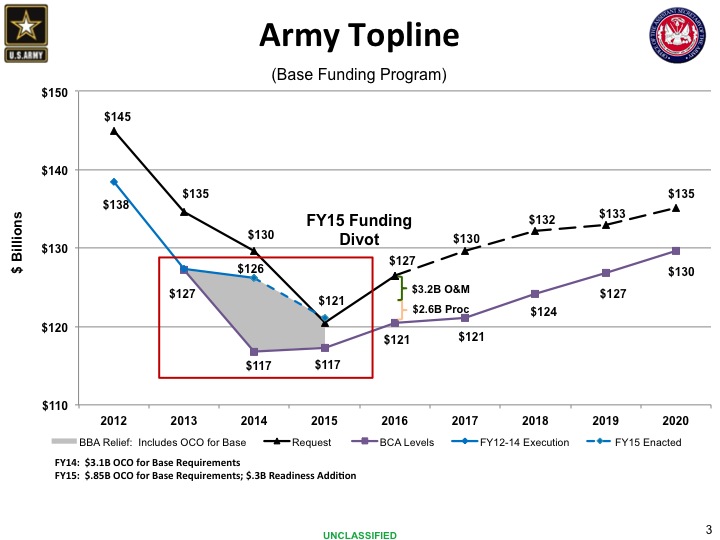 For the Army, having even a handful of brigades fully ready for any contingency is more important than having lots of brigades partially ready for some scenarios. That's because the service sees the global situation as increasingly unpredictable and complex. Its new Army Operating Concept is even subtitled "Win In A Complex World." In this view, it's dangerous to economize by focusing training on a few likely scenarios, because we have a terrible track record of predicting what we'll need to be ready for. Just witness last year's rise of the Islamic state, Russian aggression in Crimea and Ukraine, and the West African explosion of Ebola.
"The downsizing of our budgets corresponds with the downsizing of the force" — from 570,000 at its wartime peak to 450,000 or below — "which was supposed to correspond with less demand for Army forces," Dyson said. "But in fact what we've all found [is] just the opposite has happened: We have increasing demand."
Wait a minute, I asked Dyson. How can the relatively small deployments to Africa, Iraq, and Eastern Europe be such a strain on an Army that managed massive surges in both Iraq and Afghanistan?
"If that's all that the Army was doing, if those were the only three missions that the Army had, it would not be that hard," Dyson replied, "but you have to look at these emergent, dynamic missions in the context of everything that's going on."
"We are still in Afghanistan, and we are still deployed in 140 locations around the world," she said. "We have nine of our 10 division headquarters deployed."
Even the downsizing itself imposes a cost, if not in money, then in energy. "[It] takes a huge amount of leader effort to make sure that as we rebuild the brigades, as we reorganize the brigades, as we move people around, that we're moving the right people to the right places," Dyson said.
So for Army generals and grunts alike, the downsizing adds yet another source of stressful uncertainty atop that created by Vladimir Putin, terrorists, plagues, and Congress.