WASHINGTON: On the 74th anniversary of D-Day, the US Army is officially rolling out its vision for 2028, the target for a 10-year plan to rebuild the force. But what do all the buzzwords mean?
We dissect the vision in detail below, but it boils down to an ambitious plan to deter both China and Russia with a larger, better prepared, and more high-tech force, complete with combat robots. It's also a big bet on continued funding — over $2 billion a year for the next five years, according to the Army's own estimates — something Army Secretary Mark Esper himself acknowledges is not assured.
Secretary Esper has been talking up the vision and the 10-year plan in a string of recent appearances around DC, most recently yesterday at the Brookings Institution. "The Army's mission remains as constant as it was on D-Day: to deploy, fight, and win our nation's wars," he said.
"Deploy" isn't idle verbiage, either. Then and now, with most Army forces based in the US, just getting to the warzone is a time-consuming feat of logistics. Before the force can fight, it also has to get ready, which takes even more time.
"Building sufficient readiness for a successful invasion of Normandy took three years — three years," Esper said. "We will not have that luxury in the next war."
So we need to get ready before a war — which is where the 10-year plan comes in.
Two Phases
There are two phases: Restoring readiness — training, maintenance, ammunition supplies, and so on — over the current Five-Year Defense Plan (FYDP) for 2018-2022, and developing new weapons that the Army will buy in bulk in 2023-2027.
"Our top priority through 2022 is prioritizing preparedness for war," Esper said. "While we focus on rebuilding readiness, we will prioritize research and development of our six modernization priorities. This will enable us to transition technologies to….procurement when our priority shifts to modernization in 2023."
2023 doesn't sound too soon, but that gives scientists, engineers, and requirements developments just five years to complete R&D and get the Big Six systems ready for mass production. Of those six priorities, the top one is Long-Range Precision Fires, i.e. artillery and missiles, followed by new armored vehicles to replace the M1 tank and M2 Bradley, new scout and transport aircraft to replace current helicopters, an upgraded command and control network, new air and missile defense systems, and new equipment for individual soldiers from better rifles to targeting sights to training simulations.
That's a lot of new technology to get the bugs out of in five years. The last time the Army pulled off anything comparable was the "Big Five" in the early 1980s, and that required the massive Reagan build-up plus years of prep work in the 1970s. The last time the Army tried anything comparable was the Future Combat Systems (FCS), which packed 18 different vehicles, robots, and electronic systems into a single mega-contract that proved unmanageable.
While there's no Big Six priority labeled "artificial intelligence" or "robotics," Esper and other Army officials have emphasized automation is part of every priority. "My ambition is, by 2028, to begin fielding autonomous, certainly semi-autonomous, vehicles, that can fight on the battlefield," Esper said. These won't be Terminators, he promises: "There will be a soldier in the loop; there needs to be. The battlefield is too complex as is." (Former Navy Secretary Richard Danzig thinks that kind of control is not nearly enough). The basic goal, Esper said, is to let ground soldiers do at least some missions by remote control from a distance, the way the Air Force does with drones.
This doesn't mean the Army needs fewer people. Quite the contrary: Over the 10-year period, Esper said, the regular active-duty Army will increase its manpower to "above 500,000 solders, with associated growth in the (National) Guard and (Army) Reserve."
That's not necessarily a huge increase — the active Army was already at 476,000 last year — but military personnel are extremely expensive, historically accounting for almost half the Army's budget. Traditionally, personnel, readiness, and modernization are seen as three corners of a triangle, where investing in any one requires cutting the other two: Esper wants to boost all three.
But, I asked at the Brookings event, how can the Army commit to all this long-term spending when — as Esper himself has said — the current budget deal expires in 2019, with Budget Control Act caps (aka sequester) potentially returning in 2020?
"I know that I have good numbers in '18. I think if the budget agreement holds, we'll have good numbers in '19. I cannot predict the future," Esper said. "So what I want to do is gain as much control over the Army's destiny as I can, and that means a series of internal reforms by which I free up money to pay for my modernization efforts, to pay for extended basic training, to pay for endstrength."
"There are things in my control; there are things out of my control," the secretary continued. "What's in my control to lay out the clearest possible vision of what the Army of 2028 should look like. And then it's up to me working with OSD working with congressional partners and all that to help us fulfill that vision by providing the resources we need to get there."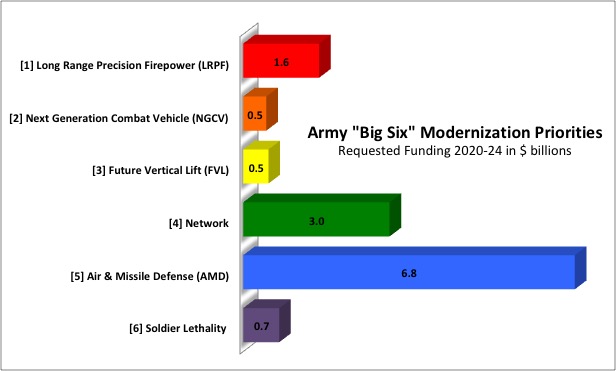 Parsing the Vision
Admittedly, the Army vision probably could be clearer:
The Army of 2028 will be ready to deploy, fight, and win decisively against any adversary, anytime and anywhere, in a joint, multi-domain. high-intensity conflict, while simultaneously deterring others and maintaining its ability to conduct irregular warfare. The Army will do this through the employment of modem manned and unmanned ground combat vehicles, aircraft, sustainment systems, and weapons, coupled with robust combined arms formations and tactics based on a modem warfighting doctrine and centered on exceptional Leaders and Soldiers of unmatched lethality.
(Click here for the official two-page explanation)
But this statement does indeed sum up what Esper and company are talking about:
"deploy, fight, and win against any adversary (in) high-intensity conflict" is about being able to take on great powers like Russia and China, not the Islamic State or the Taliban;
"maintaining its ability to conduct irregular warfare" is about not forgetting the continuing threat organizations like the Islamic State and the Taliban present worldwide;
"modern manned and unmanned (systems)" speaks to the rising importance of robotics, but alongside humans, not in lieu of them;
"joint" and "multi-domain" is about not only cooperation between the four armed services, but taking that cooperation to a new level that cuts seamlessly across the five domains of land, sea, air, space, and cyberspace; and
"robust combined arms formations" is about the need to build up all the Army's branches, including ones neglected during Afghanistan and Iraq like artillery and armor, and integrate them into mutually supporting teams.
"unmatched lethality" — Defense Secretary Jim Mattis's favorite term — is about shifting the Army's focus from protecting local populations from insurgents to killing the enemy.