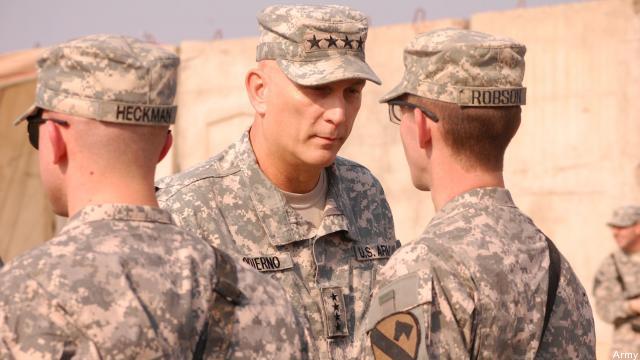 CAPITOL HILL: The Army is in the midst of a service-wide review on how it will shift its mountain of metal from Southwest Asia to the Pacific, according to Chief of Staff Gen. Ray Odierno.
Army leaders, working with combat commanders, are studying what options exist to store the Army's stockpiles of prepositioned equipment in the Pacific, Odierno told Breaking Defense after testifying before the House Armed Services Committee today. The study is still in the very early stages of development inside the Pentagon, the general said. Service and combat command leaders expect to begin hammering out possible locations and amounts of equipment sometime next year, Odierno added. With this study, the Army is positioning itself for a role in the Pacific theater, a role the service has been pushing since last October, well before the White House unveiled its new Pacific-focused national security strategy last year.
It's assumed the Navy and Air Force will carry much of the operational weight as the military shifts from Southwest Asia to the Western Pacific. But during today's hearing, Army Secretary John McHugh pointed out his service does have a place in the Pacific. While beefed up naval and air assets will be needed to address the vast seas and skies of the Pacific, McHugh astutely pointed out that "there are a lot of people" in the region too, such as foreign military forces that could benefit from training and support provided by Army units. Building up military capacity among allied forces will be a key mission for the service, as it begins to rotate forces out of Afghanistan in 2014.
Army leaders have already begun to put significant dollars behind this effort, beginning in fiscal 2013. Service leaders plan to funnel nearly $1.3 billion into international training and engagement operations in the Pacific and elsewhere, according to the Army's fiscal '13 budget plan. To that end, the Army is preparing to send out its first "regionally aligned brigade" to Africa Command beginning next year. That force, roughly the size of a brigade combat team, will be primarily tasked with training and assisting foreign militaries. It will be the first of several the Army hopes to create over the next few years. These brigades will be the first regular Army units designed to do partner nation engagements.
But before all that can take place, the Army needs to get all its gear out of Iraq and Afghanistan and moved to other places across the globe. It won't be an easy move, but it's one that needs to happen if the Army is going to plant its flag in the Pacific. "It's a very important program and it's going to become more important as we move to the future," Odierno said.