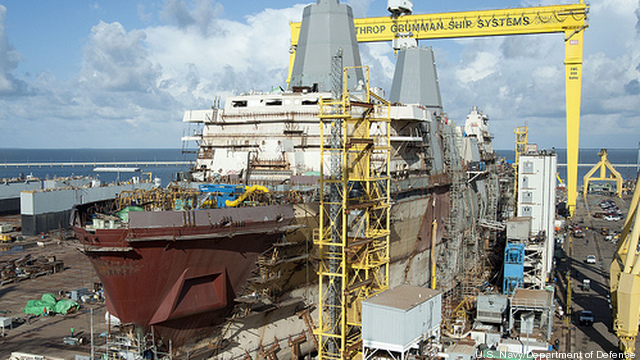 WASHINGTON: This town needs another lobbying organization like I need another hole in my head. But when everyone else has a "grass roots" group to help make their case to Congress, not having your own is a form of unilateral disarmament — an especially bad idea in a time of escalating budget wars.
"Having a coalition base like this, I think, Sydney, is probably very important," said Marine Corps Maj. Gen. Robert Walsh, director of expeditionary warfare on the Navy staff, in a question-and-answer session at the Amphibious Warship Industrial Coalition's first-ever event on Capitol Hill. "We [haven't had] that to be able to get that message out there."
Phil Jiannine, Norfolk branch manager for Navy contractor W&O Supply, added: "I can tell you, right now, we need help, and this is a forum for us to stand up and say so."
With America's surviving major shipyards dependent on Navy contracts for survival, we've had a Submarine Industrial Base Council since 1992 — when the last great downsizing really began to bite — and an Aircraft Carrier Industrial Base Coalition since 2004. Now, starting just last fall and with some steep organizational and political hills yet to climb, we have the unpronounceable AWIBC.
"What we're trying to do is put a marker out there that says amphibious warships are important not only to the national defense but also to the industrial base," said Greg McCarthy, the coalition's administrator.
So what's an amphibious ship, anyway? Not surprisingly, that's the first thing AWIBC wants to talk to you about. "One of the things we run into all the time is just a lack of understanding of the importance of these ships not only to the Navy and the country but to the Marine Corps," McCarthy told me after the event.
"Amphibs" are a whole range of Navy warships, large and small, that carry Marines and their equipment: swimming "amtrac" tanks, transport hovercraft, and a host of aircraft, from geriatric H-46 helicopters to V-22 Osprey tilt-rotors to jump jets like the aging Harrier and, soon, the new F-35B Joint Strike Fighter. While less stealthy than subs and less imposing than carriers, the amphibs are among the most flexible ships in the fleet, useful for everything from disaster relief to embassy evacuations, air raids, and all-out invasions. And they are a lot cheaper than aircraft carriers.
So who builds these things? McCarthy estimates that some 2,000 companies in 48 states and over 380 congressional districts make components for amphibious warships. The problem is mobilizing them.
On that front, McCarthy embodies the biggest problem the coalition needs to overcome. McCarthy speaks for AWIBC, but he doesn't work for it, because AWIBC doesn't actually exist as a legal entity. Nor is the coalition some spontaneous upwelling of small businesses: So far, it is a top-down project by one major shipbuilder, whose logo and literature were all over Tuesday's event.
McCarthy works for public affairs mega-firm Powell Tate, which was hired by Huntington-Ingalls Industries to organize the coalition. Huntington owns, among many other things, the Newport News shipyard in Virginia — which builds all the Navy's aircraft carriers and many of its submarines — and the Ingalls shipyard in Mississippi, which builds Navy destroyers, Coast Guard cutters, and (surprise) amphibious ships. All told, Huntington-Ingalls has almost $7 billion in annual revenues. That makes it a pipsqueak compared to defense industry giants like Lockheed Martin, but it's not small.
So when McCarthy talks about AWIBC being a "grass-roots coalition," that's an aspiration, not an actuality. "All the suppliers that are displaying today, we asked them to come, we recruited them — but they paid for their own way here," McCarthy told me. Everything else, from the banners to the breakfast to, well, McCarthy, is paid for by Huntington-Ingalls.
Now that the big guys have got things rolling, though, the coalition needs to mobilize those 2,000 suppliers: get them writing letters, visiting Capitol Hill, inviting their local member of Congress to visit their factory and see their works. "[That's] the only way it works well," said McCarthy, "when you have that sort of authentic engagement."
One of those local congressmen was the lead speaker at this week's event: Rep. Ander Crenshaw, whose Florida district includes Naval Station Mayport, home to several amphibs. "I cannot stress enough how important it is, the impact you are going to have when you sit down with that individual member and say 'look, amphibious ships, that's not just a place in Mississippi, that's a business right here in your district,'" Crenshaw told the assembled suppliers on Tuesday. "[Tell them] it impacts not only our overall national security but it impacts what we're trying to do in your community, in my community, to get this economy moving again."
What the suppliers need most from Congress, in turn, is not more money — everyone understands that isn't happening — but more predictability about what money the amphib ship program is going to get, both for new construction and for maintenance.
"It's been a big roller coaster ride, especially over the last 24 months, as we've all experienced sequestration and budget cuts and things getting put in and things getting cancelled," said W&O Supply's Phil Jiannine. That not only hurts businesses, he argued: That costs the government too. Because plans keeps changing at the last minute, he said "everything's got to be expedited, you're paying overtime… you're paying higher shipping costs."
That's exactly the kind of inefficiency the amphibious fleet cannot afford, said Maj. Gen. Walsh. "You really have to kind of squeeze in this period of austerity," both in maintaining the ships you have and in building new ones, he said. "If you squeeze out as much as you can, you can buy more ships."
"If we get this right, we may be able to buy more [ships]," Walsh said. "If we don't get this right, if we keep going the way we're going, we'll buy less."