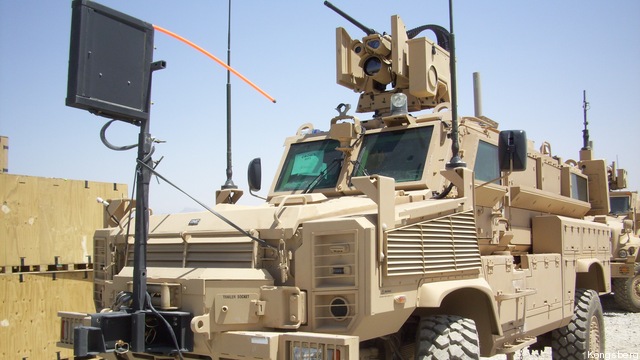 Washington: Despite cutting over $1 billion from a key weapons program designed to keep American troops out of harms way, the Army can get enough systems into the field when U.S. troops need them.
Last month, Army officials cut the Common Remotely Operated Weapon Station (CROWS), built by Norwegian defense giant Kongsberg, from $2.6 billion down to $970 million. That new $970 million price tag meant the Army would only be buying 3,000 units of the system, compared to the 7,000 it was going to buy for $2.6 billion.



The CROWS system lets U.S. troops fire the heavy weaponry mounted on top of Humvees, Strykers and other armored vehicles from the cabin, without exposing themselves to enemy fire.



Before CROWS, Army crews had to pop up and fire those weapons manually, exposing themselves to improvised explosive devices, rocket-propelled grenades and small arms fire.
But the Army claims even though it will only be buying 3,000 of the new CROWS III system under the revised contract, the total number of systems it plans to push into the field will far exceed that number, a military source familiar with the program tells Breaking Defense.
Along with the new versions of the weapon system, the Army is also planning on modernizing up to 3,000 of the CROWS II units already in the field, the source said.
In addition, the Army is still awaiting deliveries of CROWS II units, which are part of the 11,000 systems which Kongsberg is under contract with the service to produce.
So, with the new versions of CROWS II and III coming off the production line, coupled with the old CROWS II systems being modernized, the Army could get between 5,000 to 7,000 new and modernized systems into the field this year, the source said.
Even thought the Army will be getting more CROWS systems into the field than initially expected, getting them into the hands of U.S. soldiers is another issue, another industry source said.
Currently, CROWS systems are assigned to units carrying out particularly dangerous missions, such as route clearance and convoy support. However, other Army units who do not do those missions — but are still in the line of fire — have also requested the system to no avail, the industry source said.
CROWS II has been so successful in the field that the Army extended the
initial contract three times to meet the demand
. But even with that, the Army has yet to make clear which units — outside those doing route clearance and convoy support — can qualify to get the CROWS system on their vehicles.