PENTAGON: The Defense Department's budget request for 2019 dramatically increases spending on research and new weapons, less so on personnel and readiness. That's as promised by Defense Secretary Jim Mattis — and contrary to candidate Trump's emphasis on a larger force during the campaign — but the actual figures are striking:
23.9 percent more spending on Research, Development, Testing, & Evaluation, the "seed corn" for future high-tech weapons;
14.9 percent more on procurement, i.e. actually buying new equipment right now;
9.4 percent more on uniformed personnel, which has historically consumed an ever-larger share of the defense budget over time — but not this year.
8.4 percent more on Operations & Maintenance, what's generally meant by "readiness," which was the big focus in 2018.
Broken out by services, the Army (14.9 percent) and Air Force (14.1 percent) got the largest increases, while the Navy Department — which includes the Marine Corps — lags slightly (at a still respectable 12.1 percent). By contrast, defense-wide agencies, which like personnel have consumed an ever-larger share of the budget over the years, increase by only 5 percent in this budget.
An important caveat: With the 2018 budget in limbo until the last minute, the Pentagon chose to use the 2018 Continuing Resolution figures as a baseline (plus the administration's emergency request). Since CRs are stopgap figures, and the final budget deal was much more generous, these figures overstate the increase over the final budget figures for 2018. And of course Congress always has the last word on what the Pentagon gets.
But what really matters about the President's budget is never the final figures. It's the relative emphasis, which priorities get promoted over others. In that respect, this budget is striking.
Mattis has long said that 2018 would be the year to repair readiness for today — run ragged by 17 years of counterinsurgency and eight years of budget dysfunction — while 2019 would focus on building up the force for the future. He makes good on that promise today.
But it's important to understand what kind of buildup this is and what it's not. Mattis would rather buy a smaller number of more capable weapons, and upgrade the weapons we have, then he'd like to buy larger numbers of less capable weapons and leave the existing arsenal as-is. He is not proposing to dramatically increase the size of the force:
The number of active-duty troops (endstrength), for instance, would only rise by 1.8 percent, most of that in the Army, which would rise to 487,500 active soldiers — well above the 450,000 that was in sight under Obama, but hardly a return to Cold War figures.
The Navy would build 10 new ships: three Arleigh Burke destroyers — compared to two in prior years; two Virginia submarines; one Littoral Combat Ship, and four non-combat support vessels (two oilers, a salvage ship, and an Expeditionary Sea Base). Again, that's an increase but nowhere near what's required to build the 350-ship fleet promised by candidate Trump or the 355 ships sought by the Navy's official Force Structure Assessment, not in anything less than decades.
As for aircraft, the number of tri-service F-35 Joint Strike Fighters bought goes from 70 in the 2018 request to 77, a 10 percent increase in numbers — but since the price keeps coming down, the funding allocated remains the same at $10.7 billion. That's also. decline from what the Obama administration had proposed for this year — 80 F-35s. There's a bigger relative increase in the Navy's F/A-18E/F Super Hornet fighter, from 14 planes for $1.3 billion last year to 24 planes for $2 billion this year.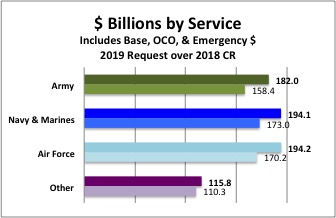 So where is the money going? The biggest increase goes into the laboratories — both government and private — that are devising the next generation of weapons. A lot else goes into upgrade the electronics installed on and munitions carried by aircraft, warships, and ground vehicles. This is first and foremost a buildup in quality, aimed at better countering Russia and China, in contrast to the counterinsurgency era's increases in quantity to better hold and secure territory against terrorists.