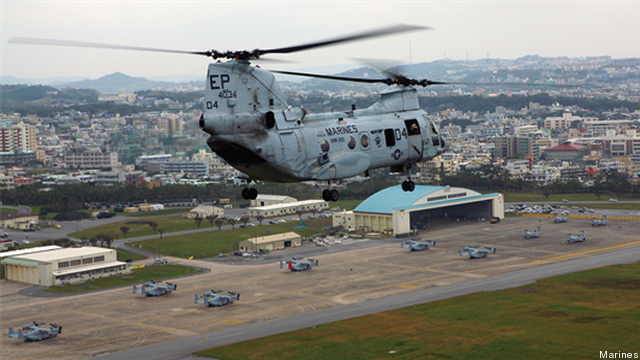 On Thursday, we published a story about potential problems with the long-delayed move of Marine forces from Okinawa to Guam and elsewhere in the Pacific outlined in a draft GAO report obtained exclusively by Breaking Defense. As you'll see below, the Pentagon had not seen it. After the article came out, a Defense Department spokesperson, Maj. Cathy Wilkinson, contacted us and then provided the following written rebuttal to the article. Our comments are in italics:
It's important to note this is a draft report, not a final version of the report. We have not seen the draft report so we can't comment on it; however, as discussed on the phone, we are concerned with a few points in the article.
Most importantly, the Japanese Government has not reneged on their contribution to Guam construction. The Japanese government reaffirmed in the April 2012 2+2 Joint Statement their commitment to the 2009 Guam International Agreement to contribute $2.8B in FY08 dollars (approximately $3.1B in FY12 dollars, due to inflation) towards facilities for the Marine relocation. They have already contributed $834 million. The draft GAO report states unequivocally that "there are now no plans for the Government of Japan to contribute to infrastructure projects on Guam." We'll have to leave this point to DoD and GAO to dispute. AOL D
The article states that 30 percent of housing is sitting empty in Guam. That is an oversimplification of the process and requirements to realign forces. There are substantial construction requirements needed in Guam before Marines can be transferred there; it is not simply a matter of available housing, but also suitable training ranges, office space, equipment storage areas and local infrastructure to name a few. The new construction requires environmental assessments and the Defense Department is currently working through that process.
Of the approximately 9,000 Marines who will be relocated from Okinawa, approximately 5,000 will go to Guam. The article states approximately 1,800 Marines will move to Hawaii, however, we have not finalized plans for numbers or locations for where the other 4,000 Marines will be stationed. The GAO report provides that breakout by location. AOL D
[Breaking Defense's] characterization of the CSIS report is not accurate. The study does not say that budget impasses have undermined American credibility in Asia, rather it says they have the potential to undermine. "U.S. decisions on defense spending, sequestration, and force posture all have the potential to undermine confidence in the American ability to sustain current presence and security commitments and could prompt hedging behavior by allies or coercive behavior by potential adversaries." (Page 20) The CSIS study supports the Department's strategy for the Asia-Pacific, our approach to U.S. defense posture in the region, and the importance of having forces forward to engage with allies and partners. In reference to Okinawa, however, the Center for Strategic and International Studies also says in its report that "[t]he current impasse between DoD and the Congress is not cost-free in terms of U.S. strategic influence in the region" — note present tense — so we feel justified in describing the CSIS report as saying that issue "has… undermined" US credibility to some degree already.].
The realignment of forces is a lengthy process. The Defense Department is absolutely committed to completing the relocations as soon as possible while ensuring we maintain operational capability throughout the process. We are also working closely with Congress to address their concerns about the Pacific realignment.