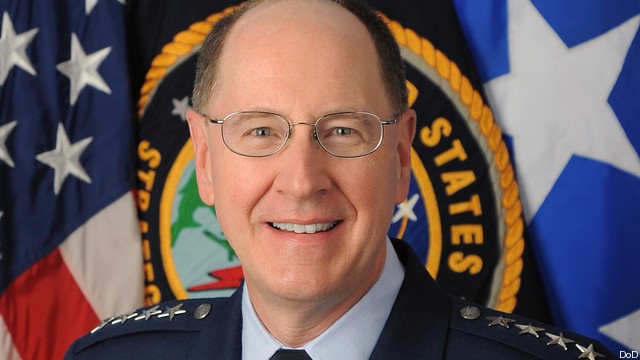 CAPITOL HILL: If there's one command — a very important one — that must worry about the short term impact of sequestration, it's Strategic Command, those who command three of the most important weapon systems we deploy — nuclear weapons, cyber and space. Roughly 60 percent of STRATCOM's headquarters staff do not wear uniforms. And, as anyone knows who's been following the debacle we call sequestration, one of the first and hardest human impacts will be furloughs, as involuntary layoffs for federal employees are known.
Gen. Robert Kehler, STRATCOM's leader, told the House Armed Services Committee today in his written testimony that he is, "extremely concerned about the impacts of actual and potential budget reductions on our people. While I believe these amazing professionals will continue to cope with uncertainty in the near-term, I cannot say the same over time if the financial risks to the individuals and their families persist."
I covered STRATCOM for five years while at Space News and was always struck by how pervasive the civilians were.
Kehler also highlighted the stresses the military faces as it tries to grapple with the enormous and persistent threat from cyber espionage and other forms of attack. Bottom line: the Pentagon doesn't have enough people to do this job."We are recruiting, training, and retaining the best and brightest our nation has to offer, but the operational demands of cyberspace exceed our capacity to conduct sustained operations. We must continue to grow and align our cyber forces to enable operations and support CCDRs and their components," Kehler said in his prepared testimony.
He noted that STRATCOM has "made progress in developing joint cyberspace training and certification standards that will serve as the common foundation for training all DoD cyber operators."
But the real meat and potatoes in Kehler's testimony today was his well articulated and detailed listing of the command's major investment areas. They are eight: nuclear modernization; electromagnetic spectrum; Intelligence, Surveillance, and Reconnaissance (ISR); and Combating Weapons of Mass Destruction (CWMD); cyberspace; missile defense and ; Prompt Global Strike, the ability to strike any place on Earth with a high degree of accuracy within one hour; space. Former Defense Secretary Leon Panetta recommitted the nation to a PGS capability launched from a nuclear submarine, but that effort has either gone black or petered out as previous attempts have when faced with the conundrum of physics and arms control that makes this such a challenging effort.
The most intriguing investment area is the electromagnetic spectrum.
Here's what Kehler had to say on the issue:
"Almost every modern technological device is reliant on the EMS. The commercial sector is now the primary driver of spectrum technology development which has led to an exponential increase in the availability of EMS-dependent devices and a global proliferation of emerging commercial-off-the-shelf (COTS) and dual-use technologies. This proliferation creates competition with the military's required access to the EMS and potentially pits economics against national security needs. USSTRATCOM is working with the Services, Joint Staff, and OSD to engage the whole of government to develop a cooperative way ahead to secure spectrum access."
Part of this is clearly a message to the Federal Communications Commission, responsible for apportioning the country's spectrum. In August last year, STRATCOM set up a group — the Joint Electromagnetic Spectrum Operations Office (JEMSO) — and his command's Joint Electronic Warfare Center (JEWC) is leading a comprehensive assessment of "the rapid technological advances and significant proliferation of EMS-dependent systems." That sounds as if it includes cyber and space issues, given his reference to "cross-domain" issues.