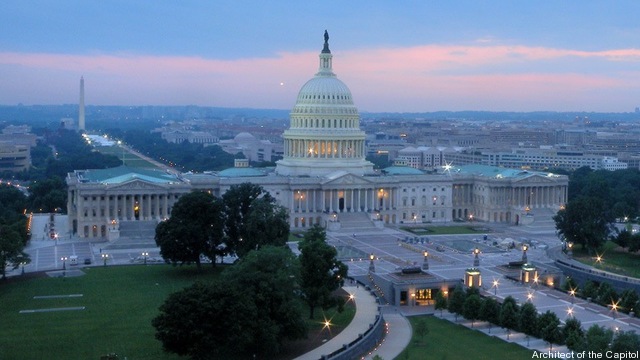 Ever since the day of its creation, critics have slammed the Office of Director of National Intelligence as an expensive and unnecessary bureaucracy, a threat to the longtime primacy of the Director of Central Intelligence and a toothless tiger.
Much of that changed during the joint tenures of DNI Mike McConnell and SecDef Bob Gates (former DCI) when they agreed to give the DNI budgetary teeth in a March 21, 2008 memo. It gave the DNI acquisition authority over any program that received 51 percent of its funding from the intelligence community's National Intelligence Program pool. Up til then, the Pentagon controlled an intelligence program if even one dollar of its money funded it.
But some Republicans have continued to press for a diminution or dissolution of the DNI. The 2017 Omnibus Spending Bill includes what would have been the 2017 Intelligence Authorization Act, which orders the new DNI review. It "directs" President Trump to create a five-person panel of experts "with significant intelligence and national security expertise to review ODNI's roles, missions and functions…"
Here's what the bill says the panel will do:
(1) Evaluate ODNI's ability to fulfill the responsibilities assigned to it in law given its current scope and structure;
(2) Assess whether any roles and responsibilities currently assigned to the DNI could be more effectively or efficiently executed by other IC components or government agencies outside the IC;
(3) Analyze the personnel, funding, and authorities required for each component of ODNI to perform each of its assigned responsibilities;
(4) Evaluate the organizational structure of ODNI;
(5) Review the size, role, purpose and function of ODNI's mission centers; (6) Assess the value of the national intelligence manager construct;
(7) Review the size and mix of the ODNI workforce—to include the ratio between cadre and detailees, the balance between government and contractors, and grade structure—to perform its roles, missions and functions;"
The panel should present its unclassified report within 180 days of the bill's passage.
The intel committees come close to calling for the separation of the jobs of NSA Director and the head of Cyber Command.
They want a briefing from Defense Secretary Jim Mattis just three months after passage of the Omnibus Bill considering the "impact of the dual-hatting relationship, including advantages and disadvantages."
It wants to know timelines for ensuring that no damage is done to national security should the arrangement change, any legal changes that might be needed and say "a larger organizational review of NSA should be conducted with respect to the eventual termination of the dual-hatting relationship."
To that end, they also want a report from the DNI "on options to better align the structure, budgetary procedures, and oversight of NSA with its national intelligence mission in the event of a termination of the dual-hatting relationship."