As freshly promoted General John "Mike" Murray became the first chief of the newly created Army Futures Command at a ceremony in Austin today, he revealed it almost didn't happen.
At one point, "I really thought that it was dead, because we worked very hard for about a year on it and then Gen. Milley just quit mentioning it," Murray said, turning to Army Chief of Staff Mark Milley. "And I really think — sir, you tell me if I was wrong — you were really waiting for the right political leadership , and I believe the right political leadership arrived."
"You very quickly gained the backing of Secretary (Mark) Esper," Murray went on, referring to President Trump's Army Secretary. "Then really the muscle and the horsepower of the dynamic duo over here of the Under Secretary (Ryan McCarthy) and Gen. McConville (Vice-Chief of Staff James McConville) drove this home."
A caveat: Just because Murray mentioned Esper first today doesn't mean Esper came into the story first, just that he's the highest-ranking character in the cast. In fact, when Gen. Milley announced the creation of a new Army command for modernization — the service's biggest reorganization since 1973 — just under a year ago, the senior civilian at his side then was then-acting secretary Ryan McCarthy. Mark Esper had been nominated in July after Trump's two previous choices — a billionaire with no government experience and a hardline Tennessee politician — had both withdrawn, but unlike McCarthy, Esper wasn't confirmed until November.
Normally, appointees awaiting confirmation take extreme care not to engage in anything resembling the official business of their hoped-for job, lest the Senate decide they're subverting its constitutional duty of "advice and consent." While some legislators have let things slide, Senate Armed Services Committee chairman John McCain ousted Obama nominee Eric Fanning from his role as acting secretary on similar grounds, although he allowed Fanning back in after he was confirmed.
That was just the year before Esper's nomination. Esper is also a savvy Washington veteran who'd just seen two previous Trump nominees for Army Secretary shot down. So it's hard to imagine that, while still awaiting confirmation, he'd have presumed to give a green light to Gen. Milley's choice of pizza toppings, let alone a plan to reorganize the Army.
So if Milley was indeed waiting for "the right political leadership" to move ahead, it's much more likely that the decisive factor was the arrival of Ryan McCarthy on August 1st, two months before the big announcement at AUSA. Certainly McCarthy campaigned enthusiastically for the reform as soon as it was announced. McCarthy also does much of the day-to-day oversight of the effort, alongside Vice-Chief McConville.
Besides, if Esper had overstepped last fall, Sen. McCain would have hardly endorsed the reform plan, which he did publicly within a day of the announcement. Indeed, Murray went so far as to say today that "none of it would have been possible of course without Sen. McCain and…congressional support."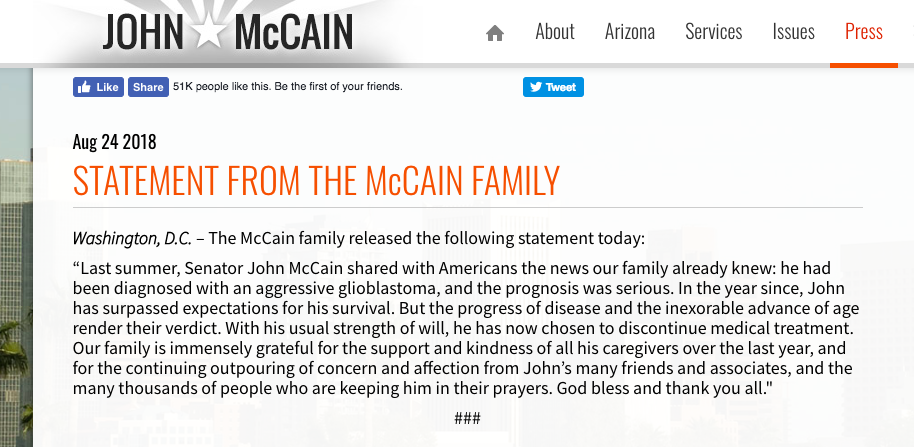 The McCain Connection
McCain's family announced this morning that the famously combative Vietnam veteran had stopped treatment for brain cancer, which he'd begun in July 2017 — same month Esper was nominated. So almost every speaker at the Army Futures Command ceremony in Austin at noon made sure to praise him at least in passing. But Gen. Milley went much further and honored the former Navy pilot as the father of Army Futures Command.
"None of this would be happening without someone who's not here today, and that's Senator John McCain, an American hero," Milley said to some of the loudest applause of the day. Back in 2015, when Milley himself had just been nominated for Chief of Staff, "it was he and I that met in his office (as) I'm getting ready for confirmation," Milley said. "He talked to me candidly and said how hosed up the Army was in the world of acquisition and procurement, futures and modernization."
(Like McCain, Milley is infamous and much appreciated for his blunt language).
McCain said "'General, you've got to dig into this, you've got get this fixed, and, oh, by the way, you've got a hearing coming up, so you'd better have some answers,'" Milley recalled. "And I was like, 'well, roger that.' I was born at night, but it wasn't last night, so I figured, ok, I'd better be paying attention."
"We're lucky here to have two witnesses to this conversation, Chris Brose and James Hickey" — SASC's staff director and lead Army expert respectively — "who are from Sen. McCain's office and representing him here," Milley said in an aside. (Hickey, a retired Army colonel himself, actually broke the legislative staffer's code of silence a few years ago, undoubtedly with McCain's approval, to criticize Army modernization as too modest).
After meeting with McCain, Milley went on, "I went back to the office and I got that guy right there, Mike Murray, and a couple of others… and we sat in the office and said, 'okay here's the guidance from the chair of Senate Armed Services Committee.'"
"We looked at ourselves, held the mirror up, and we realized that we did have a whole series of issues, challenges," Milley said. "So we got the white boards out and we decided to put pen to paper, went through two years really of organizational design and reflection."
"Then luckily a couple of guys came onto the scene… Ryan McCarthy (and) Mark Esper… and now we had civilian support," Milley said. "That provided enormous energy and momentum… In American politics, as it should be, you can't get anything done without civilian authorities."
Between Esper and McCarthy, Murray and his fellow generals — Lt. Gen. Ed Cardon, Lt. Gen. Eric Wesley, and Maj. Gen. Jim Richardson all got name-checked today — "they took Secretary McCain's idea and turned it into reality," Milley concluded.
Now, Gen. Milley is almost certainly oversimplifying. Again, Esper only took office after the big announcement, although he's labored vigorously for the reform effort since. And given the Army's appalling acquisition failures of the last 20 years, publicly acknowledged by previous leaders, it's vanishingly improbable that a room full of long-serving officers only "realized we did have…challenges" three years ago. But it's highly plausible that McCain's trademark brutal honesty, his willingness to hold up nominations, and his staff's longtime advocacy for radical reform all helped wake the Army up that it needed to do something drastic, fast.
Another piece of supporting evidence: "It was almost…three years ago when he (Milley) introduced the idea" of a modernization command, Gen. Murray said today. "Three years ago" doesn't line up with Milley's public introduction of the idea last fall. But it lines up neatly with when Milley would have come back from his pre-confirmation grilling with McCain to brainstorm with Murray and other generals in private.
So if Army Futures Command can fix what the previous generation of Army leaders have broken — and success is far from certain — history will have one more thing for which to thank Senator John McCain.