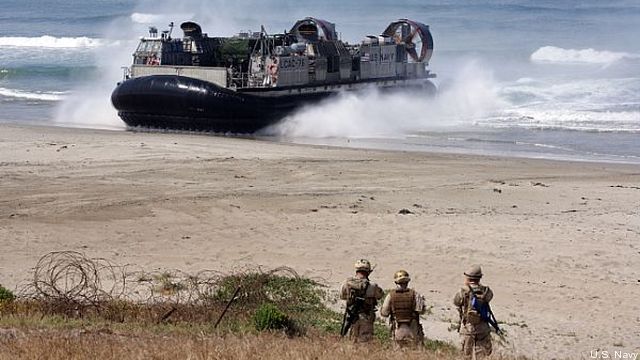 WASHINGTON: The Navy's biggest amphibious exercise in a decade, Bold Alligator, is not specifically designed to counter Iranian threats in the Persian Gulf. But it comes awfully close, according to two senior service officials.
The joint Navy and Marine Corps exercise is geared toward honing the services' amphibious warfare capabilities. Training operations began this week off the coast of Virginia and North Carolina, U.S. Fleet Forces Command chief Adm. John Harvey told reporters at breakfast here today. The massive exercise comes as Marines are in the midst of returning to the sea after a decade of combat in Iraq and Afghanistan. The combat scenarios in Bold Alligator are not tailored to mimic any particular country, Lt. Gen. Dennis Hejlik, head of U.S. Marine Corps Forces Command, said at the same breakfast. But a closer look at those scenarios could lead some to conclude otherwise.
Navy and Marine forces involved with the exercise will work scenarios involving mine warfare, countering small boat attacks and other irregular threats and fighting in shallow coastal waters, Harvey pointed out. Those threats, among others, are the hallmarks of Iranian naval forces. Reiterating Hejlik's comments, Harvey did note the Bold Alligator scenarios were "certainly informed by recent history." Tehran has been flexing their naval muscles over the past few months as part of an overall show of force in the Straits of Hormuz. That said, "everything we are going to do" during the exercise can be applied to a potential conflict with Iran in the Straits, Harvey said.
Earlier this month, Iran infuriated Western leaders by threatening to shut down the Straits, the main waterway entering into the Persian Gulf. It also began a new round of naval exercises focused on defending the Straits from an attack, according to reports from Tehran. Weeks of diplomatic saber-rattling between Tehran and Washington forced Iran to back off, but not before it banned U.S. Navy warships from entering the Straits. But the Pentagon's decision to send two carrier strike groups to the region put forces on both sides back on high alert. But the warships were able to sail through the Straits earlier this month without incident.
While the sailors and Marines in Bold Alligator are training for war, service leaders are working hard to make sure the situation does not boil over with Iran. The Navy's Fifth Fleet, stationed in Bahrain, have established ship to ship communication with their Iranian counterparts, Harvey said. These ties are designed to prevent "the chance of miscalculation" between U.S. and Iranian forces, he said. Despite these links, Harvey admitted that Navy leaders are "not always sure what [they're] dealing with", in term of Tehran's unpredictability in the region.