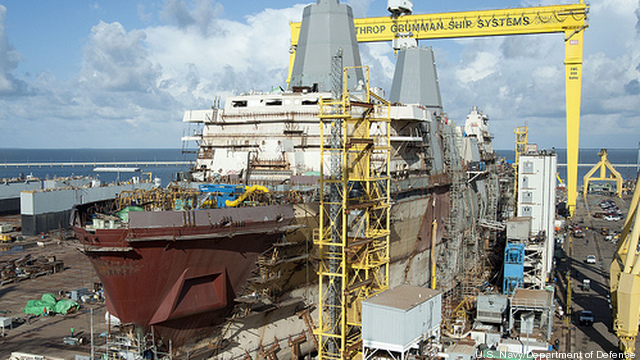 Washington: America's shipyards are sinking fast, and the only way to keep them afloat is to kick the Navy's shipbuilding plan into high gear, a recently released DoD report states.
Pentagon officials noted that U.S. shipyards are falling behind their international peers, in both technology and productivity, according to the department's annual assessment of the defense industrial base recently released on Capitol Hill.
"While U.S. shipbuilders produce the most capable warships in the world, the number of Navy ships being built each year is very low when compared to the number of ships being produced each year by the leading international shipyards," the report states.
That "low volume of production" has made it extremely tough for U.S. shipyards to keep pace with their international peers.
The biggest disadvantage U.S. shipyards face is their nearly complete dependence on work coming from the U.S. Navy.
Of the big six ship builders in the United States, only the General Dynamics-owned National Steel and Shipbuilding Company (NASSCO) has contracted any work outside the Navy, according to the report.
In comparison, other shipyards around the world balance their work between the military and commercial sector, according to the report.
That said, the Navy needs to begin pursuing more new ship builds, and get costs down on the builds that are already underway, or risk decaying the American shipbuilding base, the report states.
DoD cites ongoing work with the Navy's new Virginia-class submarine and the Littoral Combat Ship as ideal templates for how the sea service should ramp up their shipbuilding plans, the report states.
But those programs, as well as the Navy's shipbuilding strategy overall, have come under heavy fire from the Hill. In July, Senate Armed Services ranking member John McCain blasted the sea service's strategy.
At the confirmation hearing for then-Chief of Naval Operations nominee Adm. Jonathan Greenert, McCain hammered the Navy for its inability to field "a single ship that is operationally effective or reliable."
If the Navy keeps that kind of performance up, it just may lose the industrial know-how to get the warships it needs for the future.