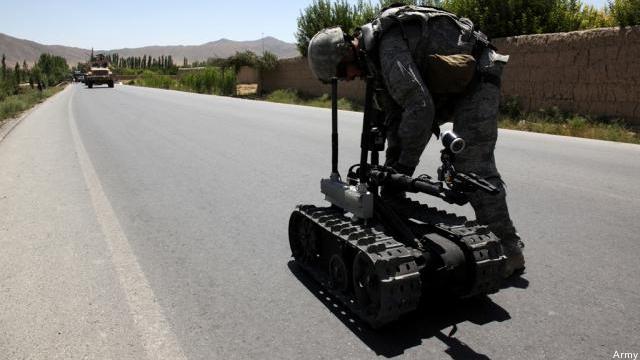 LAS VEGAS: "We've been spoiled," the colonel said. Since 9/11, the military has had "giant pots of money" to throw at urgent problems without going through the full acquisition process. It's been a bonanza for contractors with innovative technology to offer. But as the war winds down, Lt. Col. Stuart Hatfield of the Army Capabilities Integration Center (ARCIC) warned, the war funding goes away — and the bureaucracy comes back.
The military will still invest in the now-archtypical unmanned missions like flying drones for surveillance and ground robots to clear bombs. It will also explore new areas like unmanned trucks for supply convoys and increase its focus on lighter, more deployable systems. But it will do so with fewer dollars and more rules.
"It's not more bureaucracy; it's the old bureaucracy, [back to] the way of doing business that we always did," Hatfield said at the Las Vegas conference of the Association for Unmanned Vehicle Systems International (AUVSI). "When OCO [overseas contingency operations] funding goes away, if you're not a program of record, there's nothing to sustain it."
In wartime, an ad hoc initiative that served a specific, narrow niche in Afghanistan or Iraq could still be justified because it saved lives. Now technologies will have to prove their value to "the Army at large" in its operations worldwide, he warned.
Similarly, in the Marine Corps, "we're not looking for any purpose-built large robotic vehicles" specialized for a single mission, said Lt. Col. David Jarvis of the Marine Corps Combat Development Command. As the Corps returns to its seaborne and expeditionary roots, equipment that could sprawl across operating bases on land in Afghanistan and Iraq now has to fit back aboard ships. That puts a premium on multi-purpose robots that can swap out plug-and-play equipment modules for different missions. The Marines and the Office of Naval Research are also exploring "applique" robotic systems that can be retrofitted on existing trucks to convert them into optionally-manned vehicles.
The Army is also exploring such applique robotics for its trucks, leading a joint program called the Autonomous Mobility Appliqué System. In July, Congress approved AMAS as a two-year Joint Technology Capability Demonstration (JCTD) to develop a truck that can either assist a human driver or drive itself, albeit only in convoy with a manned vehicle in the lead. (Having the human tele-operate the truck from long distance, or having the vehicle drive autonomously from point to point, are commonplace in aerial vehicles but more difficult, longer-term ambitions for AMAS on the ground). The current JCTD is a relatively nimble, ad hoc process, but plans are to formalize AMAS into a full-scale program of record.
Across all the services, "we're going to be see less JUONS [Joint Urgent Operational Needs Statements], less rapid fielding," summed up Robert Maline, the "enterprise director" handling joint ground robotics for Frank Kendall, undersecretary for acquisition, technology and logistics.
Instead of being handled outside the system on an urgent-needs basis, Maline said, military robotics programs will be brought back into the fold of what's called the "big-A acquisition" system: the complex tri-partite process that coordinates the Joint Capabilities Integration and Development System (JCIDS), the annual and five-year cycles of the Planning, Programming, and Budgeting (PPB) process, and the so-called "small a acquisition" procedures that actually buy equipment under Defense Department Directive 5000.
To make it through all these gatekeepers, Maline warned, technologies will have to make "a robust business case" and then compete for contracts.
Bureaucracy gets a bad rap, but there is a value to this deliberate process. Many of the robotic systems fielded now rely heavily on contractors because the military lacks the trained personnel or the supply chain to support them. When a robot becomes a formal program of record, Hatfield said, "it can get into the Army supply system [and] into the Army training system."
As part of the effort to institutionalize ground robotics, the Army is finally looking at establishing a formal "proponent," probably at Fort Benning's Maneuver Center of Excellence — which currently coordinates Army robotics but without any additional authority or funding to do so — or at Fort Leonard Wood's Maneuver Support Center — whose combat engineers oversee the lion's share of current ground robots because of their lead role in clearing roadside bombs. But just getting the additional funding and personnel required to create a full-up proponency office is "very difficult" in today's downsizing Army, said Lt. Col. Hatfield.
Hatfield himself is wrapping up his time at TRADOC and moving on to the Army Staff's section G-8, which resources the force, where he'll be the G-8's first coordinator for robotics — a new position that's another part of the Army's effort to bring robots into the institutional fold.