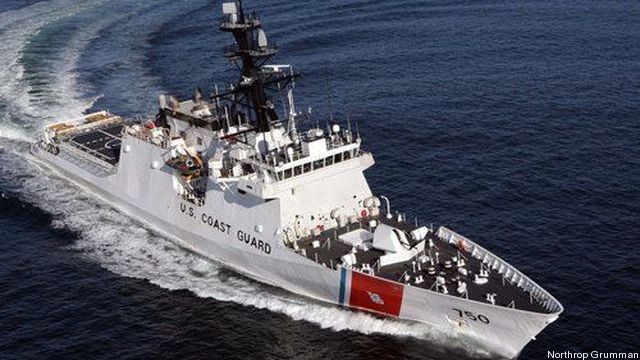 WASHINGTON: A Lockheed Martin engineer risked much claiming his company knew the radio system it was building for the Coast Guard didn't work as advertised. The company settled the suit, agreeing to pay $2.2 million in fines and to fix the radios on the National Security Cutters, which should cost another $2.2 million.
The whistleblower, Stu Rabinowitz, may not be able to work for Lockheed anymore, but he is receiving a $990,000 payment. The statement by the US Attorney's Office in Northern California says he's a former employee.
The cutter's Radio Frequency Distribution System (RFDS) Lockheed "provided fails to meet the requirement of transmitting and receiving several different radio signals at the same time without undue interference (known as simultaneous operations), the statement announcing the settlement says. The Coast Guard has bought six cutters and three more are being built.
What I find most intriguing about this is that this appears to be an important and fairly cheap operational capability that Lockheed knew didn't work as required. Yet they sought to conceal the issue and treated Rabinowitz badly instead of rushing to fix it.
A statement by the law firm that represented Rabinowitz says he "was a lead member and later a principal member of Lockheed's engineering staff in New Jersey from 2000 to 2012. In 2010, he was assigned to investigate the operation of the communications system in response to complaints from the Coast Guard. The crew on one cutter told him that they had experienced difficulties receiving signals from a helicopter while it was trying to land on the ship's helipad and the cutter was simultaneously transmitting another signal. The helicopter was able to land safely, but the implications of the situation were concerning,' Rabinowitz said."
The statement by Phillips and Cohen, Rabinowitz's law firm also says that "Rabinowitz investigated the matter, conducted tests on the communication system, and repeatedly reported the problem to his superiors. He was subsequently laid off."
Rabinowitz not only will get $990,000; he also gets a sense of satisfaction.
"I have worked with and designed communication systems since I was 17, so sacrificing my career to become a whistleblower has been a difficult experience," Rabinowitz is quoted in the law firm's statement. "However, knowing that the National Security Cutters are now being repaired brings a great deal of comfort. Coast Guard personnel risk their lives to perform their missions and need to be provided with safe, reliable equipment."
Lockheed clearly did not play well with Rabinowitz after he filed suit and raised the issue with the company, as he will get a payment since the company retaliated against him "for reporting the problem to his employer," the law firm's statement says.
We've checked with Lockheed to see if they want to add anything, Typically, they won't comment on lawsuits, especially ones like this. If they do, we'll add it.