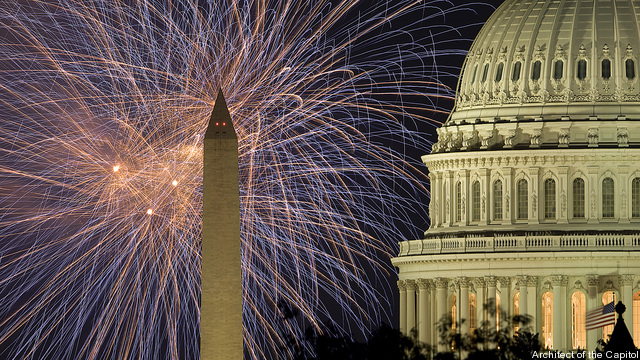 CORRECTED: Loren Thompson Now Says Moran Not Likely To Take HAC-D
WASHINGTON: While most media watch
the White House race
, defense contractors and Pentagon bureaucrats are keeping a close eye on a few key chairmanships on Capitol Hill who will control billions of dollars in funding for weapons and services.
Todd Akin currently chairs the House Armed Services subcommittee on seapower, but whether he wins or loses today, Akin's not coming back to HASC: He's running for the Senate. The next most senior Republican on Seapower is Duncan D. Hunter, son of former Rep. Duncan L. Hunter, and like his father the younger Hunter is a military veteran — and a Marine at that — now representing the massive military bases on the southernmost coast of California. While Hunter is relatively junior compared to other HASC Republicans, "he would be a natural" for the Seapower slot, said well-connected defense consultant Loren Thompson, CEO of the Lexington Institute and a member of AOL's Board of Contributors. "San Diego is the largest concentration of naval power on the West Coast."
The other open subcommittee chair on HASC is, almost certainly, that for the powerful AirLand panel. Current chairman Roscoe Bartlett saw his Maryland constituency redistricted out from under him and is expected to lose today. The next most senior GOP member of the panel is New Jersey's Frank LoBiondo, but he's already got a subcommittee chairmanship on the House Transportation Committee, helming the Coast Guard & maritime transport panel, which is arguably more important to New Jersey and something he's unlikely to give up, as he'd have to do if he took Bartlett's chair. So who helms AirLand is an open question, and the House staffers Breaking Defense spoke to weren't placing any bets.
House Appropriations: Moran? Never mind….
The single most powerful seat that's up for grabs is that of retiring Rep. Norm Dicks, the top Democrat on both the House Appropriations Committee as a whole and on its defense subcommittee, nicknamed HAC-D. To show just how hard this guessing game can be, Thompson initially had his money on Northern Virginia's Jim Moran to take Dicks's spot on HAC-D — until a Moran confidant told him today that the Virginian would let the more senior Rep. Peter Visclosky of Indiana take the slot instead.
Senate Armed Services: Musical Chairs
If the outlook for the HASC AirLand panel is uncertain, the picture for several Senate Armed Services subcommittees is utterly opaque. No less than three current chairman are retiring: AirLand chair Joe Lieberman (Conn.), Military Personnel's Jim Webb (Va.), and Strategic Force's Ben Nelson (Neb.).
In the "maybe" column, Readiness chair Claire McCaskill of Missouri is in a tight race with Akin, though she's favored to win. Then there's Florida Democrat Bill Nelson, who is likely to return to SASC — which he had to leave last Congress when the committee's Democratic membership was cut — and if he does he will likely take his old seat as chairman of the Subcommittee on Emerging Threats. That'll displace North Carolina's Kay Hagan, who may in turn displace a more junior Democrat at the helm of another subcommittee.
On the other side of the aisle, AirLand's top Republican, Scott Brown (Mass.) may well lose his seat today. Then there's full committee's ranking member, John McCain, is term-limited in his current position under GOP rules — if they don't change — but who may well get his pick of subcommittees.
Confronted with all this complexity and the institutional idiosyncrasies of the Senate, which is far less rule-bound than the House, one highly knowledgeable source who spoke to Breaking Defense went through a whole hypothetical chain reaction of cascading moves before giving up. What happens on the Senate Armed Services Committee is simply too uncertain to predict.