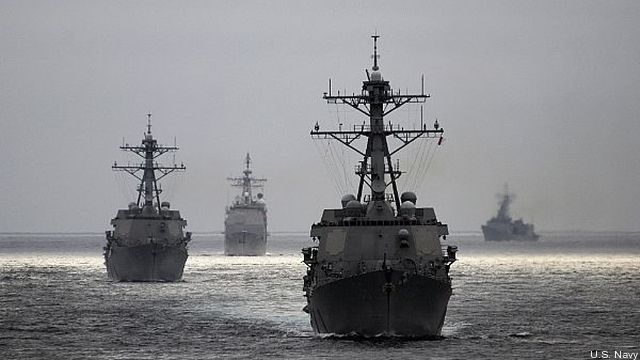 WASHINGTON: The Navy sails on the cusp a new "golden age" of seapower despite the fact that it will have one of the smallest fleets in recent history, a top service leader believes.
While actual ship numbers have dropped, the Navy has roughly the same number of large warships — cruisers, destroyers and aircraft carriers — as it did in the "600-ship" fleet of the 1970s, Navy Undersecretary Navy Bob Work told the Surface Navy Association's annual conference. Over the past decades, the Navy slowly nixed out its smaller vessels from the fleet. But increased multimission capabilities of newer ships like the Littoral Combat Ship and the LPD-17 have allowed service officials to do this.
What is left may be a smaller fleet, but it is one that is light years ahead of older fleets in terms of capability and flexibility, Work said."This is a different fleet," Work said. "We have the 600-ship Navy [now]" capability-wise."
Work's comments came one day after Vice Chief of Naval Operations Adm. Mark Ferguson said a new force structure plan will bring the service in line with the White House's new national security strategy, unveiled last week. The new Navy plan could also change the Navy's long-standing goal of a 313-ship fleet. The Navy "will have to re-look" the feasibility of fielding a 313-ship fleet, according to Ferguson. "I think all of us recognize that under those [2006] assumptions and that financial picture that was a great force structure to do what was needed," he said of the 313-ship goal. "We are going to go back and take a look and see what direction that is [now]."
Ferguson did not say when that new plan would be released. Work noted the Navy was putting together a "fleet response plan" that would look out over the future of the force for the next five years. The assessments made in that response plan would be based on a "ten-year trajectory" drafted by service leaders on where the fleet is headed, according to Work.
The Pentagon is already building in plans to cut $450 billion in spending over the next decade beginning in fiscal 2013. The department could be hit with an additional $600 billion in cuts due to the Super Committee's failure to come up with a deficit reduction plan. In total, those cuts could result in the smallest Navy since World War I. That said, the U.S. will still be able to project naval power around the world, regardless of how many hulls it has in the water, Work thinks. "The numbers don't [matter]," he said. "We [will] span the globe."