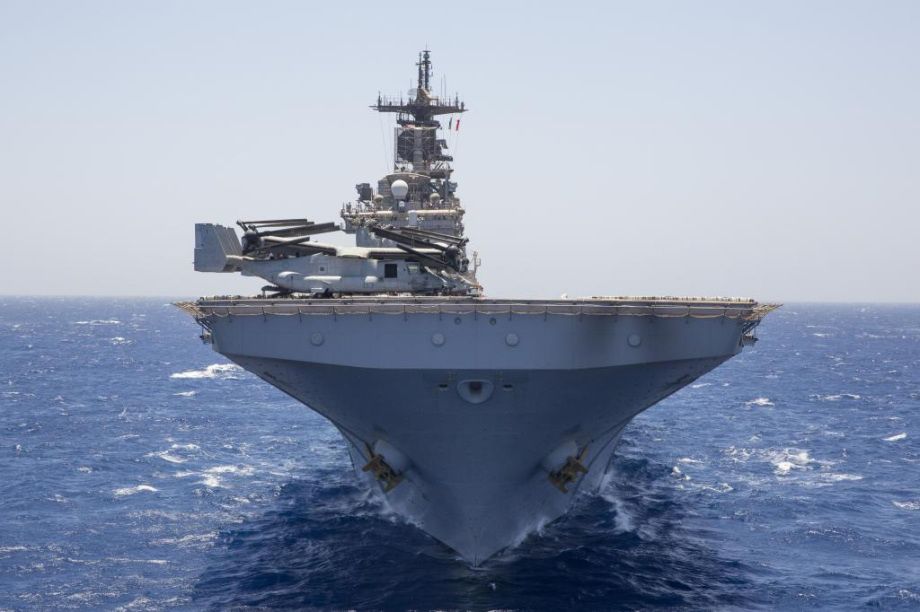 CORRECTED: USNS Comfort Is At Sea Only For Safety; Not Expected To Respond To Florence 
WASHINGTON: The Navy is preparing several large ships to assist in disaster relief operations along the southeast coast later this week, after Hurricane Florence makes landfall in what promises to be one of the most destructive hurricanes in years.  
The amphibious ships USS Kearsarge and USS Arlington, along with hospital ship USNS Comfort, have all loaded up on supplies and have put out to sea to avoid the storm, a Navy official told me.
The amphibs have embarked elements of the 22nd Marine Expeditionary Unit and the Expeditionary Strike Group 2 command team, which will be available should local authorities and the National Guard along the Eastern seaboard request their help.
The three ships join about 30 other surface vessels and submarines which have left port in Virginia seeking the relative safety of Atlantic waters away from the path of the storm. Among them are the aircraft carriers George H.W. Bush and Abraham Lincoln, which will also be capable of providing some support.
It's the amphibs that historically play the leading role in disaster relief at home and abroad, because they are transport ships with extensive cargo holds, a flight deck to launch helicopters, and a well deck to launch surface craft. These capabilities, designed to land Marines on hostile shores, can also push relief supplies out to coastal communities and well inland.
CORRECTION The USNS Comfort, a Navy vessel partly manned by civilian sailors, is something even more unusual. As one of the Navy's two hospital ships, Comfort has not only a flight deck but it a staggering a 1,000-bed hospital facility complete with radiological services, a pharmacy,  a CAT scan and two oxygen-producing plants. (The Navy called us Thursday morning to say that, while the Comfort is at sea she left port for protection, not to preposition for possible hurricane response.) CORRECTION ENDS
The ship was due to sail for Colombia in the coming weeks to provide medical assistance for some of the thousands of displaced Venezuelans who have fled the violence and chaos in their country, but the Navy official said the domestic mission has become the priority.
Last September, the Kearsarge and Comfort provided relief in Puerto Rico after hurricane Maria ravaged the island, injuring thousands and leaving thousands more homeless and without food, water, and power. The Trump administration received withering criticism over what critics said was a botched relief operation. The local government said last month that about 3,000 people died in the hurricane and its aftermath.
The Comfort and Kearsarge have also teamed up to provide help in Haiti after hurricanes and the devestating 2010 earthquake.
Several other amphibious warships — the Bataan, San Antonio, Mesa Verde, Whidbey Island and Carter Hall — will remain in port in and around Norfolk Naval Station. So will the aircraft carriers George Washington and Gerald Ford, which are docked at the Huntington Ingalls shipyard in Newport News. Likewise, the Dwight Eisenhower will remain pierside in Portsmouth, Va, a Navy official told me.
Florence is set to be one of the strongest storms to batter the East Coast in decades, packing Category 3 winds and tidal surges. Current models predict it will deliver tropical-storm-force winds by noon Thursday to North Carolina's coast, ramping up to hurricane-force winds and massive storm surges by early Friday.
"You put your life at risk by staying," North Carolina Gov. Roy Cooper said on Wednesday. South Carolina governor Henry McMaster said that over 1 million people have been told to leave their homes, and that "even the rescuers cannot stay there."