PENTAGON The Navy's top officer said this morning he's rethinking the service's previous plans to field a 355 ship fleet and expects a study with "a new number" later this year.
"We want to make sure that we are moving forward in a very deliberate way — in an evidence-based way — so that we're not counting on something that hasn't been relatively proven," the Chief of Naval Operations, Adm. John Richardson, told reporters at the Pentagon during an off-camera chat. "We also want to make sure we're moving fast so that we don't get disrupted or beaten."
Whatever the number might be — and there are plenty of questions over what kind of hulls the Navy is looking to develop and buy — it is becoming increasingly clear the Navy is looking to make some bets on emerging autonomous and machine-learning technologies to put more unmanned ships in the water.
At a naval conference earlier this month, Navy officials talked up the possibilities inherent in two new unmanned programs: a medium-sized Unmanned Surface Vessel (USV) which should be about the size of the experimental 132-foot Sea Hunter launched in 2016, and a larger USV somewhere around the size of a corvette, but loaded with missile launchers. The smaller unmanned craft would spot targets for the larger ones and for the rest of the fleet, while also decoying enemy missiles away from targets with US sailors aboad. The Navy has said it wants to award a large USV contract by 2023.
Putting more unmanned vessels in the water to serve as floating pickets in front of carrier strike groups is one way to grow the fleet relatively quickly, while also saving on manning and equipping costs. But it's not clear if the Navy will consider floating rocket launchers and surveillance assets as full-fledged vessels worthy of counting toward the service's total number of hulls.
While Richardson didn't offer any clues, his announcement of a new force structure assessment is significant, as the service and its allies in Congress and industry have pointed to the 355 number as the baseline of what the nation needs to confront China and Russia. Even before the Navy settled on 355, then-presidential candidate Donald Trump endorsed a 350-ship Navy based on a Heritage Foundation study.
"The 355 number came about from a number of studies," Richardson explained. "They all converged somewhere around the mid-300s in terms of numbers of platforms." It's important to note that while the admiral said "we'll get a new number" later this year, he added, "we may hold to it. We may not. The analysis is in progress."
Richardson's comments come at a critical time for the Navy, as it looks to transform the size and shape of its fleet to counter the rapidly growing Chinese presence in the Pacific and Indian oceans, as well the increasingly sophisticated submarines being built by both China and Russia.
Advocates and some Navy officials have said the 355-ship goal can be reached by the early 2030s if shipbuilders pick up the pace on new construction and the Navy extends the lives of its existing fleet well past their original design parameters: amphibious ships to more than 50 years, Littoral Combat Ships for up to 35 years, and Arleigh Burke-class destroyers to 45 years, for example. But other estimates — including from the No. 2 Trump appointee in the Navy Department — extend into the 2050s.
Despite misgivings from some analysts about how well big-deck aircraft carriers would survive an onslaught of Chinese missiles — including hypersonics — the Navy on Thursday inked a $15.2 billion deal with Huntington Ingalls Industries-Newport News Shipbuilding to build the next two Ford-class aircraft carriers.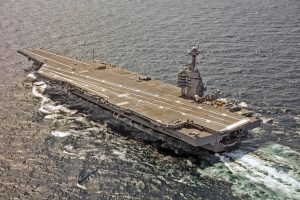 The Navy is also looking to move past the Littoral Combat Ship program with a new frigate design, dubbed the FFG(X). That program is slated to begin production around 2022 or '23. The concept design phase for the FFG(X) is slated to go through June, with an award late this year.
Several competitors have put forward mature designs. Besides Marinette and Austal upgrading their respective variants of LCS, General Dynamics' Bath Iron Works is partnering with Navantia to offer Spain's Álvaro de Bazán-class F100 frigate; Italian shipbuilder Fincantieri the Italo-French FREMM Multi-Mission Frigate; and Huntington Ingalls Industries has released artists' renderings of what it might compete, such as a militarized variant of its Coast Guard National Security Cutter.
The Navy is also looking for a Large Surface Combatant to replace its aging cruiser fleet, and is planning to award a contract by 2023. Earlier this month, Navy surface warfare director Rear Adm. Ronald Boxall told a conference that the replacement for the older Ticonderoga-class cruisers "may not be a cruiser." He said his intent to do put a ship in the water that can bring capabilities that the current cruisers and destroyers don't have. The big issues he is looking at are making sure the vessel has the space, weight, and electrical power to grow as technologies like command and control and directed energy mature and ca be placed on more ships.