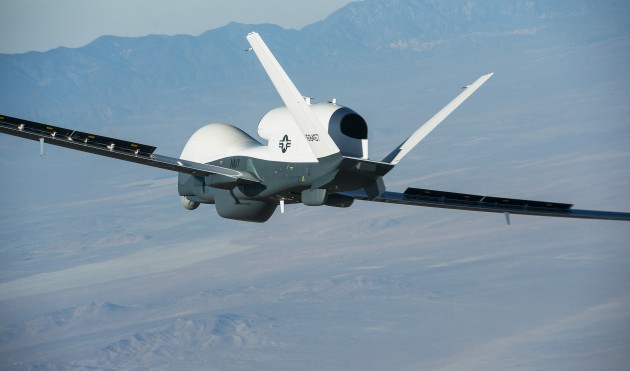 May's been a good month for Navy drones and Northrop Grumman. First Northrop's X-47B, forerunner for a future generation of unmanned reconnaissance and strike planes, made its first launch and first touch-and-go landing on an aircraft carrier. Today, Northrop's land-based MQ-4C Triton drone made its first flight, out of the company's facility in Palmdale, California:
Don't adjust your volume: This first-look video doesn't have a soundtrack yet. But one thing the video does show is just how huge the Triton is: Its 131-foot wingspan is considerably wider than a Boeing 737 – and the 737's Navy derivative, the P-8 Poseidon recon plane – although the drone's fuselage is much shorter. In fact, the most obvious difference between the Navy's Triton and the Air Force drone from which it derives, the Global Hawk, is that it has even more wing.
The Triton's not any bigger wingtip to wingtip, Northrop spokesman Warren Comer explained to me, but "it has a beefier wing so it can go up and down in altitude": While the Air Force is content to have its Global Hawks hang out at high altitudes to keep an eye on vast regions, the Navy demanded its drone be able to swoop low if necessary to take a closer look at vessels on the surface of the water.
To replace its aging, propeller-driven P-3 Orion patrol craft, the Navy plans to buy 117 human-crewed Poseidons and 68 remote-controlled Tritons, both jets with advanced sensors, to form a manned-unmanned team. "It's essentially one weapons system," said Rear Adm. Sean Buck, commander of the Navy's Patrol and Reconnaissance Group, in an interview with me last fall. "They're interoperable, they're complementary."
The unmanned aircraft, unlimited by human endurance, will provide superior long-endurance, long-duration coverage of wide areas. The manned P-8, while capable of high-altitude surveillance as well, will go out to take a closer look at specific areas of interest – and, if need be, drop anti-submarine torpedoes to blow stuff up. (Triton is unarmed).
Triton "will have a set of sensors and mission systems on it to take over approximately 30 percent – three-zero percent – of the ISR [intelligence, surveillance, and reconnaissance] mission set that has historically been tasked to the maritime patrol aviation community," Buck explained. "That is one reason why we're able to buy fewer P-8s" instead of replacing P-3s one for one.
Triton is not as revolutionary as the X-47B: It doesn't launch from an aircraft carrier, just from conventional airfields ashore, and it is not a unique aircraft but simply a Navy modification of a well-established Air Force system. In fact, the Navy was already flying some of Triton's sensors on modified Global Hawks under a program called BAMS-D, Broad Area Maritime Surveillance – Demonstrator, which suffered one embarrassing crash but which impressed fleet commanders so much that the test aircraft were put to operational use monitoring the Strait of Hormuz. So while Triton is an evolution in unmanned aircraft, not a revolution, it still represents a significant piece of the Navy's future.