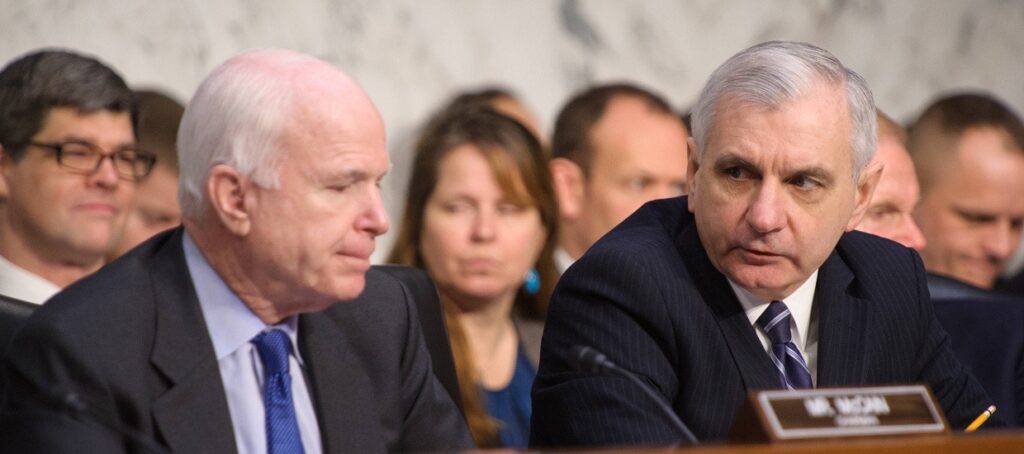 UPDATE: Explains Ambiguity of McCain's Statement; At Least One More Industry Nominee Probably Coming
WASHINGTON: President Trump was put on notice today by the chairman of the Senate Armed Services Committee that he should not nominate any more candidates for senior Pentagon jobs from the defense industry.
Republican Sen. John McCain was joined by Democratic Sen. Elizabeth Warren, famous for her consumer advocacy and efforts to improve the transparency of the federal government.
McCain told the Army Secretary nominee, Mark Esper — late of Raytheon — that his would be the last nomination from the defense business to squeeze in under the chairman's oversight.
"Dr. Esper, I would be remiss if I did not reiterate my concerns about the number of nominees from defense industry filling out the leadership ranks at the Department of Defense. I want to be clear that my reservations grew out of early consultations I had with the Administration about potential nominations, including yours and a handful of others that were yet to be nominated," McCain said in his opening statement this morning. "It was then that I decided I couldn't support further nominees with that background, beyond those we had already discussed."
UPDATE An aide explained after reading this story that the "handful" were still to come before the committee. So, my understanding is that McCain doesn't want any more industry nominees but he's tactically approved at least one still to come before the committee. UPDATE ENDS
Warren later pressed for Mark Esper, the presumptive Army Secretary nominee to accept tougher ethics restrictions than currently required by law. McCain had told Esper he appreciated "your commitment not only to recuse yourself from matters related to the Raytheon Company but further not to seek or accept waivers to your recusal obligations—and I would like to submit your letter stating that commitment into the record, without objection."
That lasts two years. Warren asked Esper if he would commit to recuse himself for however long he served in the Army Secretary job. He declined, asking if they could discuss it closer to the time the two years are up. A skeptic might think he doesn't plan to stay around too long, lest he jeopardize his chances to use the Trump job to rejigger his earnings on leaving the government. Of course, many appointees don't stay much past two years.